How Does a Business process Outsourcing Service Provider Contribute to Revenue Growth?
28
Mar
2023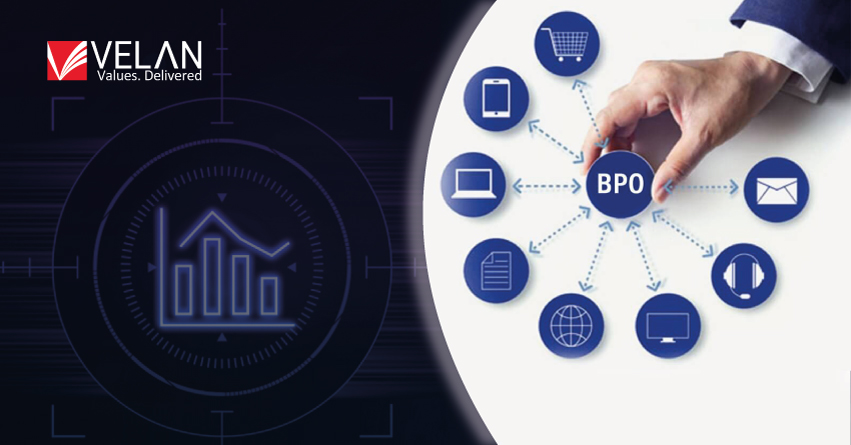 Business process outsourcing (BPO) is simply a method used to accomplish several goals. The sole advantage that everyone is aware of is cost efficiency. However, this structure has numerous other advantages that businesses should consider and investigate.
Business process outsourcing and management setups are professionally managed, with a focus on quality, productivity, and turnaround times. These characteristics all contribute to providing better results to clients, which leads to customer happiness.
Business process outsourcing services handle the training of new personnel in circumstances of attrition or expansion. This helps to avoid having to redo the job. Simultaneously, BPO industry setups often maintain a strategic buffer of resources to minimize loss of work in the event of shrinking leave and unplanned departures.
Approaching BPO Outsourcing with an Open Mind
Many businesses have reaped the benefits of outsourcing, which has enabled them to entirely restructure their company model in order to be successful operationally, financially, and in providing excellent services to their clients. Initially, the banking and financial industries were the frontrunners in exploiting outsourcing, but insurance businesses are now gradually cashing in on the massive flood of outsourcing prospects.
The insurance sector has seen a type of rebirth, with several organizations implementing strategic initiatives that enable information technology across multiple operations and services.
Outsourcing may be a helpful and practical alternative for firms that are struggling to recruit or hire qualified workers. A business process outsourcer can boost productivity and assist expansion. However, for insurance businesses that already have people with strong skill sets and experience, outsourcing may optimize their influence by exporting ordinary duties, allowing them to focus on expertise and high-value components of their job.
What exactly is business process outsourcing?
Business process outsourcing (BPO) is a type of outsourcing in which a third-party service provider is hired to perform one or more of a company's business processes. The third party is in charge of all activities linked to the business function.
BPO can also be referred to as subcontracting or externalization. It was developed for the manufacturing industry but is currently utilized in a variety of business operations.
Synopsis
Business process outsourcing (BPO) is a type of outsourcing in which a third-party service provider is hired to perform one or more of a company's business processes.
Back office and front office functions are outsourced to BPO suppliers.
BPO has various advantages, such as decreased prices, global growth, and increased efficiency, but it also has some disadvantages, such as security concerns, hidden expenses, and over-dependence.
How does BPO work?
Simply put, a BPO engagement is similar to any other type of business engagement. The agreement involves two parties: a customer and a supplier. Because it is a B2B engagement, it frequently takes numerous rounds of conversations to achieve an agreement. The client specifies the services they want and how they want them delivered. Competing suppliers demonstrate their capabilities and make an effort to persuade the customer that they would be able to provide the most value for their company.
The terms and conditions of the agreement are worked out, the client makes a decision, and he gives the company to one of the bidders while maintaining one or more as backups in case the initial vendor deal does not work out for whatever reason.
Contracts are often divided into two tiers. There is one overarching agreement, known as a Master Service Agreement (MSA), that describes each party's principal or broad contractual duties. Statements of Work are a second layer of contracts that work under the MSA (SOWs). These are created at the level of a service or project that is specific to the relationship and describes how it will be carried out in more detail. A new SOW will be created for each new service that is agreed upon.
What is the purpose of BPO?
Organizations hire BPO suppliers for two key reasons:
Back-office operations—payment processing, information technology services, quality assurance, and so forth—are examples.
Front desk operations-Marketing, sales, customer service, and complaint resolution are examples of front-desk operations.
Organizations frequently outsource one or more functions. Instead of outsourcing entire HR activities, the corporation may outsource only payroll procedures. The BPO sector has grown significantly over the years and now provides a wide variety of services and tasks to enterprises.
Different types of BPO
Based on their location, BPO organizations are classified into numerous types:
When a business engages a service provider from the same nation, it is sometimes referred to as "domestic outsourcing."
When a company engages a service provider from another nation
When a company engages a service provider from another nation, "offshoring" is another term for it.
Making a decision on BPO
Transferring internal work to a BPO firm requires change management since it affects personnel, workflow patterns, and overall business operations. The following steps are included in the outsourcing decision-making process:
Executives at a company make the choice to outsource a business process or a portion of it.
They assess the decision's advantages and downsides and determine if it makes strategic sense for the organization.
They select the best BPO for the job and transfer it from in-house to an external service provider.
The advantages of BPO
One of the primary reasons firms outsource is to save money. Rather than purchasing IT equipment and paying more workers to do certain duties, they can outsource the jobs to a service provider, lowering or even eliminating overhead expenses.
BPO firms have extensive experience in a variety of sectors and deliver excellent results. They also follow best practices and employ cutting-edge technologies. It naturally leads to increased efficiency and production.
Concentrate on fundamental business tasks.
Many businesses, particularly start-ups, struggle with supplementary company activity. Transferring non-core procedures to a BPO provider frees up time for the corporation to focus on its core business activities.
If a corporation decides to enter a foreign market, some operations that need local market knowledge, national legal experience, or proficiency in a foreign language might be delegated to a BPO firm. It contributes to increased efficiency and faster growth.
The drawbacks of BPO
Working with a BPO business may result in a security breach since sensitive data must be exchanged and processed.
over-reliance on the BPO firm
When work is outsourced to a BPO business for an extended period of time, an organization might become acclimated to the way they operate and become overly reliant on them. If required, it results in the company paying more than the typical charges.
When working with an offshore BPO provider, the language barrier might be an impediment to efficiency. Outsourcing work involving a large number of individuals, such as development or IT services, might result in errors due to misunderstanding. It may be exceedingly expensive at times.
Unexpected or hidden charges
Because work is not always hard and quick, the organization may underestimate the quantity of work, resulting in higher-than-expected expenditures. Working with a BPO business may result in legal fees if there is a dispute or disagreement. Delays in task delivery might also result in indirect expenses.
What Kinds of Services Can Outsourcing Services Provide?
Diverse services are included in business process outsourcing. Outsourcing firms offer the following assistance or services:
Information technology-enabled services (ITES) BPO
 Desk Analyst
Production Support Analyst
 IT Analyst
 Knowledge process outsourcing (KPO)
Research and Development
Data analysis and interpretation
Financial consulting
Medical and healthcare
Legal process outsourcing (LPO)
Contract management and review
Service of risk and compliance, litigation support, due diligence
IPR-related services
E-discoveries
Research process outsourcing (RPO)
Business research
Legal research
Financial research and analysis
The importance of business process outsourcing is growing since some operations
The significance of business process outsourcing is increasing because certain operations can be outsourced.
Outsourcing operations are usually cost-effective for most parent organizations. Amazon, for example, provides a procurement solution for inventory management that assures minimal working capital and proper replenishment of items to reduce inventory space. Business process outsourcing reduces costs while boosting efficiency. In short, smart procurement is an essential aspect of cost reduction.
To focus on key functions
Business process outsourcing also allows businesses, corporations, and organizations to concentrate on their primary operations and business objectives. For example, by outsourcing customer support and site design, Amazon will have more time to focus on and develop its core business strategy.
To improve performance in non-core operations
If your firm or organization does not excel at a given function, outsourcing may be a better alternative. Assume Myntra has to create a website for an end-of-season sale, which is outside of her area of expertise. To get better outcomes, it is preferable to outsource this process to a freelancer or a web design firm.
To broaden their worldwide reach
When a firm has to expand its worldwide reach, business process outsourcing may help. Outsourcing diverse activities to other countries broaden the company's or organization's worldwide reach.
Increase speed and efficiency.
To boost speed and efficiency, business process operations are an excellent concept. Amazon's simple shipping system and inventory management are living examples. The majority of deliveries are made by third-party merchants, and inventory is refilled as needed to increase efficiency and speed.
Outsourcing business processes can also increase quality. Outsourcing businesses often have better technology, experience, and skill sets, assuring and improving the service quality.
For unqualified financial gain
The economic benefits of business process operations are substantial. With the growth of cross-national and offshore outsourcing, the economic development of outsourcing firms is also growing through the development of human capital. With its global market presence, BPO creates a plethora of job prospects.
BPA stands for Business Process Automation.
BPA is an abbreviation for business process automation. It relates as you might expect, to automating your business activities such as accounting, purchasing, and expense reports. It uses automation technologies to simplify and streamline corporate operations.
Although automation and outsourcing are distinct, there is more crossover than you would assume. Outsourcing is hiring another firm to perform specific business activities, whereas automation entails simplifying your in-house business procedures. The biggest overlap between these two alternatives is that there are two possibilities for BPA: build it or purchase it. In other words, you may automate your company's processes in-house or outsource them.
The most popular BPO services
While business process outsourcing (BPO) is a vital resource and strategy for firms of all sizes, it is especially beneficial to small enterprises. Many small companies lack the funds to engage a full-time staff to handle their accounts or offer customer care. BPO services may help firms cover these gaps and focus on what they do best.
Businesses can employ a wide range of BPO services. The most popular are:
Consider all of the activities involved in tracking and managing your company's money, such as bookkeeping, invoicing, accounting, and so on. A BPO provider can handle all of these tasks for you, giving you more time to focus on building your business.
Dealing with client questions and complaints might be a full-time job, but you can outsource this work to someone who has expertise in delivering customer care through a BPO provider. This might free up your time and allow you to concentrate on other aspects of your company.
Do you have a marketing plan in place for your company? If not, a BPO provider can assist you in developing one. They may also assist with web design, social media marketing, and email marketing.
Managing your company's human resources can be difficult, but a BPO provider can assist with tasks such as payroll, benefits administration, and employee training.
Of course, based on their unique needs, firms might utilize a variety of alternative BPO services. It's critical to engage with a supplier who understands your industry and can provide the services you require.
How to Select a Business Process Outsourcing Service Provider
Selecting the best business process operations services is critical for every company. There are a few things to keep in mind while looking for a BPO service provider:
It is critical to have a clear perspective on your company's requirements. What services, activities, or procedures do you want to delegate? Proceed to the following stage once you have determined your needs.
Tweak your chosen criteria.
Before selecting a BPO service provider, it is critical to developing selection criteria that take into account the provider's geographic location, experience, quality assurance, technology, cost, referrals, turnaround time (TAT), scalability, security, domain expertise, and infrastructure.
Create a short list of outsourcing companies.
Shortlist outsourcing agencies based on the selection criteria if they meet the requirements. Contact and negotiate with these outsourcing companies to find the best fit for your company's needs.
Begin by sending a modest project or task to the outsourcing firm in order to evaluate their quality, work, TAT, delivery method, skill set, and so on. This will help determine whether they are capable of handling large tasks. You can also prevent the danger of losing money on a large project.
It is critical to evaluate the BPO agency in order to determine whether their claims are real. Check the BPO agency's reporting time, delivery process and time, project and service handling, communication, domain competence, task fulfillment, and so forth.
Keep track of project progress.
Continuous monitoring of project performance via report submission, weekly or monthly updates, meetings, deliveries, and so on is necessary to guarantee the project runs successfully.
In Conclusion:
Many firms nowadays find running a call center to be a burden. These businesses are unable to concentrate on their primary tasks as a result. As a result, their sales and customer service suffer, which puts the company in a bad position. As a result, hiring a reliable service provider to handle your business process outsourcing needs will be the best method to advance your company.
Every client nowadays demands superior customer service. Furthermore, they only select organizations that provide superior customer service. This is the primary reason why businesses pay attention to it. Because customer service is critical to increasing your company's income. It is also critical to select an effective BPO service provider. Furthermore, it delivers many benefits to the firm.