Top Eleven Business Process Outsourcing Risks and How to Mitigate Them
16
Mar
2021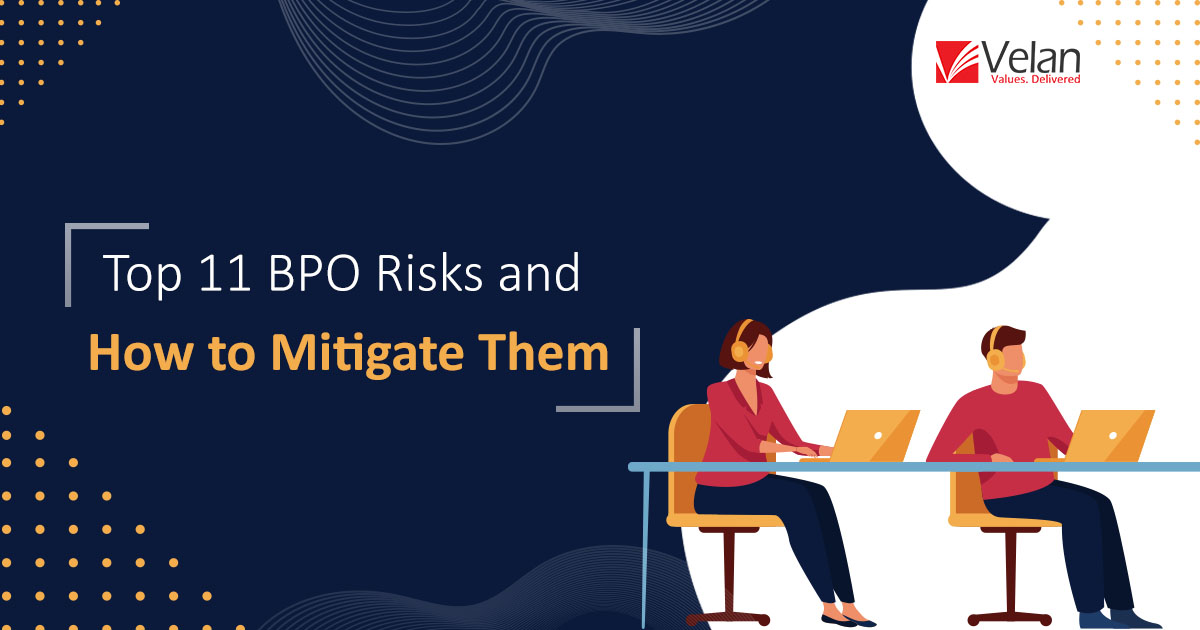 Outsourcing is the common practice of assigning business processes and functions to third-party providers. Outsourcing benefits are substantial – from efficiency to cost savings, providing a greater competitive advantage to make decisive strategies, and making the overall company efficient. Outsourcing is possible for startups and well-established organizations. 
However, such a key change in the business process and entrusting the organization's information to a third-party poses a potential business risk. The risks should not be overlooked and underestimated. 
If you are contemplating outsourcing your business processes, we recommend you consider the following risks and ways to mitigate them. This should provide you with a whole deal of advantage. 
Risk 1: Selecting the wrong supplier
The risks of running into substantial providers by selecting the wrong suppliers will cost you big time, effort, and business. Trusting a provider who is miles away should not be a hasty decision but a well-thought-out move after thorough risk analysis and considering the backup plan in case things go the way they are not expected. 
Besides, you must look for the following things before selecting your supplier. 
Your vendor's expertise and experience in the outsourcing business. It should match with the services you will be entrusting them upon.

Your vendor's experience dealing with other clients, team size, quality, and time frame. 

Your vendor's web presence and social media. 

Get feedback about your vendors from other businesses.

Your vendor's reliability and trustworthiness.
Risk 2: Incomplete briefing of tasks (a.k.a.) knowledge transfer
When you are outsourcing your work, you must be open and must ensure to hand over all the information that would lead to successful work completion. Clear and coherent knowledge transfer is vital and serves as a successful measure of business process outsourcing. 
Without a proper transfer of knowledge, you will encounter problems in the future that will lead to unreliable completion of work. In the name of protecting your company secrets, data, and not divulging important information, you may suffer a huge loss in terms of work and delivery. 
Another important problem that you would face without proper knowledge transfer is when it comes to handling the know-how built by your partner. You must regulate the know-how in your contract with the vendor and clearly define intellectual property rights. This will make sure that both the data security and intellectual property will be within your ambit.
Risk 3: Lack of experience with vendors
If you are reaching out to an outsourced team for the first time, you must be cautious and do some study about outsourcing and its regulations. Especially, when the vendor team has a lack of experience, you are going to get into a catastrophic situation. Such a situation will drain the work and resources. 
So always look for vendors who have ample experience in providing exclusive services that you need for your business. You should be in regular contact with them and understand the complete process so you would be able to evaluate their output. 
Risk 4: Lack of remote working experience
Most often, the clients are doubtful about outsourcing or hiring remote teams. As a business, they believe having the vendors locally is their best bet. However, the remote is the new norm and most companies are adopting the remote work culture. 
When you are looking for an outsourcing company, select a vendor that has a well-established model for dealing with remotely working staff. Look for your vendor's experience in remote work success ratio because you do not want your business to become the trial. 
Having your vendor educate you on remote working aspects could serve as another best thing to settle with them.
Risk 5: Vague clarity of task areas 
Requirements, specifications, and rules for outsourced work must be detailed to its last point otherwise you are going to end up with serious disputes. You must define the rules on how you need your result to be, areas of responsibility, and if there are any regulations that your vendor needs to adhere to lead the work towards completion. Following this will prevent any disagreements in the future and you can avoid this risk. It all starts with your briefing for your company, after all.
Risk 6: Hidden costs 
Aordeal with any BPO company for businesses is their hidden costs. There are high chances that as a receiver of services, you may overlook the total costs. In the vendor's invoice, you may see a lot of unexpected items that you were not aware of before. And after signing the contract without the knowledge of unexpected costs could cost you in the long run, especially when you have signed a yearly contract.
To prevent these catastrophic situations, you should meticulously read the contract in and out and clarify everything that seems meaningless to you. You can additionally get your vendor to stipulate a clause that indicates no additional costs can be added to the invoice without any prior notice. This will help you maintain transparency throughout and also save you those unexpected nightmares. When you have clearly understood the working clauses of a business process outsourcing company and know what are things you need services for, you can realistically assess and be sure of the cost. Having an external consultant to deal with this entire situation might prove beneficial. 
Risk 7: Service provider fails to deliver the task
There may come an unprecedented situation where your service provider would completely shun their business for any reason. And this would be terrible news for their customers, a.k.a. You. And you do not want to be in this situation jeopardizing your deliverables to your customers, customer relationship, and if your daily operations are revolving around it. 
To avoid such compromising moments in the future, you should plan well in advance and discuss with your service provider. Include such clauses and necessary arrangements in your contract. This way you will still be functional and operational in emergencies before you zero in on a solution. Having a risk management team to plan a backup will prove helpful, however, it is optional as you could do it yourselves. 
Risk 8: No optimization strategy and plan
There may come situations where your service provider would not meet your expectation in terms of work delivery, poor implementation of work strategies, and show some grave misunderstandings. It is a continual process to better the work process and its flows, however, you need to have an optimization strategy and plan to be certain of the work. Include it in your contract to keep everything transparent between you and your vendor.
Risk 9: Loss of control
Loss of control is a functional risk; it is a threat in choosing your BPO service provider. Hiring a BPO can exclude you from the operations. In such cases, you will lose visibility and control over the services you receive from your provider. 
To mitigate the risk of losing control, you need to maintain a friendly relationship with your vendor. It will not only save your integrity but keep your company's revenue management at bay. Besides, with a stable partnership, regardless of short term or long term, your company is expected to have control and remain stable. Ask appropriate questions and understand the different outsourcing models – fixed or flexible – and decide which would be best suited for your work. This information would keep you in control over the deliverables and also define the stability of your partnership with your vendor. 
Risk 10: Loss of productivity
Hiring a third-party is open to fluctuating productivity. It is mainly because of the unexpected layoffs in your vendor's team which would, in turn, affect your business's deliverables. Besides, layoffs at your vendor's could directly reflect on the morale of the other staff resulting in their productivity loss, peace of mind at work, and fear of losing the job. Extending work beyond timelines will overstretch your finances. 
To mitigate this risk, carefully plan the deadlines with your vendor and have clauses in the contract that states how your vendor should help you then. 
Risk 11: Loss of compliance with company and government policies
Hiring BPOs is a substantial risk for the company as they would not be up to date about your company's regulations and government policy. BPOs that are not aware of the regulations will face no loss but the company will. 
To mitigate this risk of overlooking the important regulations, you must educate your vendor on the important company and government policies. Even better, hiring a BPO that is already aware of the current business affairs will prove more beneficial where you would need to only educate them about your company policies. 
On the whole, you can dodge most of the above-mentioned risks associated with BPO if you understand the BPO process or choose the right supplier. With an ingenious and well-understood plan, it is surely possible to get your work done with the desired output.
Velan has been the pioneer in BPO for a decade. From data entry to medical billing, we have been servicing our clients with the best and desired results. We believe that hiring Velan will state a mutual agreement that will describe our work ethics, standards, quality, and cost of services with 100% transparency leaving no cause for an alarm. We are both strategic and operational in our work.