Important Business Functions Your Small Business Can Outsource
3
Jan
2021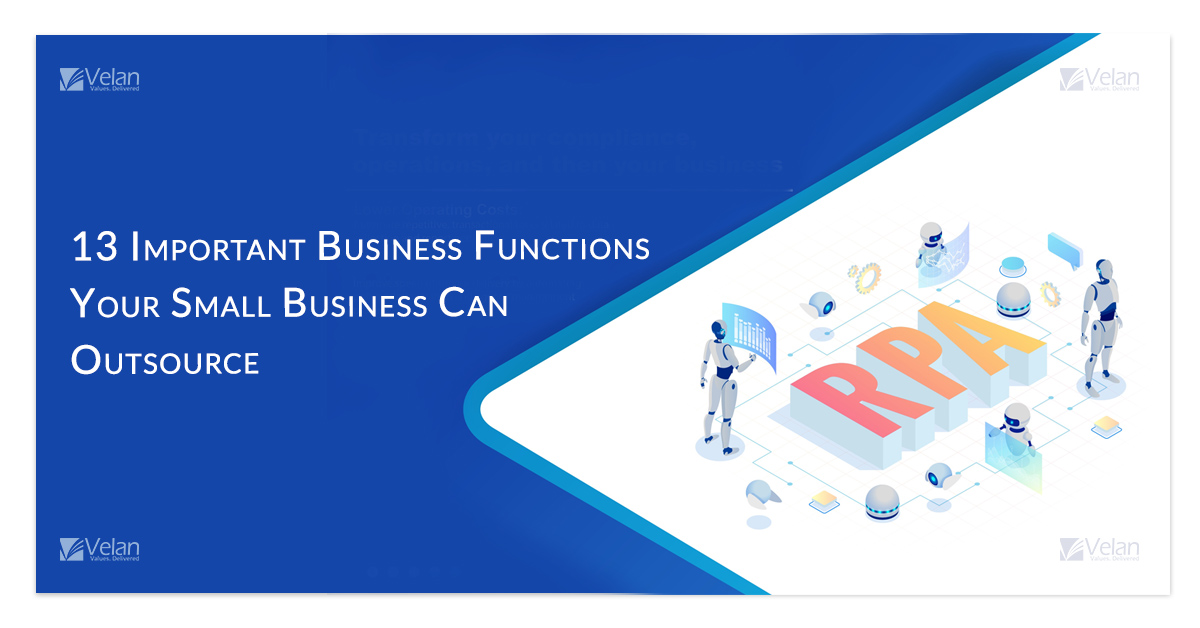 If you are a small business owner or an entrepreneur, you probably realize the value of every minute. And the best way to deal with the shortage of time is to outsource your repetitive, mundane tasks to the experts and focus on growing your business. 
As Peter Drucker says, "Do what you do best and outsource the rest!" 
Statista revealed that in 2019, the outsourcing market was worth around $92.5 billion. 
And more than one-third of entire small businesses depend on outsourcing to run their business operations smoothly. 
What is Outsourcing?
Outsourcing is getting your business work done from a third-party service provider who happens to be proficient in performing the task. It removes your need to house an internal team and bear the expenses that could otherwise be wiped off with an outsourcing partner. 
As a small business, outsourcing gives you the flexibility and freedom to get more work done and entrust crucial tasks and business processes to professionals, without having to invest in training and grow your in-house team. It lets you keep your expenses under control, increase productivity, improve efficiency, and focus on your niche that will contribute to expanding your business.
A common question that often arises in the small business owners is the kind of tasks that can be outsourced. And this article will help you understand exactly that. 
Human Resources
The pivotal team in every company – from recruiting to onboarding and managing the people of the company, the human resources team is important. You can associate with a recruiting team to hire skilled candidates to fill your vacant positions. And there are choices for outsourcing training, administration, time and attendance tracking, payroll management, and addressing company concerns.  
Marketing
When you want to entirely focus on growing your business, you can make use of the outsourcing firms to handle your marketing that includes tasks like advertising, content creation, public relations, social media posting, etc. These are the integral components to run a successful business. However, it needs a lot of learning, dedication, time, and money if you don't have the skill to yield results out of it.
Outsourcing the marketing tasks to the expert agency or consultant will not only cost you less but also yield more results and ideas that you would have not thought of otherwise. All you need to do before outsourcing is to look for the experts and be clear with your objectives so you can cast it upon your outsourcing partner. 
Digital Marketing
Having a digital face is really important for you to be known and successful. And what better than digital marketing. It involves diverse strategies and planning to launch your business online. From SEO to blogging, email marketing to social media marketing, etc. there is a lot for you to look at. And managing digital marketing single-handedly or with little experience will cost you more time and money. Instead, you can leave it to the experts and reap the results.
Sales
The sales team is one of the most important teams that directly influence your business. As a small business team, in case you do not have the cap to hire a sales expert, it is always wiser to outsource to the expertise. From making cold calls to setting up funnels and closing the deals, you can certainly rely on skilled outsourcing teams. It will generate more business at a relatively lesser cost. 
Website Content Creation
Your website is the first place your audience will land on to know about you. If you are a business that does not have a constant content requirement, you can outsource your website content creation to the experts. Your website will be rich in information and will show you as the leaders of the industry. Besides, involving an expert to write content for you will work for search engine optimization and also convince your audience to do business with you. 
Bookkeeping
Bookkeeping is one of the commonly outsourceable business tasks. If you do not have some prior knowledge in handling your accounts and finances, then you are going to put yourselves under a lot of pressure in learning it for the first time. Instead, you can save that time and focus on honing your skills by choosing to outsource your books. You will benefit by maintaining clean financial records, be ready for audits throughout the year, comply with regulatory standards, and you will be prepared to deal with unforeseen financial challenges. Your outsourcing team will look after your finances and save you time, money while keeping your books efficient.
IT Services and Management
IT is a humongous component of outsourcing industries. From installing new software to handling all the tech issues and ensuring the overall health of your systems, a lot can be taken care of by the outsourcing team. You can opt for an on-demand service or associate full-time with your IT service provider. 
Medical Billing and Coding
If you are a small practice finding your way out to help your patients, then claim denials and denial management is a whole lot of tasks. They are both very huge to handle for a small hospital or practice in terms of money, expertise, time, and trust. Until you expand your hospital to house a dedicated huge team, outsourcing will help you do justice to your value proposition and run your business smoothly, while the arduous and tedious tasks will be taken care of by your outsourcing associates.
Routine Administrative Tasks
The demand for Virtual Assistants (VA) is constantly rising. They are in the trend, especially for small entrepreneurs or solopreneurs who usually work at home or elsewhere other than in the office. From mundane admin tasks to posting on social media, VAs can help you run your administrative tasks in the business efficiently. 
Customer Support
For B2C companies that require staying connected online to interact with your customers or attend to their queries over phone, email, or tickets, outsourcing will be of great help to you. Help your outsourcing partner understand how your customers and their queries must be handled, your customer service strategy, processes, and give them the instructions from start till finish. And you are free to handle your niche. 
Manufacturing
Establishing a manufacturing unit will cost you a hefty amount. And that's where outsourcing could become your savior. You could find a domestic manufacturing partner or also look for an offshore partner based on the cost, infrastructure, and reliability.  
Shipping and Logistics
If you are outsourcing your manufacturing part, then you can have your manufacturing team or a different dropshipping team manage the shipping and logistics for your business. You have a team at the backend to manage your delivery process for the customers. It is the common choice of eCommerce sellers who want to focus on the marketing and digital sectors of their business.
Business Research
Before you start any business, you need to know about it. We call it research. Whether you are expanding in the market, launching a new service or a product, you must do the research. And that requires you to be fully concentrated and spend months surveying your audience. It requires continual digging into the internet and working out different permutations and combinations to figure out the answers based on your business. Unless you have the time, patience, and potential to dig deeper, it will always be a safe bet to outsource your research. You will not only know about your target audience, but you will discover valuable insights that you may not have thought of. 
Want to know how you can streamline your small business with Velan's outsourcing services?
Velan is a resilient, reliable, and leader in the outsourcing industry. We have been the most trusted outsourcing partner for more than 14 years in diverse industry verticals. We offer a suite of outsourcing services – from bookkeeping to medical billing and coding and everything in between. Whether you choose to outsource a single important business function or all the essential business functions, we understand the roles and get to the details. You will also be entitled to professional servicing and reports, and a lot of other benefits that will enable you to concentrate on growing your ROI. Feel free to contact us.