Cloud Migration | Process, Strategy, Benefits, And Challenges
16
Jun
2021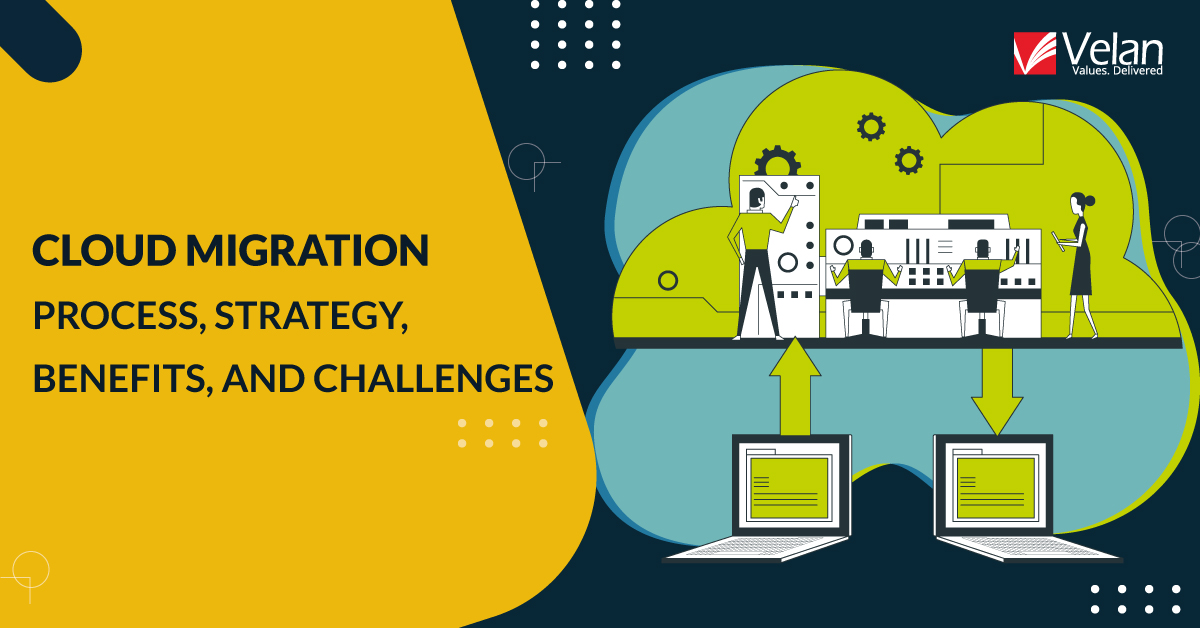 A cloud migration strategy is a well-studied plan that an organization makes to migrate its application and business data from on-premises architecture (desktops, hard drives, and servers) to the cloud.
Not all the applications and workload requires to operate on the cloud from the beginning. It is totally the organization's decision to move either certain parts of the business or the complete business to the cloud and in what batches. However, it is crucial for the decision-makers to chalk out the most efficient migration strategy and prioritize the applications going to the cloud, first. A systematic, well-documented strategy is necessary.
The cloud migration process can also involve migrating data between multiple cloud platforms provided by different cloud service providers. It is the purpose that matters.
Cloud computing is possible after cloud migration. It makes computing simpler, which was initially accessed on the mobile, desktop, or laptops, for the staff and they can access the data anytime and from anywhere. Cloud computing comes with notable benefits and some inevitable challenges. However, the core reason for cloud migration along with a concrete contingency plan is the key to successfully migrate your business to the cloud.
There are three different cloud service models. You need to understand your business requirements and the purpose behind migrating to the cloud. The three models are:
● IaaS (Infrastructure as a Service)
The cloud service provider will rent the database, storage space, virtual servers, and take care of the maintenance, basically the complete infrastructure for your business to operate. You can bill either by the hours used or based on the data consumed.
Example: Amazon Web Services (AWS), Microsoft Azure, Google Compute Engine.
● SaaS (Software as a Service)
The SaaS cloud service provider will provide you access to the internet-based software on a subscription basis or a monthly rental model. You may be charged on a per-user basis too. The software applications will be hosted on the cloud server for you to log in and use them.
Examples: G Suite apps, Microsoft 365, Dropbox, Slack, Facebook, Gmail, Youtube.
● PaaS (Platform as a Service)
The PaaS model is a type of cloud service model where the vendors will provide the entire platform for the developers to create, test, deploy, and scale their applications. Development tools, operating systems, infrastructure, database management, storage will be offered by the PaaS vendors. The companies need not pay for the hosted applications, but they must pay for the stuff needed to build their apps. It is similar to BYO data and applications.
Examples: Microsoft Azure, Google App Engine, Force.com, Heroku.
For specific details on the cloud migration and cloud service models, click here.
The cloud migration journey
Your accurate roadmap for migrating to the cloud depends on the complexity, needs, and size of your business. And you can find the detailed cloud migration checklist.
The fundamental steps for the cloud migration journey that will span commonly for all the businesses are:
● Planning your migration
The primary step for cloud migration is to be clear on your reasons for the move. You must understand which strategy will suit your business the best.
Begin that by analyzing your current environment. It is vital to determine your cloud server needs based on the present application and resource requirements. This calculation will help you avoid investing in the excess. To help you understand better, you can associate with a cloud consultant partner like Velan, who will be able to strategize and lay a concrete plan for your business. Our cloud consultants will offer consummate services and address all the dependencies as part of the consulting package.
● Select your preferred cloud environment
Now that you understand the reasons for your move, you then have to decide what kind of cloud model you need – if it is the public, the private, or the hybrid cloud models. It must be compared and gauged against your current and future needs. Velan will help you achieve that seamlessly.
● Moving your apps and data
After accurate planning and deciding the type of cloud model, the actual migration should be a breeze. While setting unrealistic goals with cloud migration may not be that bad, still, be mindful of the cloud security like compliance with security policies, a contingency plan for data backup, and recovery in case of migration failure.
● Validating post-migration success
You cannot assert a cloud migration success story until you have proof that it worked. You can leverage the knowledge and expertise of Velan's cloud consultants to understand the pre-migration and post-migration performance – from both the business and technical standpoint.
What are the six types of cloud migration strategies?
Commonly known as the '6R' cloud migration strategies, there are six patterns of cloud migration.
They are
1. Rehosting ("Lift and Shift")
As the name indicates, the Lift and Shift pattern entails lifting your stack and shifting it from on-premises hosting to the cloud. The migration will be a clon of your current environment.
Lift-and-shift is recommended for simple, low-impact workloads, specifically for organizations that do not have a long-term strategy for harnessing the cloud. Any organization that lacks cloud maturity and has a conservative cloud culture is the best recipients of the lift and shift approach.
And the best thing about this pattern is even if you have hastily made a lift and shift, you can revisit and rework your applications and optimize them while they are running on the cloud. It will not impact your ROI significantly.
2. Replatforming ("Move" and "Improve)
It holds a slightly upper hand to the lift and shift approach. In addition to replicating the application migration, re-platforming allows you to make a few adjustments to optimize your cloud landscape. It is recommended for conservative organizations whose focus is to get their hands on the cloud to improve their system's performance.
3. Repurchasing
This approach refers to moving your applications to an entirely new, cloud-native product, most commonly a SaaS platform. The challenge with repurchasing is to break off the routine and training your team to work on a new platform. However, in the long run, repurchasing will prove to be beneficial and a cost-effective option if you want to move your applications to a legacy environment.
4. Refactoring ("Rip" and "Replace")
Refactoring (or rearchitecting) refers to rebuilding your applications from the starting point. This approach is adopted by businesses that have no option to leverage cloud capabilities in their existing environments like serverless computing or cloud auto-scaling. Although refactoring is expensive, it is the most compatible option when you consider future upgrades.
5. Retiring
After you have thoroughly analyzed your application environment for cloud readiness, you might find some applications obsolete. Retiring refers to getting rid of those obsolete applications. The results will help you speed up the migration and improve your business case for other important applications.
6. Retaining
If you are quite not ready to retire any application because it had got a recent upgrade or not ready to move to the cloud yet, then you can retain it, meaning you can revisit this later. You should only migrate applications that make sense to you and prove advantageous for your overall ROI.
Top 5 benefits of migrating to the cloud
At a foundation level, the cloud's robustness lies in its flexible infrastructure. The top five advantages manifest in many different ways for your organization.
Nominal hosting costs: In the cloud, you don't have to be bothered about your physical server maintenance and the cost associated with it. The third-party cloud service provider will manage the server and rent it out mostly on a subscription-based model that cuts the total capital expenditure.
Agility and scalability: Operational agility and scalability are top ranking factors for cloud adoption. Cloud-based services welcome streamlining and scaling the applications anytime and also encourage remote working for the teams. It eliminates the need for the team to be present on-site. This level of continuity gives businesses a real competitive edge.
Decreased energy use: The server capacity can scale up and down based on your cloud's needs. This cuts back on any excess energy usage. You could also reduce your suite of data centers to either one or none and create a positive impact on the environment.
Disaster recovery: The cloud is helping organizations implement backup and recovery solutions seamlessly in very little time. Disaster recovery and planning are important for organizations of all sizes, and no better option than the cloud.
Security: The cloud is known for enhanced security than physical data centers. It provides a centralized security solution for your business data and applications. The cloud service providers also prevent unwanted traffic from hitting on your data by releasing regular security patches, thus making you free of any security violation threats.
Top 4 challenges of cloud migration that demands consideration
Making sure of smooth migration is one of the top challenges for businesses today. Although you hand over your cloud migration journey to an expert, the process still comes with inevitable physical risks. Being cognizant of those risks can help you overrun the challenges. They are
Downtime: It is preordained. The cloud migration requires you to keep your in-house physical servers temporarily down during the movement. And this could mean fatal to your applications and also test your customer's loyalty. However, if you inform your customers and resources about the planned downtime, the shortcomings could be limited.
Data loss: During the cloud migration process, your data could be vulnerable to theft and is at high risk for a breach. You must ensure every step is protected and encrypted with as many cloud security controls. With high-level encryption, you can actually prevent any data theft or security breaches.
Resource management: Not all IT professionals favor the cloud. It could be because of their routine of handling the servers manually and adopting a new change. However, if you have decided on your business's dependence on the cloud, you must onboard cloud experts and transform the backbone of your IT management.
Interoperability: Communication between the existing applications and the new cloud platform will not be direct. You may have to adapt your communication approach to suit the cloud environment. In other words, interoperability might be a challenge until you nail the communication.
6 effective methods to overcome the cloud migration challenges
Cloud migration is spreading like a wildfire and businesses are already experiencing its huge benefits. Apart from the multitude of benefits, one of the main reasons why certain businesses still suspect cloud is because they are oblivious of the subject and do not know to handle the challenges.
At Velan, our cloud experts exactly advise that. We will discuss a few common problems and different ways to overcome them.
Associate with established cloud service providers. Or you can outsource your cloud migration to cloud enthusiasts like Velan. We will always have your back and train you to use the cloud like a pro.
Using an encrypted file system will prevent hackers from stealing your data. Various technologies like SSL or HTTPS are there for your rescue, and they will make sure your cloud migration proceeds safely.
Regularly backups your data at multiple storage locations – both offline and online.
If a single server crashes, your business will still be up and running by retrieving the data from another server. Backup up data ensures redundancy and alerts you well in advance during a breach.
Understand the risks. Your data is vulnerable during migration, however, with a data security firm, you can be advised on how to reduce the risks. And encryption is always a part of the solution.
Do not assume the costs but calculate them as accurately as possible. At Velan, we will give you a detailed breakdown of the entire migration and also calculate the cost to profit ratio before diving in.
Decide which applications need migration. Gauge the overall efficiency o an application and decide if it's better when run on-premise or on the cloud before taking the dive.
At Velan, we are fully aware of the risks involved in cloud migration and the expert attention it requires. Whether you are considering cloud, or want to upgrade, replace, or consolidate your current apps and data on the cloud, we guarantee a highly successful and secured process.