Important '6R Strategies' For A Successful Cloud Migration
16
Feb
2021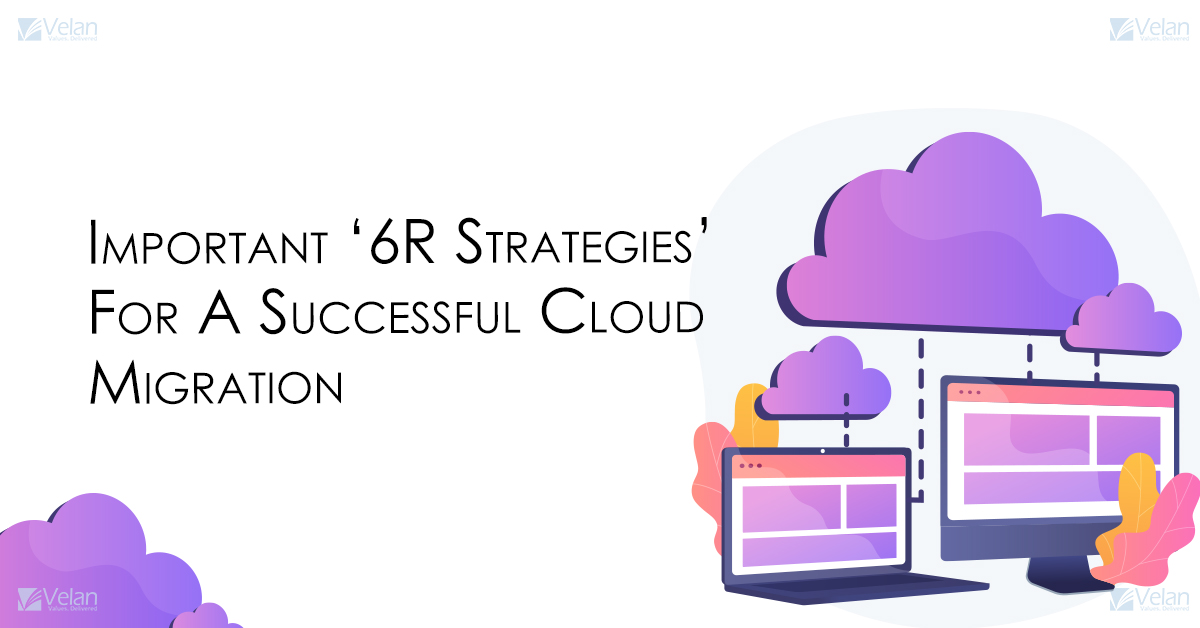 Once you are sure that migrating your business to the cloud is right for your company, it is high time that you understand what it takes for a successful cloud entry.
In recent years, many businesses are transitioning to the cloud however, they fail midway and become the victims of an unsuccessful attempt. Unless, as a business, you understand the complete cloud migration process and the strategies you need to follow, it is heartbreaking to reveal that you will encounter a lot of unsuccessful cloud transitioning.
Let's start with understanding what is cloud migration, benefits, and the strategies that you can follow to ensure you transition your business to the cloud successfully.
What is Cloud Migration?
Cloud migration is the process of moving physical and digital business operations into the cloud-based platform. It is kind of a physical move, barring the fact that it includes moving data, IT processes, and applications from one data center to another.
You could possibly visualize moving things from a small office to a bigger one, except this moving happens to the cloud. Like any other migration, the cloud also requires you to do the homework and start with a lot of prepping. You will reap the benefits of your homework after a successful transitioning – in terms of eliminating costs, gaining flexibility, and spacious advantages.
And that's not it, there are different types of cloud migration, and each type comes with its advantages and strategies.
Now that you understood what cloud migration is, let us stand strong on why you must move your business to the cloud?
The most common and strong reason for you to consider switching to the cloud is having your business operate on the cloud will directly bring a positive impact on your bottom line.
The cloud, for real, helps to save a lot on costs, cuts down overhead costs, and increases profits in different ways. The major four points are:
A. Cloud totally eliminates the need for you to invest in servers, server upgrades, and server maintenance. With a cloud host, your business can reduce and scale cloud data usage and computing on the basis of company needs.
B. With a cloud software-as-a-service model, you can scale your company's application for the app users with lesser money and zero investment in the software and its license.
C. The cloud allows you to effortlessly analyze big data and complete bigger workloads in a centralized platform. It makes work handling easy. You can spot trends, expand your eCommerce business operations, and work on customer loyalty programs.
D. The cloud is a huge boosting factor for your productivity. It makes file and document sharing easy, allows the team to work on projects simultaneously, and use the same files without having to create multiple copies of it for different team members. Remote access to project data and documents will be a cakewalk, and your workforce can do the job from any corner of the world, as long as they have a stable internet connection.
What are the surefire 6R migration strategies?
We have listed six fundamental strategies that will make your cloud migration easier. They are:
R Strategy #1: Rehost [lift and shift]
This strategy is usually recommended for organizations that want to migrate their business to the cloud quickly with either very little or no modification. However, you will need the confirmation call from your technical executives and the cloud expert before you lift and shift your business data. Scaling can be done at a rapid pace.
R Strategy #2: Re-platform [lift, tinker, and shift]
It is similar to the Re-host strategy with a slight modification. It entails making some modifications and optimizations to achieve minor advantages whole not changing anything in the core architecture of the application. It consumes more time initially nevertheless it will be worthy of the new environment and its following success.
Basically, you will lift the applications, tinker it for its new environment, making few modifications like moving to a relational database service if you are not able to handle database instances, and shift the application to the cloud environment.
R Strategy #3: Repurchase
This strategy involves paying for new services or products so you could integrate a few modifications to the cloud architecture. This migration strategy works well if you already have a cloud presence and want to transport significant workloads.
For example, if you have an HR, CRM, CMS, or any other software that wants to upgrade, mainly to the SaaS platforms, then you must purchase a new one that already entails cloud optimization.
R Strategy #4: Refactor or Re-Architect
It is the most expensive strategy, nevertheless, it comes with profound benefits for your business. It involves redesigning your entire application so it can blend well with the complete cloud. Strong businesses that need to introduce new features to scale their business efficiently can opt for this strategy and enhance the features and performance of the applications.
R Strategy #5: Retire
The main approach to this strategy, as the name suggests, is to retire the unwanted or unused applications on your company servers before migrating other applications to the cloud environment. You must scrutinize your IT assets and resources that are no longer in use and turn off its migration. It will not impact the entire transitioning if done right.
And in the future, if you find those unwanted applications futile, you can forever trash them.
R Strategy #6: Retain
This strategy must be aligned with the other five strategies before you make the transition. The objective of this strategy is to retain those applications that are already performing well and do not need a makeover just for the sake of their peers. By retaining the already performing applications, you are maintaining its peak performance while reducing the transition cost and money. It is more helpful when you do not want to migrate your entire business to the cloud.
Velan is here to make your cloud migration easier.
We span the complete length and breadth of your business for cloud migration. We counsel, create, and progress with you in the cloud migration services. From cloud service assurance and support to cloud integration services, and migrating workload, and everything in between, our cloud consultants will walk you through the process step by step and ensure a seamless transition.
Our consultants will also recommend the cloud service providers that you could adopt for your business. Our customer service is a blend of quality, expertise, and excellence. We advocate in business process analysis, design roadmaps to achieve the cloud goal, technical readiness analysis, cost models, etc.
We offer cloud building services like lift and shift migration, readiness, and reengineering services, and cloud-native development services.
Contact us for more information!