Investing In A Cloud Broker Could Be The Best Thing You Could Do For Your Business. Discover How?
1
Apr
2021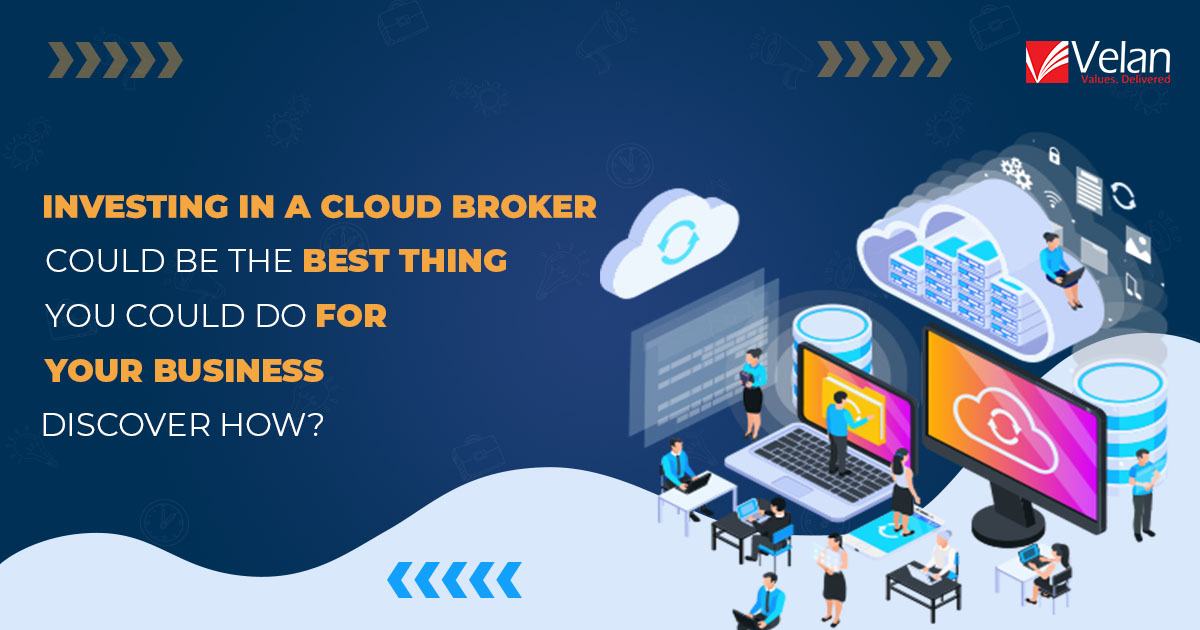 What is a Cloud Broker?
A cloud broker or a cloud service broker is an entity or a third-party individual that manages and directs the use, performance, and delivery of the cloud services. Also, cloud brokers maintain relationships between cloud service providers and consumers.
Cloud Broker is more like a middleman connecting the cloud service provider or cloud reseller with organizations. For some reason, the word "middleman" has been associated with a negative vein. In pursuit of finding the great deals for our business, we have always been knocking out the middleman. However, with cloud service brokers, that cannot be the case, and we will tell you how.
In recent years, cloud computing has seen a constant increase amongst enterprises. An extensive multi-cloud strategy is essential to stay innovative and agile as you scale. However, if you have not yet made the cloud migration or if you are planning to make one, a cloud service broker will prove beneficial to you.
With multiple options to choose from the cloud service providers like Google Cloud Platform, Microsoft Azure, AWS, and myriad tiers of plans within each provider, along with the public, private, and hybrid cloud options in the mix, it can be an unfathomable maze to try and discover the perfect option for your enterprise. And so many options may transform into a paralyzing situation. And to top this, the cloud resellers or the cloud service providers may change their plan offerings according to the changing business trends and demands.
The deficit of a clear transition strategy and implementation framework makes it extremely difficult for you to experience the results you envisioned with the cloud service. And this is where a cloud service broker will make a significant impact on decision making, customization, price negotiation, deployment of the cloud for your organization, and managing the entire cloud migration process seamlessly.
Reasons why you should hire a Cloud Broker right away
1. CSBs are experts.
Although your IT departments possess enough technical knowledge to control the cloud services that you may be using presently, you would need a cloud service broker to understand and intellectually manage the business aspect of the cloud service.
From deciding the right size and price to managing the IT and security, a CSB will help you sail through effortlessly and make better choices to keep your business efficient.
2. CSBs are better negotiators.
CSBs work day in and day out with a lot of cloud service providers or cloud resellers. They can open several beneficial doors for your business, which you never knew existed.
You can leverage your cloud broker's knowledge to your advantage. As they are the experts and know about your business, they can help with improved communications, better pricing, create a strategy to scale your business, and advocate on your behalf with the cloud service provider. As they also foster friendly relationships with software vendors, they can well organize and influence the vendor acquisition process smoothly.
3. CSBs are better managers–both on the business and technical front.
Cloud brokers will not only help you to streamline cloud processes from the business point of view but also possess skills and experience to manage and provide value from a technical standpoint. It includes self-supplying of apps and services and enabling secure access to data and applications.
For example, a few CSBs have their private cloud portals to tap into the cloud service providers they use and also pass on that access to their customers for their use. These platforms will help the customers to decide by creating an analogy in cost, benefits, services, etc. The platform can also automate the provisioning of cloud services from a single dashboard and eliminate significant workload of the internal teams.
4. CSBs can rationalize your bills.
CSBs can help you by simplifying the entire billing process. Whether it is dozens of bills that you need to pay for different cloud options that you choose or integrate with a payment gateway, a CSB can help you make the billing process simpler. A CSB will take care to manage your cloud choices and recommend the best for your organization while keeping your spending less.
Besides, a CSB can condense different bills into a unified invoice, making it simpler to manage and track.
5. CSBs ensure data security.
Multi-cloud strategies mean difficulty and gaps to access and analyze data. A CSB can make this process simpler for you by extracting all the data from multiple sources and look after various protocols essential for interoperability. Besides, CSBs can ensure all the data assets and the tech infrastructure are secured during data transfer.
6. CSBs customize, integrate, and aggregate data.
Cloud service brokers provide more advanced data maintenance and security in addition to integrated service offerings. It will cut the need for businesses to look for security support elsewhere. With their skills and acquaintance with your enterprise's security policies, CSBs can create and enforce a security roadmap that complies with the enterprise's needs and the tech stack.
A security roadmap clearly states how data will be reinforced and regained during a system crash, how security warnings will be tackled, and what security malware will be exploited to detect forthcoming threats. A cloud broker's wide exposure in such areas will help them customize their service package that will fit your enterprise. The comprehensive service encourages powerful tech stack alignment, curbs costs linked with the service, and finally means that you pay less and finish it in one invoice.
Besides, cloud service brokers regulate cloud provider services and relationships, like public cloud maintenance, and offer auxiliary security and maintenance services. The continual support is aimed at assisting businesses to automate and organize their processes, reduce risk, enhance efficiency, and sustain to progress their business processes and tech in an advantageous manner.
Verdict: CSB and Cloud Success!
Similar to other brokers, like a real estate broker, stockbroker, or automobile broker, the cloud broker is an expert in cloud computing. They assist you as an advisor to economize your research time. From understanding your business needs to scaling the requirements efficiently and working on the workloads and budget, a cloud service provider will act as a wall that connects with the best.
We, at Velan, have been cloud service brokers for decades. We rightly understand your business requirements and handhold you from transitioning to the cloud till invoicing. Our services extend to identifying what part of your business needs to be on the cloud and what platform will be apt for you.
We deal with Cloud Consulting, Cloud Transformation, Cloud Auditing, and Cloud Support and Maintenance – end-to-end cloud services. For more details, contact us.