How Can You Make BPO Your Company's Success Partner?
14
Apr
2021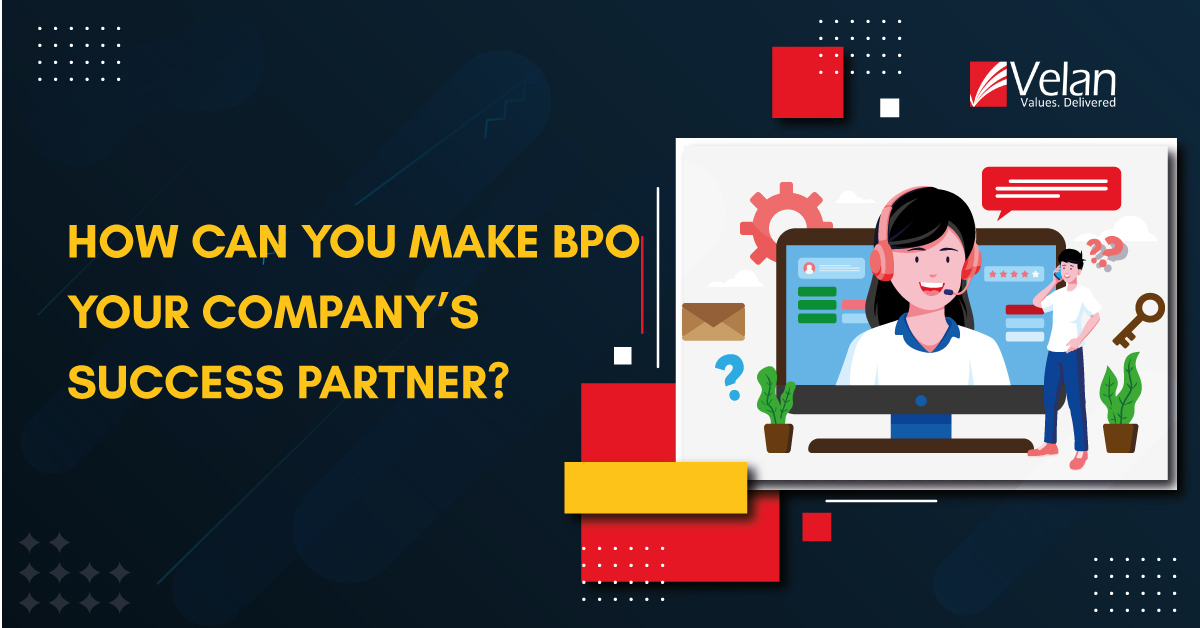 Choosing to outsource some of your company's tasks is not always an easy choice to make, especially when you are used to doing everything yourself.
There are a plethora of advantages if you outsource mundane tasks, however, with risks.
In this article, we will help you decide if you should consider outsourcing.
Business process outsourcing, abbreviated as BPO, is the method of delegating particular business-related operations to an external service provider.
The services include outsourcing back-office support, outsourcing accounting, and bookkeeping services, remote IT support, web development services, outsourcing revenue cycle management, process automation, marketing, customer support, and more.
BPO fulfils supplementary business processes, rather than the core business operations. The advent of advanced technologies, agile methodologies, and internet influence has helped business process management to dominate the business world. Businesses of all sizes can benefit from a BPO.
Why should you outsource your business processes?
+ To decrease operation costs:
The cost of outsourcing certain processes when compared to hiring an in-house team to complete those processes is relatively lesser.
By outsourcing, you will cut costs for maintaining an in-house team, staffing, and training, workspace, employee benefits, medical insurance, etc. Besides, you can opt for pay-for-service plans rather than fixed cost models.
+ To be more flexible:
When you outsource mundane tasks, you will have more time and resources to work on critical business functions. Whether it is a new product launch or brainstorming sessions, you can have your team give their 100% at work and increases the sense of accountability.
+ To enhance efficiency:
BPO teams are specialists in the tasks they do. Be it digital marketing or accounting, getting the work done from a specialist will mean accurate results when compared to a non-specialist in your team.
Instead, you can allow your team to be more efficient work by letting them focus on their core tasks, improve their ability and capacity, save time, and increase accuracy.
+To concentrate on key functions:
By outsourcing your company functions, you will have the opportunity, time, and resources to strengthen your core business functions. Essentially, you can complete those actions that will result in higher sales and ultimately add value to the overall revenue and customer satisfaction.
+ To access advanced technology:
Outsourcing will enable you to access the latest technology in your industry. You can enjoy the benefits of technology by paying a very little amount compared to investing in the technology itself. By outsourcing, you get to stay at the forefront of your business processes in terms of agile methodology, technology, and solutions.
+ To achieve great results in non-core business functions:
Because you are outsourcing non-core functions does not mean they are not important. For an organization to the term itself successful, every business-related function should be 100% compliant with its job description. And outsourcing will help you achieve that perfection in the daily mundane tasks so you can focus on attaining perfection in your core functions.
What are the risks involved in outsourcing?
With every advantage, there is a disadvantage involved, and business process management is no surprise.
A few risks you can anticipate with outsourcing are
+ Security
Sharing your internal accesses with the external service providers opens space for security breaches. Data privacy, vulnerability exposure, passwords, access to the cloud, etc. are a real threat, especially with increasing hacking counts. You might want to consider every hacking possibility before you share your private details.
+ Miscalculating the service costs:
It is one of the most common risks – miscalculating service costs. With BPO vendors from different countries, time zones, currency, there will be a lot of hidden costs that you would incur as a result of currency value fluctuation, hardware and software upgrade, layoffs, internal transition, decrease in productivity, etc.
+ Communication gaps:
Communication problems are common in business process management. The language issues can curb business activities, especially when you have global vendors. As a result, it will lead to delay in completion, misunderstood feedback, exponential risks, backlogs, inadequate support, and magnifying of current problems.
Diverse time zones, internet issues, preferred communication channels could all lead to communication gaps.
+ Overreliance on external service providers:
Once you leave your internal tasks to the external service providers, you will lose control over those tasks. Although you tell them your company protocols, the way a process works, instructions, etc. at the end of the day, your vendor will complete your task their way. Besides, the quality will become an issue over time.
The other possible risks could be
Data breach
Quality control
External employees
Unstable politics
Technology change
Prone to hacking
Finally, how to make outsourcing work for you?
Now that you know the advantages and the risk factors, there are some precautions you can take to exploit business process management in your favour (by overseeing the risks!). They are:
+ Be cognizant of your objective
You can make outsourcing work for you if you are sure about what you are trying to achieve from BPO services. Is it to save money, get more work done in less time, to be nimble, to access technology at a reduced cost, etc. Once you understand the limits of BPO, advantages, and disadvantages, you can make it work for you.
You may have to relinquish some control and security risks, however, by taking necessary precautionary steps, you can still keep it in control and enjoy the numerous goodness of BPO services at a very lesser price.
+ Define your budget
It is very easy to overrun the costs of BPO services. Once you start experiencing the BPO benefits, you might unknowingly outsource a lot of activities that your team could have done themselves. To avoid that unexpected bill-facing situation, you can set a limit on your budget for BPO expenses and track it every time you outsource a task.
+ Outsource the supplementary tasks
BPO vendors are specialists in doing supplementary tasks like providing remote IT support, accounting and bookkeeping services, web development services, revenue cycle management, process automation, etc.
You must decide which supplementary tasks you must outsource so that it does not get in your way to slow the progress of your core business functions.
+ Be mindful of your contracts
Unless a BPO vendor proves they are reliable and trustworthy, you must not get into signing a long-term deal with them. It is OK to incur a few extra dollars for renewing monthly contracts. These dimes will save you huge dollars in the future if you realize that your BPO vendor is not suitable.
The Takeaway:
"In 2019, the global outsourcing market amounted to 92.5 billion U.S. dollars" as reported by Statista.
The growth has been stable over the last 20 years because the business – from nascent startups to Fortune 500 companies has come in terms with outsourcing and its development strategy.
As you just read, outsourcing has its pros and cons. But the question comes down to "Is outsourcing right for your business?" Along with the darker sides that you cannot control in outsourcing, it still has surplus advantages for your business. Choosing the right tasks to outsource will not only save you time but will help you scale your business efficiently.
Velan has been a pioneer in Business Process Management for decades. The article must have thrown some light on how you will benefit from BPO – zeroing the option to Velan. We deploy the best tools, follow the best practices, and keep our transactions transparent with our customers.
Rest assured, you can be sure of less or zero associated risks, improved communication, increased accountability, and efficient business processes – all assimilated to ensure "Steady Growth."
We provide business process management for back-office support, accounting and bookkeeping services, Remote IT support, web development services, revenue cycle management, process automation, and lots more.