8 Reasons Why You Should Hire A Business Consultant
30
Mar
2021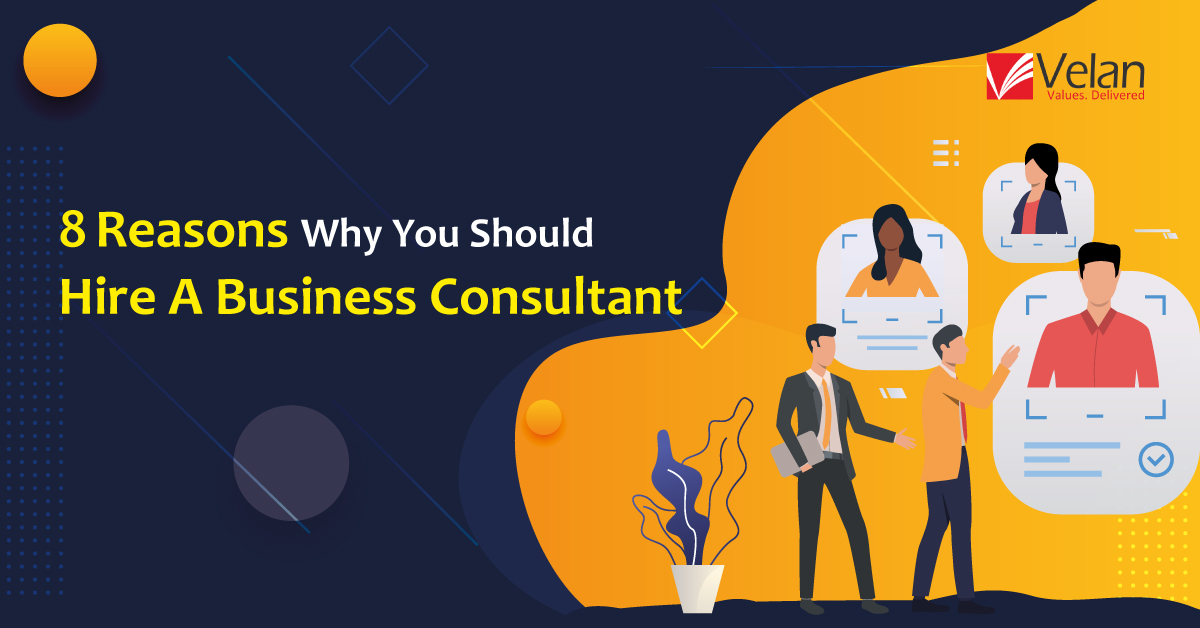 Hiring a business consultant can uplift businesses and help companies to enhance their performance. The process also includes modifying a few aspects of the business for the good and adopting changes to accomplish the company's objectives.
Business consultants support companies to repress challenges, grow revenue, and achieve success.
Companies must look for business consultants that have skills, experience, and proven track records in uplifting a company.
If business consultants are not obliged to work just for your company, you will be charged either hourly or per-project basis. It could be a one-off or retainer.
Business consultants offer management advice to support companies to improve their efficiency and streamline the business processes, not to forget business performance. These consultants scrutinize businesses thoroughly, build solutions, and assist companies to meet their objectives. Business owners must think about associating with business consultants when they need help or a different perspective on their selected path. Business consultants can also be a catalyst for creating good outcomes in companies.
What does a business consultant do?
There will come a time when your business and you will encounter the need for an outsider's help and consultation. It could be the market information, skills, advice, strategies, and unique techniques that so far wouldn't have seen a genesis in your organization. And business consultants can offer solutions for a wide gamut of business issues. There are various types of consultants who can contribute to diverse ideas.
By and large, a business consultant associates with you to work on planning, strategy, problem-solving, and achieving the objectives. They could help you to build a business skill and enhance your knowledge.
There are an array of services a business consultant can offer, and they are:
Discovering the problems in your organization and your business processes
Showing expertise in a particular subject
Expanding the small, yet important team to capitalize
Laying off irrelevant and incompetent staff
Evaluating the existing processes
Bringing about change for good
Discovering objectives and building a plan around it
Consulting and training employees
Rescuing the business and the company
Establishing a new business plan and the company
Influencing and setting the best example for other people, like the lobbyists
Phase #1: Discovery
The primary step of every business consultant is the discovery phase. The objective here is to understand and become proficient in the client's business. A professional business consultant takes the required time to learn as much as possible about his client's business and clear as many doubts from the owners and staff. It could encompass meeting the board of directors and employees, visiting the facility, reading the company notes and all documents, exploring the finances, and understanding the business processes and accounts.
In this entire process, the business consultant will discern the particulars of the company's vision, mission, objectives, and what business operations are established.
Phase #2: Evaluation
After the business consultant has gained complete knowledge of the business, he would get into the evaluation phase. The purpose is to understand where the actual change is needed in the business. It helps the business consultant uncover the company's positives and weaknesses, and also forecast the present and the future problems. The predicted things could match with the company's forecast in addition to the consultant's discoveries.
It is the main role of a business consultant – to discover problems so it can be put off at its roots to the maximum possible level and identify opportunities to expand the business, grow profits, and improve efficiency.
Phase #3: Offer solutions
Besides understanding the company, identifying the problems, and discovering the opportunities, a business consultant must create solutions to the problems and lay-out plans for capitalizing on the real opportunities.
For example, a company could be strong on sales but considerably weak in marketing. It calls for an opportunity for the consultant to identify and expand the marketing staff and capitalize on the sales team. In this phase, it is significant for the consultant and the company's staff to uphold honest, and clear communication.
8 reasons you must hire a business consultant
For companies that think they already have a great team and wonder why they would need a consultant, we have ten reasons for you.
And for beginners who want to get the most of their business, we have eight reasons for you too.
Here are eight reasons that watermark the need for hiring a business consultant:
Lack of expertise – The business consultants outside will have the skills and knowledge you are looking for in a particular subject as opposed to the team you already have on the inside. With an outside expert, you will get to solve the issues efficiently with new ideas.
Lack of technological skills – New trends and technologies are evolving every day. And you cannot expect every employee to stay current unless there is a pay increase for additional technology they learn. (Just kidding!) The lack of experience in the latest tools creates a fall, and as a result, the business's performance could be stalled eventually. You can either train your team or get to fill the missing expertise with the business consultant to ensure the delivery is satisfying.
New perspectives – During a crisis or a problem in your company, you must have someone who could dare to give an unbiased, constructive, and informed opinion. To do so, the person must be an expert and a strategist to add new perspectives and justify how it could benefit the company. They must take things forward, solve internal issues, offer practical solutions, and lead the problem to a smooth closure.
Offer new ideas – Business consultants indeed possess enough experience and exposure working with multiple companies and industry verticals. The combination of experience and exposure will help them think out of the box and come up with new concepts. You can leverage their knowledge to incorporate those new concepts and methodologies.
Operations flexibility – Consultants are available for both short-term and long-term projects. It makes it cost-effective for businesses and eliminates the need for HR work. As and when the projects are delivered, you can end the contract with the consultant and move on.
Quick turnaround and efficiency – As there are no grounds for hiring a business consultant as employees, companies can hire them for one-off projects. It gives companies a flexible solution to look for experts in the required field. And a business consultant to complete the research and lead the project to completion in a quicker time while being efficient.
For example, if you are looking at shifting your business to the cloud, you have the room to hire a consultant who is adept in that field based on his previous experience. As he is already an expert, your work will get easy, will be more efficient, and you can experience a quick turnaround time.
Evaluation and Problem-solving– A business consultant can help you locate bottlenecks and contingencies when your business encounters issues. He can help you understand and fix the problem, recommend new strategies through a constructive evaluation.
And internally, business consultants can be your problem solvers and settle internal conflicts in your team. As they are outsiders, they can approach the dispute from a new angle and settle it for you.
Compliance – Businesses need to abide by the regulations – local and global. A business consultant can be a savior as he is already loaded with knowledge as opposed to you learning it from scratch. Guidelines and regulations are complex and laborious to implement, especially when you have to learn new things. So having an expert do this job for you will save you time, finance, and resources.
How to find a business consultant?
Spotting the right business consultant is definitely time-consuming, but not more than investing in an incompetent. Look for consulting firms that show zeal, an eye for excellence, and vast experience in their work.
Velan is affluent with professional business consultants that are experts in various domains. We have been trusted partners for more than 150 International Customers and hold a proven track record for delivering unparalleled results.
Our business consultants have completed globally recognized certifications in their niches. We will help you uncover the potential chances and turn them into profits!