The Basic Guide To Business Process And Business Process Management
18
Jan
2021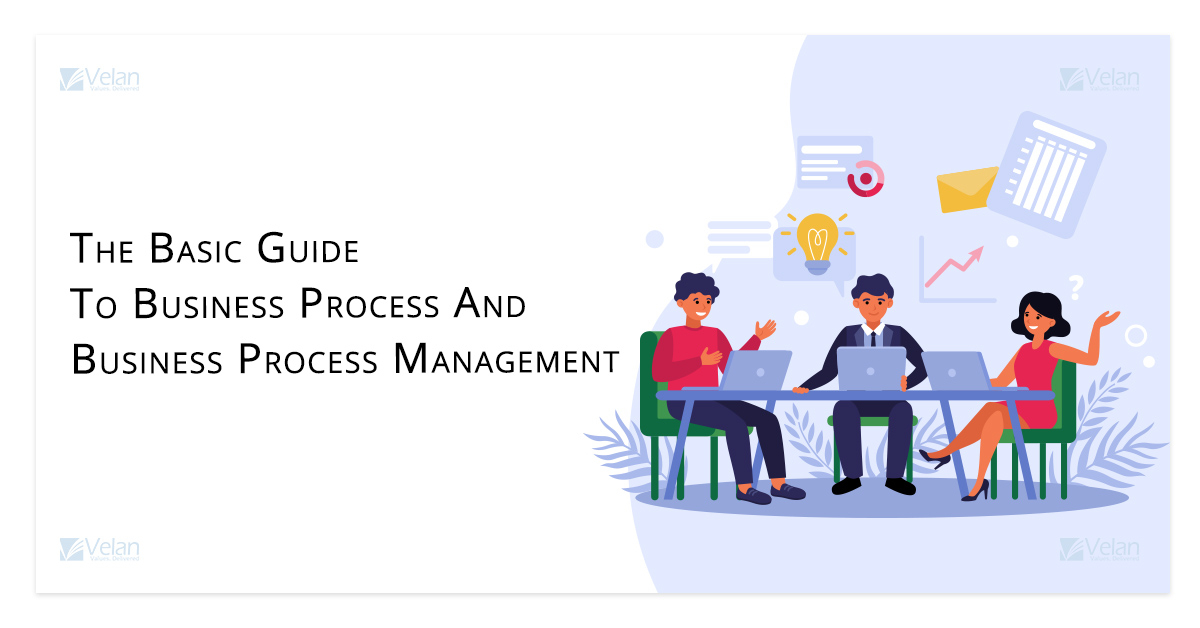 What is the business process?
A business process is a sequence of repetitive tasks performed by the company to accomplish a concrete goal like onboarding employees, handling deliveries, streamlining support, assembling products and services, etc.
Every step in a business process indicates a task that is attributed to a stakeholder. It is the fundamental building block for business process management, business process automation, etc.
A process is not a one-time affair, it is repetitive. Every step is organized and repeatable. The main advantage of having a business process is it helps to streamline your business.
The significance of business processes
Business processes have a continuous need in large organizations, especially. It is the lifeline of a business as it helps in optimizing individual activities, saves time, and helps you put your resources to optimal use.
By having a clearly defined business process, you can
Ascertain important tasks to achieve your business goals
Improve business efficiency
Simplify and streamline communication between different teams and departments
Assign approvals to ensure responsibility and better use of resources
Stop chaos in your everyday operations
Systematize policies and procedures to lead tasks to completion
Seven steps of the business process lifecycle
Step 1: Outline your goals to understand the purpose of the process, the reason behind its creation, and how can you measure its success.
Step 2: Plan (like a roadmap) your process and the strategies to achieve the goals.
Step 3: Allocate tasks and machines to the stakeholders to complete the goals.
Step 4: Test the process and identify any gaps and amend them.
Step 5: Implement the process in a real-time platform. Train the stakeholders.
Step 6: Monitor the results, analyze the process, and record the patterns. Document the entire process steps.
Step 7: Repeat the process if you could achieve the goals with this process.
Three types of business process
There are three types of business processes: primary, secondary, and management.
The primary business process involves the main business operations. Processes like production, sales, and marketing that directly involve the clients and giving value through your products and services.
The secondary business process does not involve direct contact with the customer. Instead, it drives the primary process. It ensures a seamless workflow in the business. Human resources, technical support, bookkeeping, and accounting are a few examples.
The management business process controls and monitors business activities. Budgeting, infrastructure management, decision-making, internal communication, etc. are a few examples.
After you have planned and executed a strategy for streamlining the business process, managing these business process are a task by itself. And this is where Business Process Management takes charge of the business processes.
What is business process management?
Business process management (BPM) is an organizational discipline that leverages different practices and tools to plan, model, perform, monitor, and optimize business processes.
It coordinates business strategy, people, things, systems, and information to deliver business objectives. Every department in the company is accountable for converting raw data into useful information. The management looks at all the business processes, analyses its present working state, and discovers any areas for improvement and finally, creates an efficient and productive organization.
It aims at implementing a consistent, automated process by replacing mundane transactions and human intervention. Its aim is to eliminate rework, automate routine tasks, and increase the overall business's efficiency.
Six Sigma and Lean are the most commonly followed BPM practices.
Step 1: Design
Business analysts evaluate current business policies, interview the stakeholders, and discuss desired business goals to be accomplished with the management. The goal of this stage is to understand the rules of the business and confirm that the process aligns with the results to achieve the objectives.
Step 2: Model
This step refers to discovering, defining, and planning new process models to ensure it supports the current business processes for different stakeholders.
Step 3: Execute
It involves testing the business processes in real-time with finite users and roll it out to the others upon its success. In automated workflows, the processes will be intervened to reduce errors.
Step 4: Monitor
Define Key Performance Indicators (KPIs) and record the metrics against them using dashboards and reports. It is important to monitor the entire process and its associated segments.
Step 5: Optimize
With an efficient and comprehensive report system, an organization can maneuver operations towards process improvement. Business Process Optimization (BPO) is another design of the business processes to organize and enhance process efficiency and to align individual business processes with a well-defined strategy.
When should you think about business process management implementation in your organization?
You can consider implementing BPM in your organizations to produce a high return on investment.
Complicated business processes that need coordination and orchestration across various business divisions, functions, units, departments, and workgroups.
Changing processes that need prompt regulatory compliance changes, like a change in customer information management ensued by the changes in privacy laws and finance sectors.
Measurable crucial business processes that directly enhance the business performance metric.
Business processes that demand legacy applications for their finish.
Business processes that require quick turnarounds and those that are handled manually in exceptional cases.
It is time to streamline your business processes with Velan.
Periodic analysis and review of the business processes are essential to make sure your organization is functioning efficiently and seamlessly. In business, things are dynamic, and it is very crucial for you to regularly revisit the processes and their related functions. When done correctly, it will improve the overall productivity and efficiency so you could grow your business and increase your ROI. However, if you miss identifying the inefficient processes, it could become the worst nightmare for your business and upset the total empire that you may have built.
How Velan works?
With Velan, you can outsource your repetitive business processes, and we will handle the entire management from scratch till completion. We have been the pioneers in the business process outsourcing industry for 14 years in a row.
Our BPO experts will work with you directly by identifying the processes that need automation to deliver unparalleled values that will help you achieve your business objectives. Once we set up the process, we will constantly evaluate and monitor for improvement. The more you involve with Velan, the more inefficiencies will be identified, and we will continuously work as an extension of your team to achieve your business objectives.
We will ensure to set up fully functional, automated business processes in a timely manner, so you need not halt your regular business functions. With Velan managing the lifeline of your organization, you will have more time to focus on core activities like bringing sales, increasing your marketing efforts, and driving business growth.