Know Your Offshore Outsourcing Vendor: 8 Important Pointers
18
Mar
2021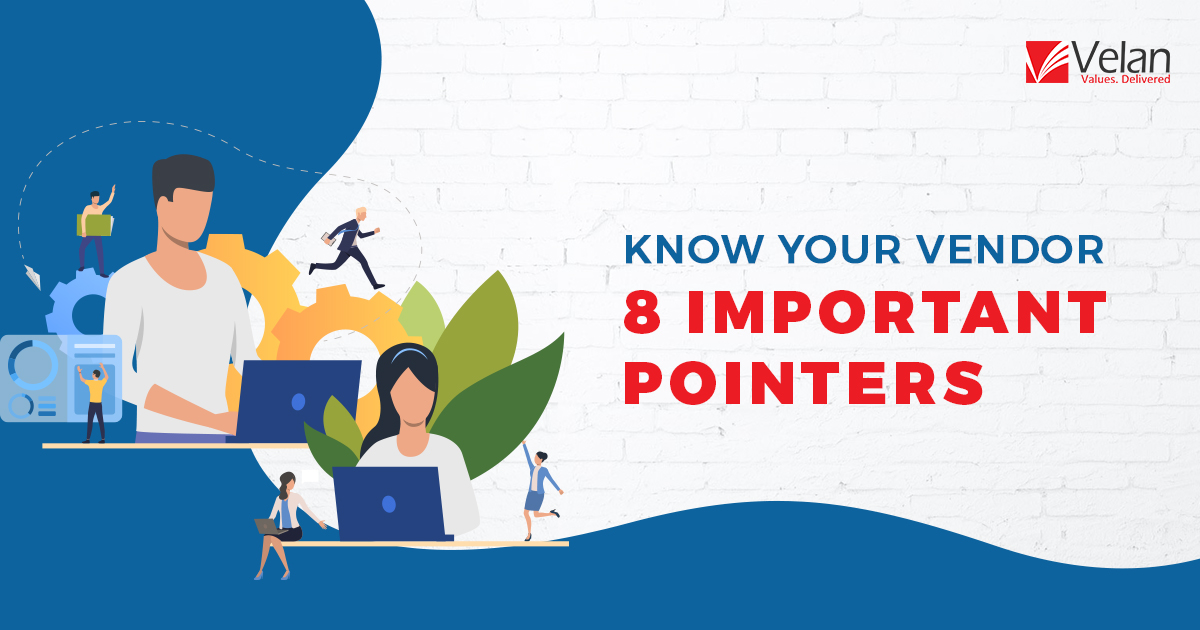 An increasing number of organizations are looking at outsourcing their specific business processes to business outsourcing firms. It is mainly due to its efficiency in improving its business operations, cost-effectiveness, and productivity rates. 
If you have already done your outsourcing math, you would have discovered that the efficiency and savings that you would fetch with the right outsourcer would outweigh the other issues. 
However, not all business process outsourcing companies are built equal. It is important to understand what to look for when you outsource your business processes to derive the benefits completely and pull off better bottom lines. 
Outsourcing!
"Outsource" or "outsourcing" defines the process where you, a business, hires a third-party vendor to complete your business processes and tasks. You could either outsource your work to an individual consultant or an outsourcing agency.
You will get many benefits when you have chosen the right outsourcing partner for you. One of the significant advantages of having settled on the right partner is the ability to finish the job with high quality, accuracy but at a lesser cost. 
When you outsource the least important tasks to the experts, you will get the opportunity to spend your time, efforts, and focus on the areas that you are skilled at. You will get ample time to serve your customers better by focussing on the research, market trends, innovation, etc. Besides, you will eliminate the need for huge manpower, skills training, and infrastructure and you could invest the capital elsewhere that might also contribute to the success of your organization. It is essential that you select the best outsourcer to achieve optimum results.
According to Velan, one of the leading business processes outsourcing companies in the US and India, you must consider these key pointers while looking for the right outsourcing partner for your business.
Important Tips for evaluating an outsourcing provider 
When assessing your outsourcing partner, your main focus should be on your vendor's ability to meet your business requirements.  
1. Well-established industry experience.
Your outsourcing partner's in-depth knowledge, experience, and collective skills qualify them to manage your business processes. In order to gauge their industry experience, find out the number of clients they have worked with and the projects. Assess the depth of the projects, challenges they solved for their clients in the past, and how intensive they were. 
The complete management team from project managers to the team members should possess the same qualification, rigor, and mutual passion to understand your business requirements and complete the project. 
2. Evaluate their technical expertise.
Technical expertise varies with every project. Your outsourced should possess the ability to explain the methodology that they would follow to lead your project to its completion. With this methodology, they should also be able to define the metrics, timelines, results, and issues that they would encounter and the backup plan to resolve them. This will give you an understanding of how your project will be handled from the beginning to the end. 
Ideally, your outsourcing partner must be a pro in areas such as project management, quality control, and must define a business continuity plan to ensure uninterrupted services, delivery, and support to your organization. 
3. Request for client references. 
Doing some prior research on your prospective business outsourcing partner will give you a better understanding of them, their work culture, the way they treat their customers, their success rate, etc. Find out about their past clients and get feedback from them about the scope of work and their experience with your prospective partner. Do not forget to talk about the challenges both parties may have faced.
On the other side, you could use your partner's website to gather some information about the work they do. Lookup for testimonials, case studies, sample projects, understand their process towards getting a success rate. After you are convinced with the prospect, approach them for more information and start with discussing your work.
4. Probe client management systems and communication methods.
In order to get the work going smoothly, facilitate communication with your vendor prior and agree on a single point of contact, and means of communication for work allocation, feedback, expressing concerns. Zero in on the software, a messaging application, and emails. If you and your vendor are in different time zones, make sure your vendor meets your working hours to a certain degree. It will minimize a lot of miscommunication and help you in case of emergencies. 
The facilitator between your company and the vendor should be understanding and positive about the work.
5. Find out the technologies and IT infrastructure.
A technological enthusiast service provider is apparently in a better position to assist and maintain your business's demands. The IT infrastructure of your outsourcer must cover the latest software and hardware components, reliable internet, phone lines, and seamless integration with your technology.
Your Outsourcing vendor must be flexible in applying other technologies specific to your company. 
6. Estimate costs.
From your business's point of view, getting a fixed cost will prove beneficial to you. Check with your vendor if they would agree to work on a fixed project cost. Else, you may have to expect nightmares every time an invoice hits your inbox from your vendor. It is common for the outsourcers to add hidden costs. Avoid unexpected expenses by talking them out clearly. 
7. Assess the vendor's team.
The success of the outsourcer is largely reliant on the outsourcing team – workforce. You could review your Outsourcing vendor's hiring processes and policies and help them with your input on the kind of workforce you require for your business – from soft skills to technical knowledge and discipline at work. 
Giving a clear picture of your workforce expectations will help your vendor understand your corporate culture and the values you are looking for. 
8. Check for financial security. 
Last but certainly not the least important, check your vendor's stability and validate if they could be your long-term partners. You do not want to regret a bad experience after settling things about your business with them. After you are satisfied with their work deliverables for your business, signing a contract with them for the number of years that you need would help you.
Now that you have understood the eight essential pointers that you require to evaluate your outsourcer, you can locate the best offshore or onshore outsourcing partner that would meet your business requirements and fit your organization.
Do your validation…
We have educated you with eight actionable pointers on how to select an outsourcing partner exclusively for your business. These pointers will help you pay attention to locate the best outsourcer while also equipping you with information and the qualities to look for. 
Outsourcing certainly has a lot of benefits, and you would be able to reap those if you select the right Outsourcing vendor. From cost reduction to a higher quality of work deliverables, it all revolves around the outsourcer you choose for your business.
Velan has been at the forefront for a decade when it comes to providing the best outsourcing tasks for businesses. We carry a wealth of knowledge, trained professionals, and experience to deliver complex work in a short period of time and with great accuracy.