A Comprehensive Library To Business Process Management
24
Dec
2020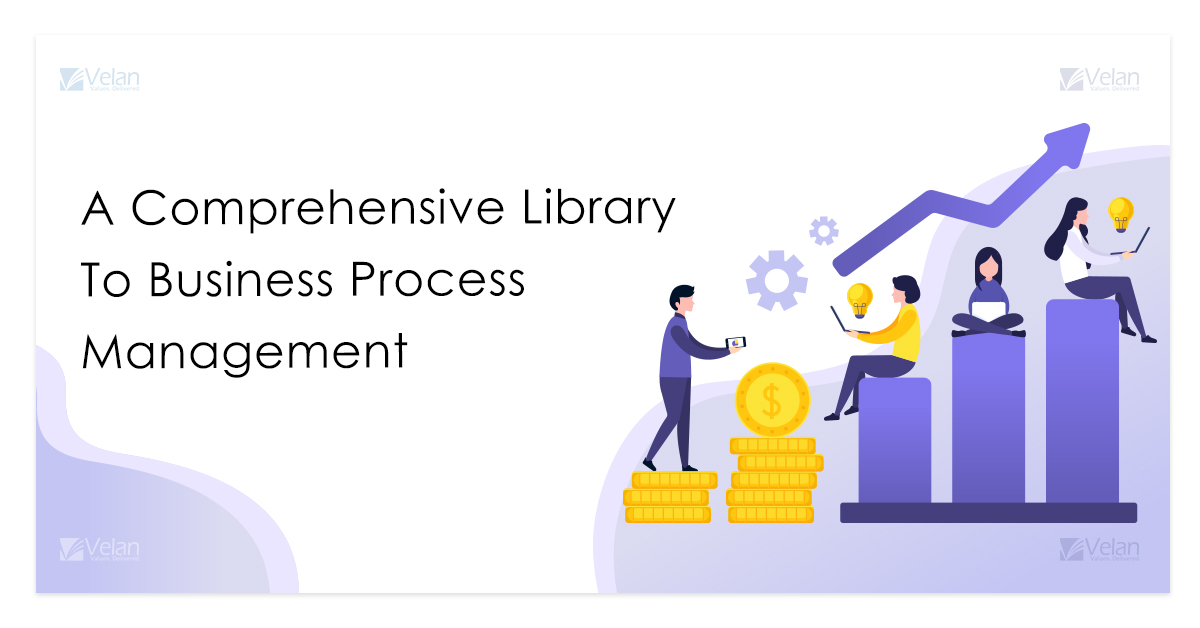 Managing your business processes and handling daily business operations is an intense task. And it gets quite challenging with lesser resources. Especially, small business owners presume fear huge expenses, and so they deduce that it is worth implementing only in larger organizations.
Cost is a major factor that hinders implementation in large business organizations too. It is mainly because the business owners are not completely aware of what business process management can do to their business.
BPM is crucial regardless of the business size. You can revisit your business's objectives by implementing business process management (BPM).
We will walk you through a comprehensive guide on business process management and help you realize the true potential of BPM and its value for your business.
Business Process Management is…
Business Process Management (BPM) is a group of activities – like modelling, analyzing, and optimizing – to help businesses meet their specific goals. BPM is usually applied to often repetitive, ongoing, and predictable tasks to optimize daily business activities. With BPM, you can validate your daily business routines and discover ways to make that process efficient, reduce manual errors, decrease costs, save time, and improve overall productivity.
It is an improv – a continuous process that requires improvement as it grows. With BPM in place, inefficient, impromptu, and ad hoc workflow management activities can be annihilated.
You can optimize your business processes to a level where you can deliver the best products and services and increase your customer satisfaction.
Summary:
Business process management (BPM) is an organizational regimen where you will scrutinize and retrospect every business activity and understand its processes to its finest details. And with those details, you can create an area of improvement to make that process more optimized and efficient.
BPM is process management…
While tasks and processes are almost similar, there is a thin line that separates both.
Tasks are a set of do's that is temporary in a project. Tasks focus on project completion. They are mostly one-time or related to that kind of project only.
Possess, on the other hand, is a set of tasks that are interrelated. The process is usually continual and focuses on the long-term. It is a result-oriented approach, simplifies the execution of tasks, and helps with optimization based on the result.
| Process increases productivity while tasks lead to completion.
The modus operandi of BPM…
A business process is a set of tasks and functions executed by people and systems to accomplish a specific business goal. From ideation to the project delivery, the process involves a step-by-step approach that will lead to the completion of the project and also the improvement of the process.
And this is called the BPM life cycle.
Step #1: Analyze and Design
As the first step, you must analyze the current processes and their related operations. Identify what works efficiently and what does not so you can build an outline to optimize that process. and assign the owners to lead towards the completion of the process.
Step 2: Model
Stretch the outline to more of a visual layout for easy understanding. Get to the details of every process, fix deadlines for completion, give clear instructions on the sequence of completion, the flow of data and information, recording details, etc.
In the interim, find out ways to improve the process with a lot of possible scenarios.
Step 3: Execute
After designing and modelling, the third step is to check how those changes are performing. Implement the new changes and see how it works when executed.
Be sure to document every change so you can measure the efficiency quotient.
Step 4: Monitor
After the implementation, you need to start monitoring the work and the new process in place. Ensure to leverage the right metrics to measure progress, record efficiency, and identify bottlenecks. Look for data to substantiate your discoveries.
Step 5: Optimize
BPM is a continual process. As you monitor and analyze, notice the changes, and gauge whether they are proving worthy. And decide if any changes could be made to optimize the process better. In case you find the new process working brilliantly, giving you the desired results, look if those can be automated and improved.
P.S. BPM is insatiable!
The different kinds of BPM…
BPM systems are categorized into three types depending on their purpose.
Human-centric BPM: This BPM fosters the relationship between humans and tasks to happen seamlessly. It will help by implementing a process to deal with the hard-to-replace tasks by humans.
Example: Data reviewing; creating repeatable documents like proposals, contracts, and reports; approving leaves; authorizing access; etc.
Document-centric BPM:  If the document is the heart of your business processes, then you will have to adopt this BPM. It enables the process to flow seamlessly and shift the documents between teams for verification, sign, approvals, etc. It enhances the business processes by streamlining the document flow staff use in their company.
Integration-centric BPM: This BPM eschews human interference by helping the teams repeat their transactions and automate workflows. It helps BPM to amalgamate with the service-oriented architecture (SOA), so your company can keep abreast of the trends.
It helps to cut back on management overheads and allows APIs, connectors to do the work.
The benefits of BPM::
The most crucial and visible benefits of BPM are:
Build, plan, peruse, and improve business processes
Acquire complete control of disorganized and chaotic business processes
Operate and finish mundane business operations with increased productivity and efficiency
Set bigger organizational goals and achieve them
Make headway towards digital transformation
Boost and optimize untidy processes
Keep track of every task assigned to the individuals as they progress on the workflow
Collaborate better, reduce human efforts and errors, and remove redundant tasks
BPM and Automation, What's the connection?
BPM is an application, an operation, or an exercise performed by the people in an organization. BPM has befriended automation technology to identify process enhancements and improve productivity. BPM is the opening step into extensive business process automation.
Automation helps you to operate your business processes more efficiently and in an organized manner. It cuts down on repetitive tasks, time taken to complete them, discard human errors, and complexity.
| BPM enables you to apprehend your mundane business processes, while BPA allows you to continually check your business processes and improve them for the good.
Examples of BPM in different business functions…
The on-boarding process and maintaining the employee's details are chaotic and unruly for the Human Resources department. With BPM, you can organize paper works and eliminate the need for filling the paper forms. Besides, timesheets, uploading employee details, registering information, etc. are a few of the HR activities where BPM will prove helpful.
Accounts and Finance teams are probably are handling the most chaotic situations almost every day. The sheer invoices and emails they get daily are intimidating. And responding to every one of them is another new task altogether.
With BPM, you can ease these unruly situations and take complete control of the processes. Reimbursements, invoices, salary credit, etc. are a few of the processes that can be streamlined.
The purchase approval is a nightmare. In the olden days, until BPM was an enigma, the 'purchase' topic was a strenuous task. And with BPM, you can bid adieu to all the hard days and implement the best practices that can happen in the back end through the system.
Approving invoices are a pain in the arse. A small math error can make or break the system. And it may cost the entire process. And having a BPM implemented, you can be free of encountering such a situation in the future.
Clearly, there will be zero chance for an error.
Data security, data maintenance, business strategy, project management, contract management, customer service, cloud maintenance, and operational efficiency – there is nothing that BPM cannot do, especially for the IT industry.
Get started with Velan's BPM
You know the what, why, and how of the business process management. With this information, all you have to do is just get started all ready to embark on a journey of successful business transformation.
The focus of IT has transformed from addressing internal needs, like cost, efficiency, and productivity, to engaging with customers, digital transformation, and establishing new business opportunities. That's why, at Velan, we want to replace the conventional business automation model with the latest. We want our clients to focus beyond streamlining their business processes and create new strategies that will help with automating the business on the whole.
We are associated with a colossal community on business process automation technologies. Our consultants will help to enhance reliability, features, productivity, and security to ensure your business and IT functions and sustains with stability and security. We will create customized solutions for your business with minimal resources. Our epoch wants zero-code or low-code development, and we will help you leverage ideal BPM to achieve that with lesser complications.
Overall, our business services, training, and solutions will give you the control and power to automate your organization so you can concentrate on innovation and exploring new horizons.