How To Hire The Right Accountant For Your Business?
2
Mar
2021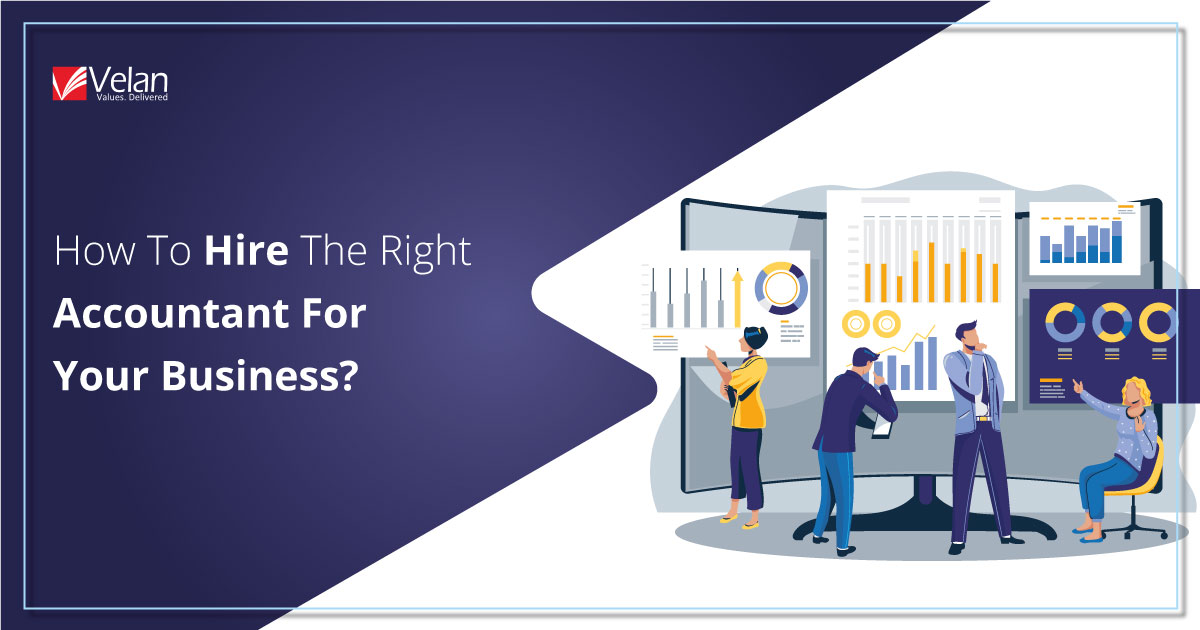 Organizations need to keep a tab on their right accountant and finances. If business owners are not aware of their monthly and annual financial stand, then their chances of sustenance in the competition are expected to see a downfall.
We cannot stress much about the importance of financial management in the business, however, only 3% of business owners read their financial records.
It is the role of the company's accountant to make sure all the financial records of the company is in the right place. And that is why having an accountant and hiring the right accountant for the business is very crucial.
What is the role of an accountant?
We would like you to understand the three fundamental roles of an accountant before you hire one.
– Advisory Services
The fundamental role of an accountant is to understand your financial records and handle your taxes spanning their length and breadth. Your account must prepare the actual taxes accurately. The on-time tax statements will allow your business heads to make informed decisions about your company's finances and accounts.
Besides, you can find accountants who specialize in providing advisory services individually for business expansion, insurance, expenditure, multiply income, etc. On the whole, with the right accountants, you can tap the right areas of your business and discover insights that will support your business owners to make the right decisions.
– Financial Record Keeping
Accountants are responsible for establishing accounting and bookkeeping systems for your business. A good accounting system will empower you to make an accurate prognosis, assess profitability, and decide on logical prices. Predicting business trends, monitoring budgets, deciding the breakeven, and tracking expenses and costs are all crucial tasks that accountants will help you handle daily.
– Auditing Services
Whether it is creating your business financial records from scratch or managing audits for loan purposes, it is the sole responsibility of an accountant. Auditors are mostly considered as outside accountants who assess the accuracy and quality of the financial statements. These auditors leave the public sector after they have acquired great experience and will become eligible to handle larger business accounts from the basis of their previous training in public accounting sectors.
How do you hire the right accountant?
Now that you know what is the role of an accountant and what they are supposedly doing, let us discuss how do you hire a good accountant for your business? What are the key skills and personality traits that you must fish for?
– Key Qualifications right accountant
It is the fundamental thing that you must look for before hiring an accountant.
Accountants, in general, could manage and lead tasks like accounting and bookkeeping. However, if you want your accountant to stretch beyond and handle auditing, tax invoicing, then you must hire accountants who have a valid certification specializing in that particular area.
–  Certifications
A CPA (Certified Public Accountant) different from a CMA (Certified Management Accountant). The requirements for both the CPA's and CMA's are:
Take their respective exams and clear them,
Hold specific educational requirements to be eligible for the exams,
Valid work experience, and
Ongoing education.
What's the difference between the two?
A Certified Management Accountant can involve in managing the daily accounting needs along with other tasks related to auditing and invoicing, real-time. CMAs must have two continuous years of professional experience in management accounting and financial management.
A Certified Public Accountant has complete training however, he falls a shortage when it comes to having actual management experience. CPAs are good advisors while CMA's are good managers.
– Industry Expertise
No two businesses are the same, and that applies to the role of the accountants too. Based on the business requirements, you must determine the expertise and experience you require from the accountant.
For example, an accountant who holds previous experience working for small-businesses like retail, non-profits will not have the required skills for manufacturing companies.
It is absolutely important to choose the right accountant for your firm, so you get to achieve the objectives for your business through the accountant. Be prepared with what you want for your business so you could ask the right questions to your accountant.
– Complexity
The umbrella of an accountant's duties is the same, however, the expertise and roles of each accountant will differ based on which course they took and the accountant sector they cleared. So, businesses must consider the accountant duties before hiring one. As already mentioned, business owners must know why they are hiring an accountant.
Do you want an accountant to only prepare your tax returns?
Do you want him to manage your financial records and statements?
Do you need technical financial support like auditing services for banks and loans, retirement plannings, cost savings, etc.?
Do you need an accountant to completely lead your financial planning and management?
After you have identified your needs, find an accountant with the expertise that will fulfil your business needs.
What are the key skills and personality traits that you must look for in an accountant?
Handling an organization's financial sector is no easy task. It comes with its responsibilities and risks. And accounting stretches beyond crushing numbers and make it work.
Look for the key skills and personality traits highlighted below:
– Time Management Skills
Time management is a basic skill for every profession. And the primary role of an accountant is to maintain the financial data, numbers, and paperwork ready in-time always. Experienced and skilled accountants must formulate different ways to find information efficiently and quickly. Ensure to assess your accountant's time management skills before anything else.
– Attention To Detail
Accounting and bookkeeping departments are definitely complex to handle. Even a small mistake in number could cost terribly. Your accountant must have great attention to detail. It is to make sure that you can be confident about minimal errors and handing over an entire department to a person, singlehandedly.
– Communication Skills
Accounting is not a single task, it requires an accountant's association with different teams in the organization. Here is where communication skills will help. An accountant must be able to communicate information to the team, provide insights to the staff, work in a team, explain the company's complex financial working to the team in a simple manner, help the business owners with decision making, and a lot of such finance-related tasks revolve around an accountant's daily responsibilities. And a common key to managing all these is communication skills.
– Trustworthiness
Any employee you hire for a company must be trustworthy, and with an accountant, it goes without saying. An accountant will be entrusted with the organization's most crucial and confidential documents that he cannot mess with. It is very important for you, as a business owner, to be clear on the accountant's compliance and procedures. Verify the candidate's qualifications, licensing, certificates, and background before you reveal any financial information about the company.
– Flexibility
For accountants, being flexible is really an important trait for they will have challenges, and they must be ready to embrace them, especially during an economic crisis and unpredicted changes like introducing automation, AI technology, RPA, etc. Even the everyday tasks need accelerated adjustments and pace, which the accountants must quickly adapt to and turn it to the business's advantages. It will help them provide efficient services.
What are the ways to choose the right accountant?
Now that you know a lot about the roles and the skills needed in an accountant, we will throw some light on how you can land on the right accountant.
–  Referrals
Referrals are usually the most preferred way to land quality candidates. It will result in a quicker hiring process, higher employee retention rate, and larger business profitability.
Besides, you can engage with a recruiting team to choose the rights accountant for your business. Get in contact with the recruitment agency and detail your requirements. It will help you screen your first level of candidates quickly.
You can also ask for referrals from your business associates. Word of mouth is powerful, and referrals will lead to better networking and accounting services.
–  Interviews And Reference Checks
Small business owners cannot afford to make mistakes while hiring an accountant. And with the company's confidential financial statements at stake, small businesses need to be very careful during the hiring process. And businesses must interview and screen candidates thoroughly before appointing an accountant. Check for earlier experience, digital exposure, and personality traits. Communication must be straightforward and direct. Lastly, ensure to validate all the documents submitted by the candidate and then qualify based on the candidate's veracity.
–  Compensation
There is no fixed compensation for an accountant as it is based on the following things:
Experience
Technical ability
Expertise
Key Takeaway
Accountants play a crucial role in small and big businesses alike. They are held responsible for the complete responsibility of a company's financial management.
Additionally, business owners and investors seek their advice and expertise to make business decisions. Thus, hiring an accountant is no easy job, and as highlighted above, it takes consistent effort and needs time. The challenges for landing the right accountant is indeed a daunting task.
Luckily, you can overcome all these challenges with Velan. We are very keen on delivering quality customer service. Our primary step is to comprehend your accounting needs. We have a decade of experience in offering finance and accounting services. We span businesses across various industries with finance and accounting capabilities like Order to Cash, Procure to Pay, Record to Report, General Accounting, and Financial Planning and Analysis. Accurate and timely F&A services of Velan assist businesses with better cash flow management and ultimately a positive impact on the overall growth.