Is QuickBooks the Right Accounting Software for Your Business?
9
Mar
2021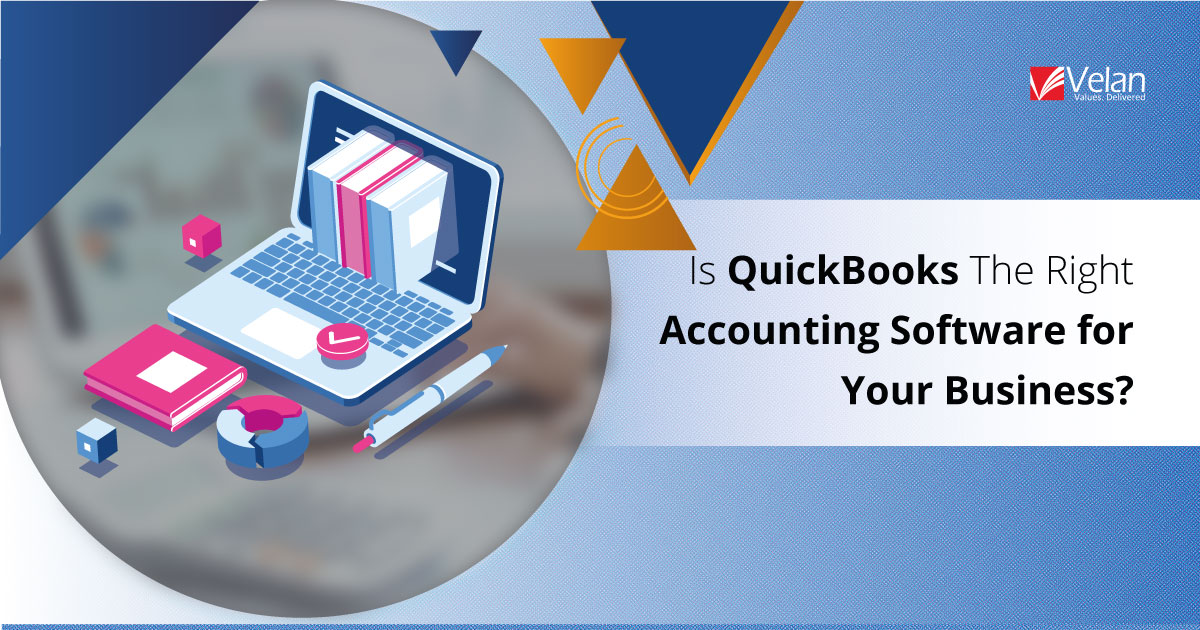 Is QuickBooks the Right Accounting Software for Your Business?
Keeping the books clean is mandatory for every business – new and established.
When you regularly complete the financial aspects of your business, you will save a lot of effort, and time, and not forget the last-minute mayhem during the taxation period. Besides, businesses that do not put aside the receipts, invoices, tracking expenses, and deductions save more money and get to make use of the benefits. They do not get crunched for time and missing deadlines.
So, how can you save your company to avoid the last-minute accounting crunches?
You can build your accountancy schedule, use spreadsheets, and accounting software, log it manually to track things, use notebooks, etc. However, in order to efficiently manage the length and breadth of your company's accounting requirements, you need to be smart to choose smart software – easy to use and easy to understand. A software system that is eminent. And a word of caution: we did not 'just' mean about picking the best accounting software, but selecting the right software for your company's needs.
And here is where QuickBooks can be a smart choice. It is popular for its features, user-friendliness, and cost. About 75 percent of small-scale companies in the US rely on QuickBooks to handle their accounts.
So, how do you decide if QuickBooks is right for your business?
Well, we will help you decide that.
What is QuickBooks?
QuickBooks is an accounting software program that is primarily designed for small businesses to handle their expenses, invoices, and income, and to monitor their business's financial records. It can be leveraged to pay bills, generate expenditure and account reports, invoice customers, prepare for taxes, and fulfill other accounting needs. From a solopreneur to a mid-size company entrepreneur, QuickBooks includes great and custom features that will work for them.
It automates financially manual and time-consuming processes and replaces the need for a bookkeeper or an accountant in small firms.
QuickBooks has variants suiting every business and person.
For example:
If you are a solopreneur looking at cloud-based accounting, you can opt for QuickBooks Self-Employed.
If you are a small business looking at cloud-based accounting, you can opt for QuickBooks Online.
If you are a small or mid-size business looking at desktop accounting, you can opt for QuickBooks Desktop.
If you want to upgrade to a better version of QuickBooks, you can try QuickBooks Apps.
You can look at the options and select which version of QuickBooks you need to solve what part of your accounts.
But, if you are looking for a piece of expert advice to understand QuickBooks and its features, Velan houses skilled consultants of Live Quickbooks Bookkeeping. You can let them fill in your missing expertise on QuickBooks to handle your finances.
Here are a few things you must consider:
● Budget
QuickBooks is great accounting software that will replace the need to invest in costlier software. It is loaded with features and services that can do accounting for your business in the budget you are looking at.
It offers subscription options like monthly, half-yearly, annually, and at different tiers. It is definitely a budget-friendly accounting master for small and mid-size organizations.
● Bookkeeping
Poor maintenance of your financial records and unorganized accounting practices in small organizations can be eliminated with QuickBooks. It helps you maximize your productivity in handling your accounting needs and keeping the pressure under the table during the taxation season.
You can eliminate accounting disorderliness with QuickBooks and be proactive and stay relaxed during the tax seasons. It makes bookkeeping a seamless and effortless thing.
● Accounting Skills
On the other side, although you can let QuickBooks deal with your accounting, there is only a little proactive thinking that software can do. It cannot outdo a human's live brain.
You must have some knowledge of accounting to work through QuickBooks and understand the output it gives you. You must have an overview of what you are working on in QuickBooks so you can be clear about the results and where they can be applied.
For example, this accounting software will simplify concepts like accounts receivable and payable, nevertheless, you must understand what they mean and where to apply it in your company. Else, it will get confusing.
For beginners, Velan can help you understand the concepts of QuickBooks and help you with honing your basic accounting knowledge and fiscal management.
● Tech Skills
Everything that you use today is focused on technology. From a clock that you use on your phone to set an alarm to the app you are clinging to daily, technology has the greatest share. And so is with QuickBooks. You do not need to understand the complete technological architecture of QuickBooks, however, you must dip your toes into the basic part. It is the best investment you could make for your business.
You can leverage online tutorials or get the help of professionals like Velan to train your team on how to use the QuickBooks accounting Software for small businesses. The team can help from setup to help you operate the software for good.
Why Use QuickBooks?
Despite whichever version of QuickBooks Certified Bookkeepers you are picking for your firm, just hold on to the fact that it is the solution you can rely on for the long-term.
It has intuitive features, from basic accounting to inventory tracking and everything in between. It connects most financial institutions. It allows you to import financial data straight from any third-party integrations or applications. Besides, you can import all your business account transactions by linking your account information to the software. Then, you can group each transaction, so it makes bookkeeping and accounting easy.
It has a trustworthy data backup that promises to offer bank-level security.
The Takeaway: Is QuickBooks Right for My Company?
Now that you know a little more about QuickBooks, and its benefits (and shortcomings), we guess you are in the state already to deduce if QuickBooks is right for your company.
A checklist that you want to look by:
Review the QuickBooks attributes against the needs of your company
Consider the features it offers for different companies – small, medium, and large
Identify your target audience and gauge the product's features with your daily accounting needs
With this information at your disposal, you are pretty much equipped to decide if QuickBooks is the right option. It does come with some intimidating manual, however, if you understand the basic concept of using QuickBooks, you can make your accounting section seamless and worry-free.
Besides, you can get in touch with the experts of Velan to consult and discuss the insider details for your accounting needs with QuickBooks. You can understand how to make use of Velan's QuickBooks bookkeeping services on accounting and financial matters to keep your accounting straight, polished, and on time. We can help you handle your account or train you and give you the information you require to manage QuickBooks for yourself. Our CPAs are professional QuickBooks-certified, so you can be rest assured to receive the best accounting services possible and discover the best features that are there for your business to grow.