Introducing Cloud Accounting For Your Business: More Data Better Results Great Benefits
3
Sep
2021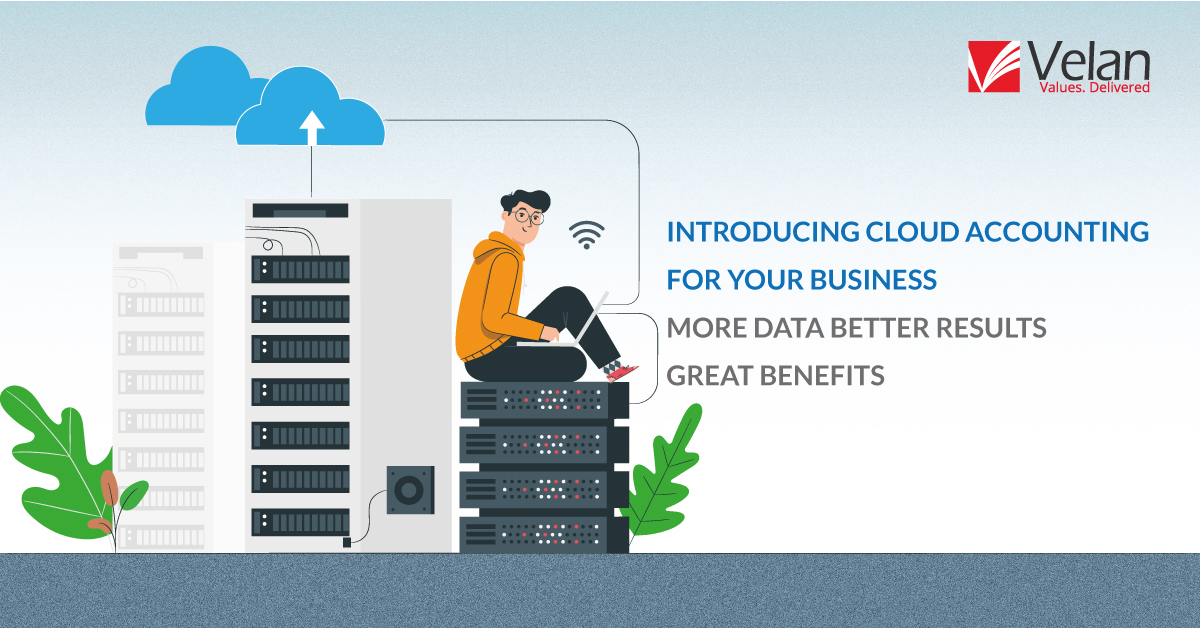 accounting Per 2020 Synergy Research's findings: Cloud Accounting spending across industries had increased by 37% during the first quarter of 2020, totaling $29 billion.
And GVR indicated: In 2019, the worldwide cloud computing market size was approximately $266.0 billion. In 2020, it was estimated to be around $289.7 billion.
But what exactly is cloud Accounting that we are talking about? And why does it matter for businesses today?
The term "cloud" may have been a tad overused especially after the pandemic hit the world. That said, in reality, it has never been more relevant for the situation now, especially for the SMBs.
Cloud computing means using computing services via the internet. It is an on-demand delivery of accounting services, IT services, storage services, etc., via the internet with a pay-as-you-go pricing model. Instead of maintaining, purchasing, or leasing a physical data center and servers, you can access the services from the cloud. The cloud service provider will provide the requested services, in this case, accounting services over the cloud.
Cloud accounting software will revolutionize the competence and efficiency of your bookkeeping, rationalize your financial operation, and provide live views of your prime finance numbers. However, with so many platforms claiming that they provide the best cloud accounting services, how would you zero in one? In this article, we will walk you through the nitty-gritty of the cloud and explain the core benefits of switching to the cloud and also recommend the platforms.
When you outsource your cloud accounting services to Velan, you will be able to
1 – Make better and faster business decisions.
2 – Avail of cost-saving cloud accounting services.
3 – Cut back on risks.
4 – Save your Time.
5 – Single-mindedly focus on your KPIs.
6 – Benchmark.
7 – Comply with 100% business compliance.
8 – Access the latest technology.
That said, Velan will handle your end-to-end accounting functions over the internet and give you real-time information. Make your work simple and straightforward with Velan.
What is Cloud Accounting?
Documenting the expenditure and income of your organization is mandatory. It will help you understand the financial performance and position of your organization. Double-entry bookkeeping and the use of accounting software are not new. It has been in use for decades to record and monitor incoming and outgoing money.
So, what is the take of cloud accounting in this existential thing?
Traditional accounting software
Most of the accounting software was desktop-based, before the genesis of the cloud. It means that the actual application was installed on the desktop and run from the hard disk. The limitations are the need to constantly update the software, limited access to the data, and the cost involved in creating multiple backups of the financial data.
Cloud accounting software
Cloud accounting (or online accounting) is similar to desktop accounting, but with better options to streamline and strengthen overall performance. Cloud accounting does not have a desktop application – you can log in to the online application anytime and get real-time information, the data is stored and safe on a cloud server. The flexibility, scalability, and collaborative power of working in the cloud are awesome. Most cloud platforms these days have an open API, which means that the third-party software can connect seamlessly with your system to provide more value. Accounting efficiency and clear financial management will never cease to function.
Today's leading cloud accounting solutions deliver live business visibility through simple dashboards and reports. Extensive financial consolidation, analysis, and reporting across diverse business entities are seamless. You can submit an expense report, get approvals, perform audits, and claim reimbursements, improve visibility into your company's travel and expense spending patterns.
Cloud accounting software products differ in features and complexity. There are many products designed for multiple company sizes. Based on your needs, the features for payroll, expenses, time tracking, etc. can be leveraged. Cloud computing has undoubtedly become an indigenous solution for organizations.
It is an innovative and increasingly well-established model of software deployment. It provides enterprise-class software features without conventional infrastructure, maintenance costs, and unpredictable support.
Cloud Accounting software options
Cloud accounting is certainly a fulsome market, with a wide bouquet of different platform providers. You must always remember to choose a platform that will benefit and align with your business's needs. At Velan, we adhere to the fundamentals. We understand your requirements thoroughly and recommend the platform that will help you address your accounting needs.
A few of the cloud providers are:
Xero – It has a massive app ecosystem worldwide and is a coveted option for small businesses that require easy accounting and detailed reporting as the business expands.
KashFlow – It is a great option for small businesses that want to get the job done quickly and access direct results. The application, however, comes with a limitation even for the basic functions.
Sage 50cloud and Sage 200cloud – The software unites the power of the cloud with the classic desktop accounting software.
Sage Business Cloud Accounting – It is considered the favorite of bigger organizations owing to its scalable options on the desktop version. The integration of third-party applications to the Sage Business app will come at a cost.
QuickBooks Online – It is a platform that's intended for small businesses. It has a desktop version and a great application with most of the accounting functionalities.
FreeAgent – It is highly recommended for individual contractors, freelancers, or microbusinesses. It makes your accounting simpler by providing all the basic details.
Zoho Books – Zoho is a platform that provides several other business software of its own to connect Zoho Books with. It also welcomes a few third-party applications.
ClearBooks – It is a better choice for small businesses, and the team offers a free solution known as "Micro". It works well with a few third-party apps.
QuickFile – QuickFile provides a free option to small businesses with limitations to the basic functions. It is similar to ClearBooks.
Exact – The software provides an array of functionalities beyond accounting. There is also an app store to add additional functionalities to the software.
Benefits of Cloud for your business
Migrating your accounting function to the cloud from the traditional desktop set-up is a huge leap. And we appreciate you for that because cloud accounting adds real and concrete value.
Here are some of the tangible benefits of cloud accounting for your business.
● Access your accounts anywhere
Cloud accounting gives you unlimited access to your business's financial numbers. Not just that, you can log into your account from anywhere at any time just with the tap of the internet. It completely eliminates the need for you to visit your office desks to retrieve any data. All you need is a strong internet connection, a device to log in via an application or web browser.
● Access to work with the latest software version
The best advantage of using cloud accounting software is you are always working on the latest version of the software. And this means, your data is up-to-date and more secured. You just log in to your application and begin working. And mainly, if you are outsourcing your cloud accounting to Velan, we, your cloud accounting service provider, will take end-to-end responsibility to update your software and fix any glitches.
● Access to live information
As and when you feed your bookkeeping data to the cloud accounting software, you can generate real-time reports for your analysis. Besides, cloud accounting software eliminates the need for you to scour your historical reports to gauge your current financial position. At the click of a button, you will be able to generate user-friendly, clear reports that will help you compare past and present data to give you insights into where you stand financially and what you can do to reach your goal in the future. The live overview of information is crucial for your budget planning, gauging your cash status, making strategic financial decisions, investment planning, etc.
● Access to the app environment
Most of the latest cloud accounting software welcome open API integration. Open APIs are third-party applications that you can download on the web and integrate into your cloud accounting software. Online invoicing apps, industry-specific project management tools, cash flow forecasting apps, report generation apps, and a suite of other practical applications are available on the internet. These tools when integrated with the software will make it easy for you to fetch any information that you are looking for, save time, reduce resource costs, eliminate the need for an expert to decode the report, identify problems in advance, etc. All in all, you will be up for a lot of productive time.
● Get real-time feeds to the bank account
Many cloud accounting platforms provide real-time feeds to your bank accounts. It enables you to link your banking account directly with the accounting software. You would no more have to input every spend manually in the software or download a .csv file to upload into the cloud accounting software. Instead, you can connect the API with your bank account that can directly pull the data and store it in the software. It will accelerate the bank reconciliation and give you an accurate view of your bank balance.
● Secured information exchange
When you are associated with your accountant, financial advisors, or bank officials, you can directly grant them access to your accounts via the cloud accounting software. You no more have to send and wait for back and forth emails or give them a hard disk or a USB to look into any information. Your financial advisors will have secured access to all your financial information, in real-time. It is prompt, secure, and gives your advisers the insights they need to guide and counsel you.
● Connected online payment
You have online payment apps that can be connected with your cloud accounting software. It will allow your customers to pay online, speed up pay times, and lessen the burden of your cashier to collect or keep track of income.
When does your company need Cloud Accounting?
If you have decided to migrate to the cloud for your accounting needs, it is only wise if you make use of its augmented digital connectivity services and real-time data extraction capabilities.
The improved live data extraction capabilities of cloud accounting make it perfect for your business if you want quicker access to comprehensive financial breakdowns, KPIs, and management data. And with most platforms accepting an open API integration, you can build a customized app stack and create a suite of business apps.
Leading areas where you can use cloud accounting are:
– Utilizing automation to lessen workloads
The cloud accounting framework allows for automated bookkeeping, bank reconciliation, and cash collection. All these principle things will radically lessen your resource's workload.
– More understanding from your financial data
With instant and direct access to live reporting and financial insights, your management team can have the numbers, key data, and insights for sound decision-making.
– Paying GST or VAT online
A cloud accounting platform makes your online GST or VAT payments simpler and faster. The transactions will be recorded in real-time, and you can easily export the tax return statement and send it digitally to the revenue department.
– Be digital-ready
With a cloud accounting platform, you can have your tax statements and other auxiliary records online and can send them to anyone in the format they require.
–  Working remotely
If your business encourages your team members to work from anywhere they want, a cloud accounting platform will make it easier for your team to access all the crucial information with just an internet connection.