Important Benefits of Outsourcing Accounting and Bookkeeping Services
11
Mar
2021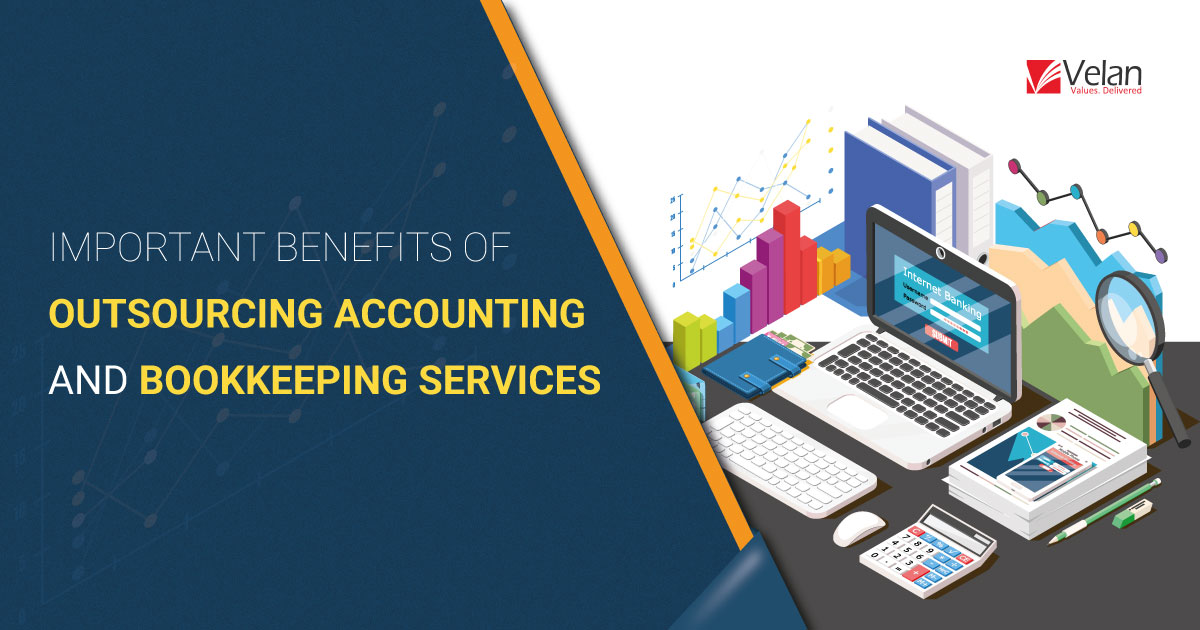 What are outsourcing accounting services?  
Outsourcing accounting services is a business practice where you involve a third-party vendor to do your accounting. 
Outsourced accounting is a service that provides an exhaustive and detailed accounting department experience, primarily for small businesses. An accounting department manages the daily transaction coding, payroll, accounts receivable, accounts payable, financial reporting, and many other accounting services. 
Why is outsourcing significant for a business?
Outsourcing is a transformation in the usual business practice in an organization. It helps the company to make the business processes easier to operate. When a company chooses to outsource the Accounting & Bookkeeping services, it can continue to sharpen its core business areas, improve, and make better decisions that will contribute to its growth. It overrides the costs and risk of employing more staff and training them. After all, in-house accounting and bookkeeping are not mandatory for most businesses. 
How does bookkeeping help a business?
Bookkeeping helps a company to maintain solid records of day-to-day financial transactions methodically. It makes sure that all the financial transactions have their record in the accounts books. It helps the management to analyze the finances, business performance, and manage cash flows. 
Bookkeeping the finances daily will help the organization to
Make finances easier

Know their financial stance 

Improve decision making

Maintain small business 

Identify financial problems at an early stage

Make problem-solving seamless 

Prevent any irreparable damage to the organization 
Will bookkeeping suffice your organization?
The answer is partial, yes. It largely depends on the needs of your company and the capital that you can spend on the functions. Now that you know how bookkeeping will help your organization, for particular functions like – accounts payable and accounts receivable – you would still need an outsourcing accounting firm. 
Understand the in-house accountancy function
Before we divulge the benefits of an outsourced accounting firm, we would like you to understand who and what services constitute an in-house accountancy function. 
Ideally, a company that makes over €5 million in turnover definitely has their in-house accounts department with a dedicated accountant. And the team is made of:
Financial Controller:

The Financial Controller handles the processes and the team along with managing monthly journals and accounts, checking reconciliations, ensuring the systems are successful and working properly, reporting on KPIs, analyzing analytics, planning strategies, one-off tasks management, etc.

Financial Director:

The Financial Director, on an aerial view, studies the company strategy and its curve, connects with the shareholders, and discovers ways to bring in more profits, etc.
Accounts payable and accounts receivable: Accounts payable and accounts receivable teams diligently monitors the expenses and profits of the company, maintaining an equilibrium between both.
Payroll: Payroll team holds complete charge of paying the staff on time as per their remuneration in their contracts. 
The above-mentioned role and the job description will easily require four to five staff to perform the functions. And this still calls for an external accountant.
External accountant:

The external accountant takes charge of compliance and agreement. The external accountant will be responsible for filing tax returns with Revenue and external reporting with the Companies Registration Office (CRO), handling auditing, liaising with the company's internal accountant, etc. 
Did you know that outsourcing can save a huge amount of your organization's money and help the business to grow tremendously? We will tell you how. 
An outsourced accounting firm like Velan can help your business to flourish in the following ways:
Bookkeeping Guidance:

At Velan, we offer timely and suitable guidance to maintain your finances, accounts, and other expenses. As the masters of an outsourced accounting firm, we maintain every record of yours to avoid any troubles or delays in the future.

Business Consulting Assistance: An outsourced accounting firm like Velan can help you with making strategic and decisive plans for your business's growth. We associate with you to solve any multifaceted business issues and make the most of the opportunities to grow, streamline, optimize, and secure your business. We not only handle the accounting, but also provide a platform to boost your profits, increase cash flow, handle sales, and multiply your business opportunities.
Cash-Flow Direction:

An outsourced accounting company can help you with solutions to ameliorate your company's overall cash flow management. It also entails preparing you to fathom any cash flow problems and prevent their occurrence in the future. At Velan, we also guide you with steps for a Positive Cash Flow system and discover measures to identify and check Negative Cash Flow.  

Cost Control

: An outsourced accounting firm can help you secure your business by advising effective cost control measures and lead the company towards growth and profit-making. It can predict future expenses and revenues and check for regulations with financial compliance. It can help your organization to cut down on hiring costs whilst enabling you an opportunity to access the outside expertise.

Avoid Tax Penalties

: An outsourced accounting firm will help your company to avoid tax penalties. The rules and regulations regarding tax filing and preparation will be updated from time to time. An outsourced accounting firm will be aware of all the policy updates, unlike a person who manages finances for the time being. As an expert, the outsourced accounting firm will help you file your tax error-free and also help identify any mistakes and give you solutions to make necessary adjustments. Guaranteed precision, error-free taxes, and books, secure financial records, updated policies implementation, etc. will be certain in your accounting.
In addition to the above-mentioned significant benefits, you will also be entitled to the benefits below if you outsource your accounting operations to an expert, like Velan. 
Save a great deal of time and money

Cut down on overhead costs 

Get access to expert accountants 

Mitigate any accounting risks 

Keep your books transparent, clear, and legit 

Get access to financial data anytime and anywhere

Assured finances in order 

Become proactive with your accounts and be ready for tax filings 

Streamline your business 

Focus on new ideas and implementations 

Automate

Keep your finances and accounts — private and confidential 

Decide your accounting team

Ensure timely payroll for all your staff 

Easy to handle accounting processes and protocols 

Cost-effectiveness 

Benefit from the expertise of the outsourcing accounting firm 

Minimize any accounting risks and be prepared for any potential risks
The role of Velan Accounting Services
Velan accounting services is a squad of professionals to perform effective accounting and bookkeeping. Velan lends the outsourced accounting and bookkeeping services to transform your organization's approach to the finance function. In addition to handling your daily finances and accounts, we help you improve cash flow, drive profits, provide financial insights, and grow your business. We eliminate the need for an internal team and individual bookkeepers and take complete ownership of your accounts and bookkeeping. With Velan, you will get consummate access to accounting services, best processes, ownership, and reconciliations checked automatically.
The Takeaway
Accounting is the ultimate responsibility!
It is all about accountability. It is not just counting and recording numbers. It is one of the biggest responsibilities where an outsourcing accounting firm holds a company to account for all its expenditure, income it receives, and taxes it pays. Eliminating that load and hardship from your in-house contractors or staff means you can be in full control. You, the might customer, will be the king. And the king without the need to abide by any in-house demands will make happy customers.