Powerful Reasons How Outsourcing Your Bookkeeping Will Save You Time And Money
2
Jan
2021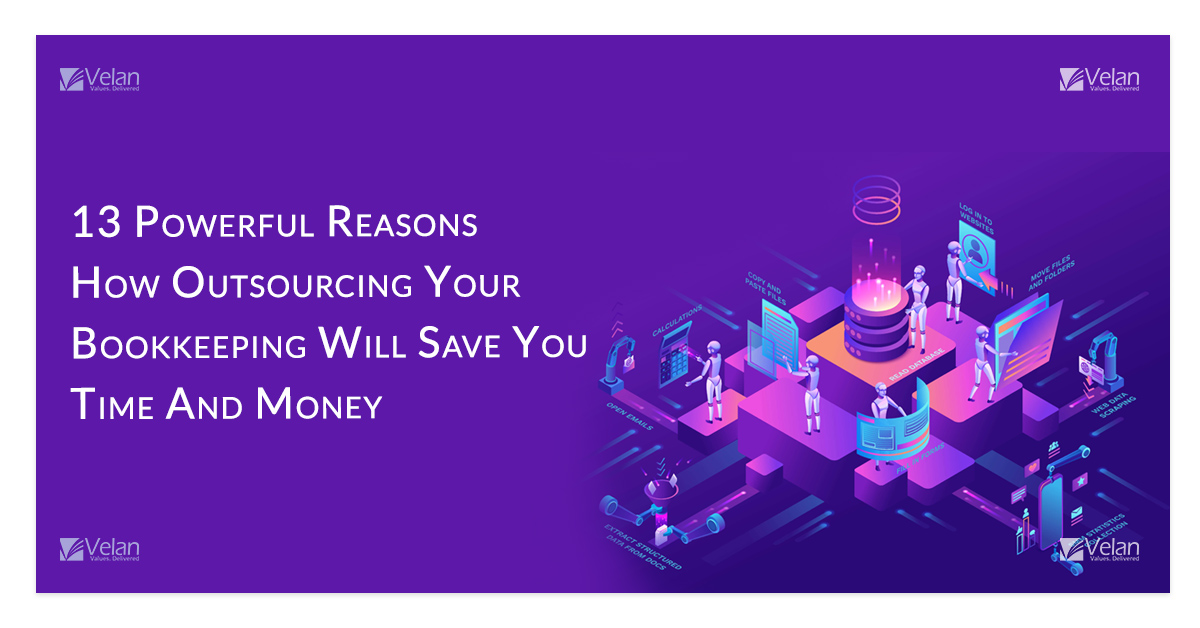 Outsourcing your small business's finance and accounting tasks, a.k.a. bookkeeping has never been more within reach or persuasive than it is presently.
Digital innovation, cloud computing, and online technology have transformed the way we all do business today.
Landing on an outsourcing company, contacting them, and associating with them has become easier for businesses. By selecting the right outsourcing partner to get important admin tasks completed will help your company operate seamlessly and give you more time to work on your expertise that will reflect your bottom line.
How to find your best outsourcing Bookkeeping partner?
Client satisfaction and sales numbers are something that businesses cannot falsify. If the company has experience serving its customers with a trail of years, it is worth looking into what they can offer for your business. Especially when you are considering outsourcing with them, no better criteria than looking at customer satisfaction and success quotient, primarily. 
Secondly, look for their pricing models and contract flexibility. Tying yourself to a contract that is rigid and does not offer any benefit to you will become unsolicited stress in the long run. Besides, it will also put pressure on your bookkeeping. We certainly believe that cost and time are the major reasons that small businesses consider outsourcing.
Last but not least, certainly important is looking for the experience they hold with them. The longer the company has been in business, the higher will be its quality ratio. 
At Velan – we value all the three aforementioned things. Customer satisfaction and success rate, transparent pricing models and contract flexibility, and above all, experience for more than a decade being the best outsourcing partners for bookkeeping for clients worldwide. 
Read our 13 reasons that detail how outsourcing your bookkeeping will save you time and money.
1 – Focus on Growth
Outsourcing gives you the room to think about: "What to do with the extra time that you have after you have outsourced one of the crucial tasks, bookkeeping?" 
It allows you to focus on growing your business, increases your productivity, networking, working on ideas, increasing your revenue, and building relationships with your customers. As bookkeeping requires some prior knowledge, it is no point but unprofitable use of your time to learn something that is not your niche, at least when you have a business to grow. With outsourcing, you get the privilege to hand over your books to the experts and automate the mundane tasks. 
2 – Eliminate Staffing and Overhead Costs
Hiring a bookkeeper is indeed expensive. And infrastructure, software, office supplies, employee benefits, remuneration are all investments that will ensue when you have an in-house bookkeeper. Outsourcing will rule out all the overhead costs, and you get to pay only for the services.
3 – Pay only when you need the service
Paying full or part-time remuneration for a bookkeeper even when you don't use the services is going to be expensive. By outsourcing your bookkeeping, you will only pay for the services you actually need and get the work with more efficiency as they are experts. 
You get the liberty to adjust your service levels to match your present bookkeeping needs. You can keep a check on the transactions, and when you anticipate less work, you can reduce that work and not pay for the service.
4 – Expertise
By outsourcing your bookkeeping, you are handing over your books to the experts whose entire business is established on tracking accounts and finances. 
Accuracy is crucial in bookkeeping, from a legal and profit standpoint. And who better than professional bookkeepers as they know the expense laws and tax completely. You can be sure for maintaining up-to-date records, payroll will be processed on time, and you will not be subjected to any penalties for inaccurate books. 
5 – Data Security
By outsourcing your bookkeeping, you are restricting access to your financial records. You are keeping it safe from your internal employees from knowing the company's financial details and involving only a third party to audit your money trail. You will increase compliance and decrease the risk of inaccurate internal standards. 
6 – Get access to a team 
It is always good to have an extra set of eyes to process important information like books. With outsourcing, you get that liberty. You are protected and needn't be worried about not submitting your books on time due to the lack of a team. 
7 – Tax Ready Financials 
With outsourcing, you can always be ready to file your taxes and not wait until the last minute, like it usually happens when you don't outsource. You are avoiding stress, unwanted expenses, overtime, and inaccuracy. Outsourcing will help you process your returns accurately and efficiently.
8 – Increase Cashflow 
An experienced bookkeeper will help you predict your financial future. Not only will he able to release the funds but also be able to make the necessary decisions to run your bookkeeping efficiently without any cash gaps.
9 – Outsourcing Bookkeeping on time
Eliminate the need for following-up with your teams for clearing invoices, accounts payable, and accounts receivables. Everything will be completed on time when you outsource your books.
10 – Enhanced Outsourcing Bookkeeping Processes 
You get to use the upgraded versions of the automated accounting software. It will positively impact your overall processes and systems when you upgrade to better versions. Whether it is accessing the latest accounting software or enhancing your payroll procedures, with an upgraded version, you can reduce costs, enhance service levels, create increased cash flow, and align your company for growth.  
11 – Access to the latest software 
Your outsourced bookkeeping team is an expert in knowing the latest trends. From picking the right invoicing to payroll software, reporting expenses, tracking time, and everything needed for bookkeeping will be looked after by the experts so you can save yourselves some emergy for focusing on increasing your ROI or getting some good night's sleep. 
12 – Scalable 
An outsourced bookkeeper will help you scale your books and give the provision for your business to be nimble to changes. They will save your books from unexpected setbacks. And they will help you achieve your long-term financial goals for your business. Ideally, outsourcing gives you a lot of flexibility and alternatives for the good.
13 – Peace of mind 
Books are not something for you to take lightly. By deciding to outsource your bookkeeping, you are settling for an expert to take care of your books with utmost morals and integrity, not to forget value.
Conclusion
Outsourcing your accounting and financial operations will surefire save you time and money. In-house staffing needs you to continually monitor, however, the market conditions do not give liberty and time for executives to spend their time monitoring. 
But, by outsourcing your bookkeeping to Velan, our experts can spend dedicated time on your books and help you with better decision making and financial management. Accurate and reliable financial reports from us will help you decide the best for your business. If you would like to know how our accounting and finance can help you achieve your business and save time and money, feel free to call us.