A Guide To Choose The Best Remote Server Management Services
4
Jun
2021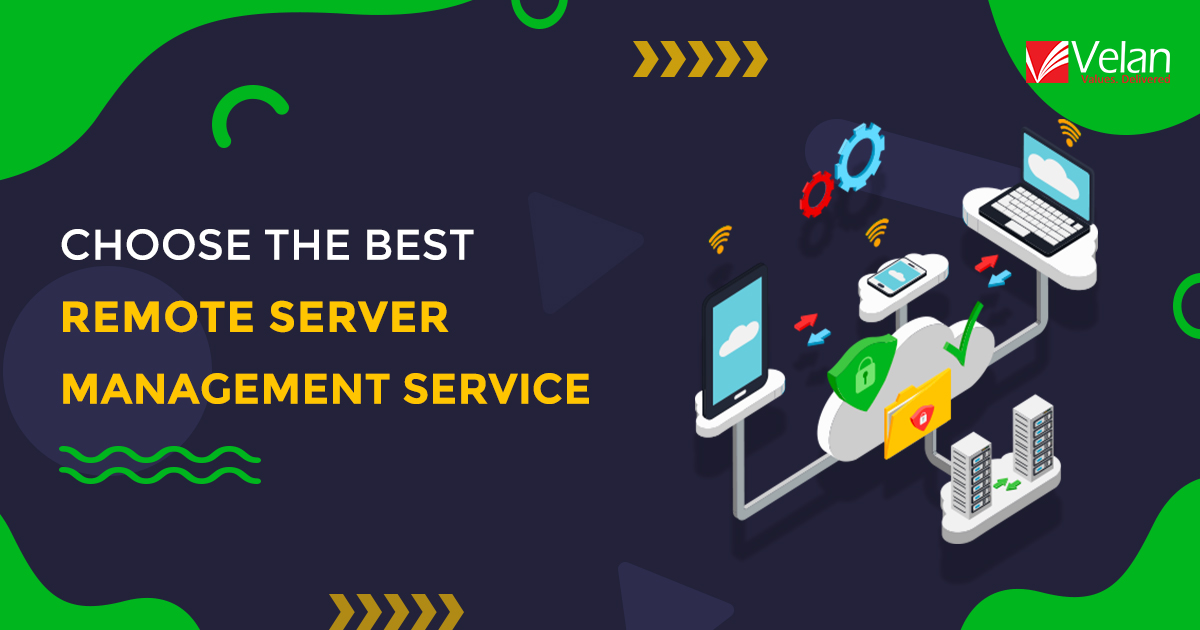 Your server is the warehouse for every piece of information that you store on your network. Every byte of data that your business produces, receives, and deals with gets recorded on your server. remote server management service support runs incessantly while handling every bit of your network, and make sure it works without any downtime.
There are two types of servers – general server and dedicated server. Its meaning closely associates with its name. General servers are shared servers between multiple networks that belong to different organizations. On the contrary, a dedicated server is a single server that is owned by a single organization only.
Regardless of whatever server your organization owns, it is crucial that any downtime in the server may cost you in terms of network failure, loss of operations, and even huge money. You cannot risk losing the operations of your server even for a few seconds. And that is why it is indispensable that you must closely monitor and manage your server 24/7/365.
There is a dedicated team for server management. The main role of the team is to make sure that the server is in good health. In addition, they will also manage every dimension of the server, virtual machines, server hardware, software, applications, etc. It must be an uncompromising continual process. You can either choose to have an in-house server management team or outsource your server management to dedicated experts.
Having an in-house team will cost you more in terms of administration, having staff work in shifts, changes of negligence are high and require you to spend a lot on training. Here is where a dedicated remote server management service will help you. As the name indicates, the team will be working remotely round the clock, which will be very cost-effective, and you can be assured that your server will be in great health.
Real-time benefits of having remote server management service and monitoring
We cannot stress enough how a server plays a pivotal role in your business. As a business owner, it is substantial that you do everything on your radar to maintain the wellness of your server. From finding the best server management professionals to having an exclusive team to monitor it round the clock, you must do it all to keep your business up and running.
We have listed the real-time and important benefits of how having a remote server management service team will help you.
1. Round the clock server monitoring and management
Your server is an integration of complex backend and frontend critical workflow, applications, and networks. It needs continuous monitoring to quickly identify issues and resolve them so that downtime can be avoided.
A remote team's primary duty is to manage and monitor the server's health only. Dedicated teams will have human capacity and will be equipped with every technology that will enable them to ensure the server's working condition. From allocating dedicated resources to quickly fix the issues, your outsourcing team will handle them and ensure uninterrupted server functioning.
2. Guaranteed and relentless server security
Servers are also systems that are susceptible to cyber threats and attacks.
It needs
to be secured,
made immune to threats and hacks,
proper and continual maintenance,
latest technology and its assistance,
Security is the primary need, and no other teams better than dedicated remote server monitoring teams. They will constantly monitor your servers, update the applications timely, and provide complete security.
3. Minimize server downtime
Server downtime will be catastrophic to your business, and a lot will be at stake, especially your end-users. It will be followed by financial distress, loss of customer's trust, compromising on the brand, and overall reputation will be at stake. A single downtime will shake your life's legacy.
You can completely avoid this situation if you outsource to a remote service management team. They will continuously monitor your server and will proactively identify any problems and fix it before it affects anyone. Your downtime time will be reduced drastically and would not cross a few seconds.
4. Make time for the main business
Of course, server monitoring, maintenance, and management are necessary elements of your business, but they are not the only essential ones. Your business is a construction of other core elements like sales, marketing, operations, administration, making important decisions to achieve the milestones, etc. Ideally, everything that makes way to grow your business is an essential task.
Associating with a remote team will minimize an important task off your plate so you could focus on other core elements. From custom installation to server migration, and maintaining the server's security to continuously monitoring it while fixing the problems timely, your remote team can do it all. They are the experts after all.
5. Be ahead of your competitors
A dedicated server management team will be equipped with everything latest in the market. It is their reputation as a service provider to provide the best server services to their clients. It gives you an upper hand advantage over your competitors where you will pay less but will enjoy the complete benefits of the latest technology, periodic maintenance, instant fixes, timely updates, optimization, and whatnot.
Remote server management team vs In-house team
As we already highlighted, servers are complex machines that demand 24/7/365 monitoring. And you cannot afford missing monitoring for a second. It will result in hefty damage.
If you are pondering which is the better option for you, we will settle that confusion for you.
The in-house server management team
To have an in-house team, you must hire skilled resources. It is a lot demanding and time-consuming. It requires training and takes time to set up an efficient team.
Your in-house team will be your dedicated staff. However, as part of the server maintenance team, they will have multiple tasks on their plate. It will compromise their dedication towards 100% server monitoring. And during downtime or unexpected issues, your business will take a back seat.
Besides, it involves a lot of money like training costs, administration costs, contingency plan, salary. As the server requires continual maintenance, you need to have multiple shifts, and a moment of delay could result fatally to you. It is a high risk which you cannot afford to miss. This leaves you with a half-baked team.
Remote server maintenance and management team
To become a part of a dedicated server management team, the professionals need expertise and certifications that qualify them for this task. It is a great first reason for you.
You can cut down your entire administration costs and their ensuing stress. Your outsourcing partner will do the work for you from recruitment to paying the salaries of whoever maintains and manages your server. 100% dedicated support, continual monitoring, resolving issues, updating software timely, updating security patches, maintenance, etc. will all be taken care of in a single payment. An external dedicated remote server engineer will cost you around 1/3rd of the total cost of a full-time resource.
In addition, you will get turnkey services and solutions. By every means, outsourcing your server maintenance will prove beneficial to you. Your main job and your only job will be to identify the right vendor. We will tell you how.
What must you look for in your outsourcing partner?
The best remote server management service team will be proactive and resolve every issue on their own before it comes to your notice. We will help you with the things to consider before you land on the best partner.
1. The server types the team can manage remotely
You must primarily check the capabilities and the management abilities of your potential remote team. An experienced and skilled team will be able to support diverse server types remotely and seamlessly. Pick your partner after considering this point.
2. The tools and techniques used by the team
Every expert will have their technique defined. Understand their tools and technique, check their relevance, and if they will support your server type. Appropriation is the key here.
3. The team's skills, expertise, and certifications
Server support staff should possess a valid certification that qualifies them for the job. Before you sign a contract, understand what you are signing yourselves to and ensure your potential team has got all the skills and expertise under their radar. It is never too much to ask them as many questions as you want to warrant that you and your business are in expert hands.
4. Check your potential vendor's reputation
It is prudent to do some research online before you finalize your potential outsourcing team. Ring up to their previous or existing clients and get feedback. This process should help you decide if you have made the right decision in terms of choosing your remote server management team. There is nothing influential than real-time feedback. It gives you answers to your prospect's important metrics like technical abilities, response times, customer satisfaction ratio, etc.
Now that you know the things to consider before you land the right partner, we will make it easier by telling you how Velan could be the best partner for taking care of your server and your business.
Why should you outsource your server maintenance and management to Velan?
Velan has been a pioneer in diverse IT support and management for more than a decade. We have proven expertise and diverse experience in handling a wide spectrum of enterprise-level servers. No wonder we have been identified as the best remote server management partner for our clients.
We are remote, and we love that. We provide turnkey server management and maintenance that entails round-the-clock technical support, super-skilled engineers, the best technology, continual maintenance, quick and indefinite solutions, dedicated support, and great customer satisfaction. We work relentlessly to ensure optimal server operations.
We don't cap ourselves with the technical competence but extend it to saving efforts, cost, time, and give your server the care it needs. With Velan, we assure you the added benefits below:
24/7/365 Monitoring: We monitor your server all through your business hours and beyond. We will immediately fix any speed issues and downtime.
Server Audits: Our remote team will periodic checks on the server performance and server security, thereby conducting an exhaustive audit to guarantee optimal efficiency.
Regular Updates: Our team stays updated with the latest software, security tools, performance-related tools, efficient techniques, and compliance measures to ensure prompt response and lightning operations.
Backup Management: At Velan, our remote team makes sure of constant backups to avoid any loss of data. Besides, we also monitor and test backups to ensure it is reliable and hack-proof.
Increased Server Uptime: Associating with us will fetch you increased uptime and minimize server downtime noticeably.
Server Safety: Your server will be constantly monitored. You can be worry-free of threats, attacks, and other cyber loopholes. We guarantee you complete protection.
Expert Server Management: We are the experts available to take care of your server so you can focus on your core business.