Managed Service Providers: What They Do and How They Help
19
Sep
2022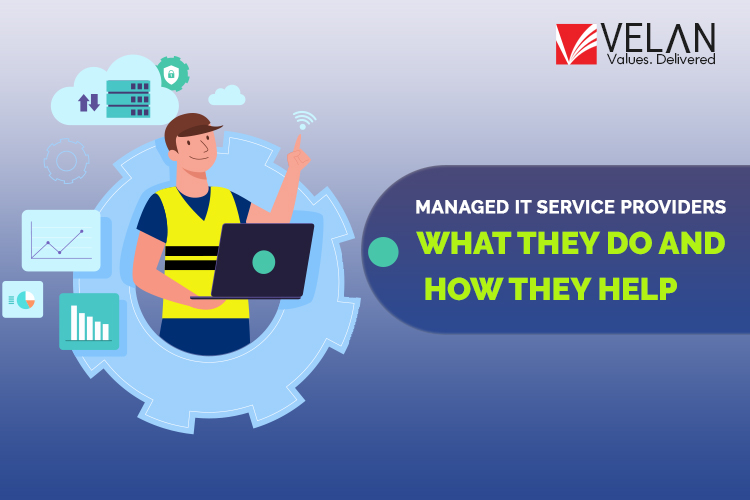 Managed Service Providers (MSPs) ensure that their clients' systems are updated and safe. They also ensure that the systems are running smoothly with minimal downtime. MSPs are accountable for their clients' data storage, networks, cybersecurity, helpdesk, email, patching, backup and restore, and cloud integration, among others. It is their responsibility to remotely monitor, update, and handle the preceding services.
Backup and Restore service coupled with Disaster Recovery

Better security

Daily IT Infrastructure administration

The challenge of novel technologies

A good alternative to IT staff

Diversion of capital expenditures

Choice of pricing models

Classification of MSPs as per their services

Advantages of MSPs
MSPs furnish reports about the systems' availability, performance, and quality. They acquire hardware and software for their clients. Also, they monitor and generate reports pertaining to the software licenses and hardware assets. Additionally, they involve themselves in routine technical issues. This enables their clients to completely concentrate on the core business of the organization thereby maximizing productivity. Although these managed services are expensive, businesses save money as serious technical issues are prevented. Overall, this makes the business profitable in the long run.
Backup and Restore service coupled with Disaster Recovery:
Managed IT Services offer their clients a Backup and Restore service. In case of unpredictable scenarios that are beyond the preventative measures, they have a Disaster Recovery plan. These services take all the essential efforts to ensure that this plan is ideally never needed. The benefit to the clients is that the businesses are prepared for any situation. In case productivity is hampered, it is back on track with minimal loss of time. This maximizes business continuity.
Better security:
Businesses are under constant threat from hackers, viruses, and malware. Remote IT Support services stay abreast with the latest knowledge about these threats. These services upgrade the network security configurations and update the antivirus software. They also track the software and hardware patch release cycles. All of these contribute to a lesser number of attacks and infections in the clients' businesses. The result is that businesses have more uptime. This directly enhances the trust their customers have in the businesses.
The managed services leverage their experience and efficiency to render strong monitoring tools, quick responses, and better helpdesk ticketing systems. They are an extension of their client's businesses. They strive to keep the computers and infrastructure in a running state by overcoming and finding remedies for the interruptions
The challenge of novel technologies:
If a business has an in-house IT team, the business faces many obstacles to adopting quicker, more-efficient technology solutions. Novel technologies demand steep learning curves, costly migration projects, and increased efforts to estimate the available options. The Remote IT Support services add value to businesses. This is made possible by researching and assessing new software, hardware, and providers that can be combined to produce economical solutions. The services greatly assist their clients to select the optimal choices in tune with the client's business objectives. For this, they render Business Intelligence (BI) through reporting and training the client's employees. They also use experts for migrations, handle license agreements, and supply Infrastructure as a Service (IaaS). All of these assist to jump over technology adoption hurdles.
A good alternative to IT staff:
The IT requirements of businesses might not demand full-time work, but these businesses have to employ full-time IT staff. Moreover, if the business needs round-the-clock work, then it is essential to hire multiple employees who can work in shifts. MSPs resolve these issues by providing experienced IT staff for the time slots mentioned in the Service-level Agreement (SLA). In addition to this, the providers perpetually conduct training for their employees. Such employees have expertise in numerous technologies. Such on-demand staff prevents the need of businesses to pay salaries and benefits for their own full-time staff.
Diversion of capital expenditures:
The service provider arranges all technology for the business. These are software, servers, and workstations. Clients have simply to use them and pay for them. Although this is expensive, the clients need not use their capital expenditure for the technology and can divert it for other needs. This is overall financially profitable.
Choice of pricing models:
Managed IT Services providers place several pricing models on their clients. The clients can select a model that is best suited to their businesses. The pricing models are the following:
Only Monitoring: Offers network monitoring and alerting services while accommodating various service levels
Per User: Levies a flat fee for every user per month covering all the user's devices
Per Device: Levies a flat fee for every device and is suitable where the clients have to add devices after some time slot
All-inclusive Price: Has a flat monthly charge for all onsite and remote support where clients are able to budget the support expenses and prevent billing fluctuations
Tiered: Have various tiers of packages of services where the pricing rises as more comprehensive services are included
A la carte: Offers discrete services that cater to specific client requirements, which involves considerable flexibility for clients
For all of the preceding, the providers get a monthly recurring revenue (MRR) under a subscription model. The other method offered by these providers is the Break/Fix model. Here, they levy an hourly rate to fix the client's IT devices coupled with the expenses for the replacement of parts.
Classification of

Managed Service Providers

as per their services:

Clients can choose a service provider that is in tune with their business needs. They can consider the count of their customers and the responsibilities to be given to the provider. Obviously, this choice helps on the economic front.

Clients can search for providers in the following categories:
If they want a small provider only for tracking application and network performance through reporting and alerts, they can search for a Pure-play provider.
If theirs is a mid-level organization or a Fortune 500 organization needing a wide gamut of services such as software upgrades, software installation, reporting, and monitoring, among others, they can approach a Staffing Legacy provider.
If they want to outsource a maximum count of their IT processes, they can opt for a High-level provider.
Another mode of selection is the following:
If they want the management of budgeting, payments, and invoicing by using a Billing Management System, a Simplified Billing provider is a choice.
If they want continuous scheduled network maintenance, a Scheduled Maintenance provider would suffice.
If they want a Management console for security software, patch management, remote monitoring, and complex networks, the right choice is the Centralized Management provider.
If their aim is to have preventative maintenance to avoid potential network or device issues, they can opt for a Proactive Support provider.
If they want cloud-based software to handle remote devices and troubleshoot technical issues remotely, a Remote Support provider is handy.
If clients require real-time monitoring of numerous applications, websites, servers, and network devices, the correct choice is the Monitoring provider.
The service provider may be specialized in a specific vertical such as Manufacturing, Healthcare, Financial Services, and Legal, among others. It can also be catering to a specific segment of IT such as data storage. A Managed Print Service provider only maintains printers and supplies consumables. A Managed Security Service provider offers only specialized services, such as Security-as-a-Service offering and remote firewall administration.
In the contemporary fast-changing IT scene, the prime advantages of managed service providers are the following:
Reduced technology expenses through economies of scale
Efficient service delivery in their region of expertise
Highly specialized and efficient talent
Capability to scale down and up quickly
Knowhow and use of emerging technologies
Visibility into future trends in a specific area of expertise
MSPs enable businesses to operate with efficiency and economy and remain competitive and successful in the contemporary market.