Factors to Checkout While Hiring Web Developers for Your Project
26
Jul
2022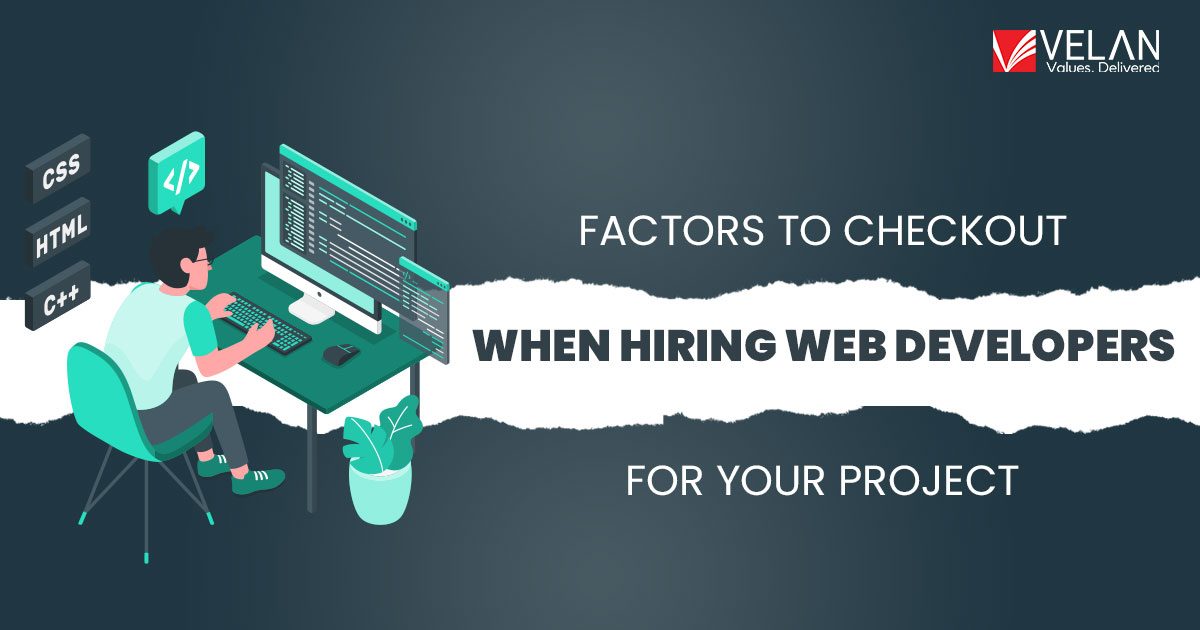 In today's dynamic world, finding the right web development company or hiring a web developer can be a daunting task. The company that would fit your particular provides a website or an app according to your product or provides complete services that offer top-notch product delivery and satisfactory after-sales services.
Tables of Content:
Types of Web Developers
What are the Necessary Skills of a Web Developer?
How to Hire a Web Developer? Finding the One that Fits!
The internet offers a sea of resumes and websites filled with technical jargon, and the best people are in such demand that it can even be challenging to get their attention. You are signing a contract with the wrong web development company can cost you time and money, which seems like a significant loss, especially when you're just beginning your start-up. Before signing the final contract, you need to understand the responsibilities of web developers, the necessary skills of web developers, and much more.
If you're looking to outsource a website development project to a web company, here are some simple steps to take to reduce the chances of potential losses and avoid future frustration.
The major responsibilities of a web developer include programming codes that make the websites and web applications function. Web developers usually specialize in either "front-end" ("client-side") or "back-end" ("server-side") development. A third option includes a few versatile and in-demand professionals doing both jobs, commonly known as the "full-stack developers."
Web developers work on implementing visual designs and layouts, integrating graphics and content, optimizing website performance and the functioning of it, and the aftermath of a built website that includes testing to ensure strong performance and optimizing it as per various devices. A proficient web developer must understand how to write code in widely used web programming languages, including JavaScript, HTML (Hypertext Markup Language), CSS (Cascading Style Sheets), and more.
Types of Web Developers:
Web developers generally fall into three categories: backend developers, front-end developers, and full-stack developers. Other than this, there are certain other web developers proficient in both. Some web developers work as webmasters.
Back-end web developers work to create the website structure, write the necessary codes, and verify whether the code is working or not. The responsibilities of web developers may also include managing access points for others who need to manage website content.
Front-end web developers work on the website's user interface – the pages visitors see and interact with (i.e., the user interface). They are proficient in creating each page's physical design and layout, uploading images, and using HTML and JavaScript to improve the website.
Full-stack developers work as both the backend and front-end developers. These developers know to build a complete website and can work for organizations that don't have the budget for a large website team.
Web admins are also in a similar category, and the responsibilities of web developers are essentially website administrators. Their main responsibility is to keep the website active and running without problems and to ensure that the links and applications on each page are working correctly.
Web developers can work for a company or agency or as freelancers and take on projects for individual clients. The duties will vary depending on the work situation, but in general, the responsibilities of a web developer include:
Design of user interfaces and user experience as well as the navigation menus
• Using HTML, XML, or JavaScript, web developers write and review code for websites.
• Embed multimedia and visual content on a website
• Test web applications
• Create a troubleshoot plan whenever the performance or user experience issues occur
• Collaboration with designers, developers, and stakeholders
HTML/CSS knowledge
Having the proper knowledge of HTML and CSS is a part of the necessary skills of web developers. HTML is the most widely used markup computer language in the world. Web developers widely use this language to create web pages. You may also need to use CSS to style websites.
Analytical skills
One of web developers' necessary skills includes discovering any problems or bugs in the code applied. This requires good analytical skills. Apart from the technical aspects of the job, they also need to ensure that customer requirement is well understood.
Responsive web design skills
To judge whether the web developer is proficient enough, it's essential to understand how responsive their web design works. Whether the website is customized as per the desktop or a mobile phone, any website created should adapt to different screen sizes. If the website is not responsive, it would not be suitable for desktop or mobile view. So, these fixations are a must for web designers or developers.
Knowledge of JavaScript
JavaScript helps you implement some complex functionality on a website. Knowledge of JavaScript will help you meet the higher expectations of your customers when building websites. For example, you can use this programming language if your clients want to store cache data or move search bars on a web page. Mastering these skills will help you create highly interactive websites focusing on user experience.
Interpersonal skills
Interpersonal skills that help communicate better are essential for success as a web developer, as this role requires regular interaction with clients and colleagues. Responsibilities of a web developer include having positive body language and a strong work ethic.
Testing and debugging capabilities
Your creation may need regular testing of the web page for possible errors. If there are errors, the web developer must know to debug them. Regular testing ensures that the code works as expected. Therefore, regularly testing and debugging web page code is necessary for web developers.
Back-end basics
Web developers also need to understand the backend basics of web development. Since they'll be working with backend developers, it's essential to know the basics. For example, an understanding of the basics of how servers, databases, cybersecurity, and SQL work.
How to Hire Web Developers? Finding the One that Fits!
You can hire proficient web developers with the required skills for any project. The first step to doing so is to identify why you require a web developer and what kind of skills would fit your particular needs.
The next step we will discuss for answering how to hire a web developer includes knowing your requirements. Whether you require a front-end developer or a backend developer or is it a full-stack developer, you need. Then, find the right platform to go to where you can find the profiles of web developers. There are many freelance websites with data of web developers willing to work for you at the desired rate. You first require a description that will include:
Write hire a web developer job description: An effective web developer job posting is simple and concise. It presents your company in a way that reflects your culture and values and lets potential candidates know what contribution they will make daily.
Interviewing a web developer: What makes a good web developer – and how do you recognize it? The right interview questions can help you identify a candidate's hard skills, behavioral intelligence, and soft skills.