A Guide to Choosing a Dedicated Web Development Team
26
Apr
2022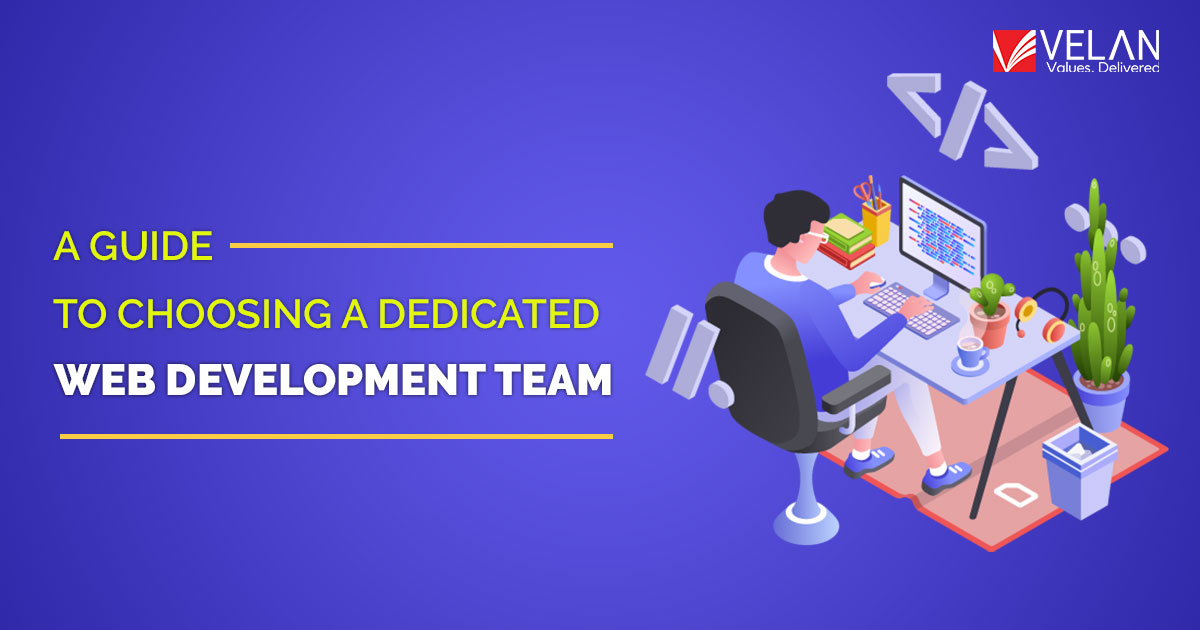 Starting an online presence can provide companies with valuable prospects. A digital footprint may help you reach foreign businesses, gain customer loyalty, and bring in more customers at a significantly lower cost. Creating a website, on the other hand, isn't easy because a lot depends on choosing to hire a dedicated web development team. Any business owner will agree that there will come a moment when your company demands elite expertise to perform certain duties. Your in-house staff, on the other hand, is unable to complete the task. In this situation, you assemble a committed team concept of a dedicated web developer for a long-term project to complete the task at hand. But before we go any further, let's define a specialized team model.
Due to the remote cooperation between the client and the company, which works as a partnership arrangement for project delivery, a unique development team is managed to develop. It's useful in a variety of situations and is well-known for its effectiveness. The strategy is also hailed as the ideal alternative for both current and emerging entrepreneurs. Furthermore, the specialized software development strategy is a more cost-effective alternative to in-house development.
What is the Process of a Development Team? Who is a member of the team?
Now that you've learned about the committed team concept, let's move on to the next step. The obvious question is self-explanatory: what does an outsourcing dedicated web development company do? Or who is the new group member? As originally said, a dedicated software development strategy stands faithful to the original. It all starts with the employment of dedicated developers through an organization that offers the company's objectives, timetable, and comprehensiveness. The following individuals make up the dedicated software development teams:
Business Analysts: They evaluate the user's requirements and also perform advanced analytics for customers. Additionally, they make recommendations to CEOs and corporate executives.
Developers that work on both the backend and the frontend these experts make sure to create client-side and server-side applications.
DevOps project managers are in charge of organizing the development, operational, and testing protocols.
UX/UI designers: These individuals create user interfaces that are both simple and appealing.
Quality assurance engineers: By developing test strategies and cases, these professionals ensure that bug-free programs are delivered.
If you require the services of another professional, the vendor will manage the outsourcing procedure on your behalf. The concept allows business owners to focus on more critical aspects of the company.
When Do I Need to Hire Dedicated Developers?
A dedicated development team idea might be useful in many circumstances since it is a flexible outsourced model that solves most freelancer hiring problems such as deadline difficulties and poor project collaboration. When you hire web developers for your task, you retain control over what is currently happening inside the project. You may simply track project deadlines and successes, and even make significant modifications to the project roadmap. The approach, however, is not necessarily relevant to all types of enterprises. Let's look at just a few areas where the dedicated development team structure thrives.
You have a business concept but don't know how to put it into action.
You run a digital business, but every one of your workers is working on a different project.
During a specified period, you must increase your efforts.
You have a tiny online division and you want to update your business strategy by developing a software application.
You are unable to locate an expert in your region who possesses the necessary abilities and expertise.
What is the best way to find a backend developer?
A back-end developer is a programmer that produces server-side components and functionalities that are accessed by a user indirectly through a front-end application or system. The whole back end is created, maintained, tested, and debugged by these people. Many back-end developers work remotely since the tasks may be done from anywhere. An experienced back-end developer understands how to assess requirements to provide a positive user experience.
You may employ a full-time backend resource to do the following:
Communicate regularly with stakeholders, project managers, quality assurance teams, and other developers on the long-term technological roadmap's development.
Create and manage processes with your team to offer visibility and ensure a balanced workload for consistent visual design.
Develop and manage testing schedules in a client-server context, taking into account all browsers and devices to guarantee that the intended information is shown on all devices.
Produce high-quality code, setting a new standard for the entire team in terms of quality and speed.
Recommend system solutions after weighing the advantages and disadvantages of custom development and purchasing options.
What makes a PHP developer such an important element of the web development process?
Back-end programs are written by PHP programmers. PHP programmers also ensure that the web technology is working as intended. For a few months, you could hire a dedicated PHP developer to make changes to scripts and test them for flaws. Websites and online apps form big industries. When implemented appropriately, it may bring in a lot of money for your company. Many programming languages are used to power these online apps and websites. PHP, JavaScript, Python, and other programming languages are examples. One of the most popular programming languages among programmers is PHP.
When hiring PHP developers for your company, make sure they have the necessary experience, competence, and technical abilities. In the PHP programming community, there are three levels of seniority. They are.
Beginner
Mid-level
Senior-Level
Working with Dedicated Web Development Teams Has Its Advantages.
Individual elements of your e-commerce business, from organizational shoring up or strategies that work, to marketing or advertising methods, connections with vendors or transportation firms, and more, make up your e-commerce project. Web development is surely one of the components. Your business will experience a boom period if you develop an amazing e-commerce project with the help of an outsourced web developer for a small task. Hiring a skilled development team is the first step in creating a user-friendly, profitable e-commerce website. Perhaps you've already devised a strategy. You even have a plan in mind but lack the means to put it into action. If that's the case, hiring a dedicated development team with the broad experience you need might be a viable option. The following are among the perks you may harvest if you choose to form a dedicated team instead of hiring in-house personnel.
Controlling the On-Time Delivery of Web Development Projects
There are no hidden fees.
Designed to Meet Your Business's Requirements
Experts at your disposal
Increased Project Flexibility
Final Twitch:
Partnering with a professional development team may save time and money while producing higher-quality technology for any organization. You hire an offshore team of developers, engineers, designers, quality analysts, advanced analytics professionals, and design engineers to create your project.
It is not a good idea to make a rushed decision depending on the needs of the web development team concept. Instead, generate a checklist of the topics raised in this article well in advance. It's worth remembering that building a website that's suited to your changing needs is rewarding.
Velan provides a committed development team with years of professional experience and insight that strongly favors client entities.
Velan ensures smooth, open channels of communication by conducting constant group chats and periodic stand-ups. They offer the right developers, guaranteeing that the client gets an exclusive service. Please contact us if you need to partake in a hire dedicated web development team for your venture.