Mobile App Vs Website App | Which Is The Right One For Your Business?
27
Jul
2021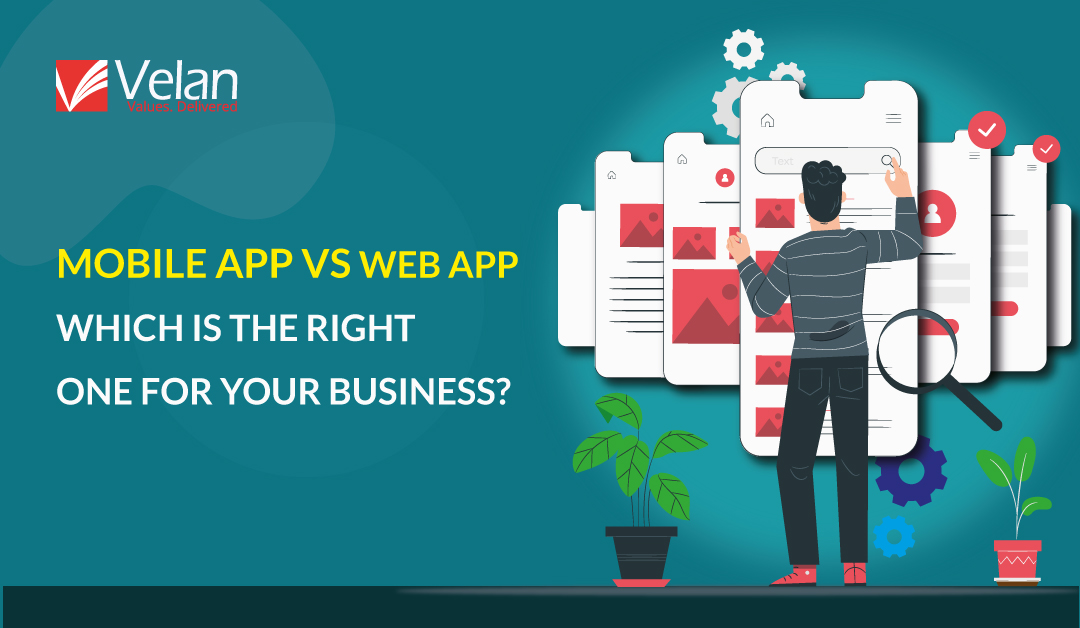 Mobile App vs. Web App – Which is the right one for you?
Web App vs. Mobile App – What's best for your business?
Is a mobile app better than a web app?
Are you having such questions constantly lingering in your mind?
Then, let us tell you that you are not alone because "Mobile App vs. Web App" has been a never-ending point of discussion to date. When it comes to making a decision for your business, you have to be in the groove to decide what is the best option for your business. You will be bombarded with an upsurge of potential ideas and possibilities. Technology will glow in front of you explaining the benefits of mobile app development, the web app development process, what types of web apps can you develop, etc., and that is not it. You will suddenly impractical to curb your excitement for your startup idea. Here is where you will fall into the dilemma between choosing a mobile app vs. a web app. And a few organizations will decide to build both kinds of apps, a few startups will have to decide what is best for their business given their monetary restraints.
In any case, you need to understand the benefits of the mobile app and the web app, what is best for your business according to the goals you want to achieve, your target audience before you make the big decision – Mobile App vs. Web App – Which is the right one for you?
But before we jump into the enlightenment, here are some facts on the mobile app that we are highly moved by.
Nearly 90% of mobile internet time is spent on apps. (eMarketer)
Most users have more than 10 apps installed on their phones. (Statista)
21% of millennials say they open their apps more than 50 times per day. (The Manifest)
Clearly, mobile phones are an extension of our daily lives. It would be an understatement to tell that our lives are just tethered to smartphones because it is more than that. Out of the 7.9 Billion total world population, there are 3.8 Billion people who use smartphones as of July 2021. With the increased purchase of smartphones every quarter, the download of the mobile app has surged. The mobile app industry is expecting to generate over $156 billion in consumer app spend by 2022.
That is not it. On the other hand, the web apps are also performing well and are giving a lot of advantages to their users.
Web apps update by themselves and do not require manual intervention.
Web apps can be used on all platforms – Mac, Windows, Linux, etc.
Web-based applications are Internet-agnostic apps. They are accessed through the mobile's web browser. Hence, you do not need to download or install them.
Well, we could go on highlighting more benefits and advantages of both apps. But that is not the point. Our goal here is to help you understand "Web App vs. Mobile App: What is the Difference?" and "Web App vs Mobile App: What's Best for your Business?".
Web App Vs. Mobile App: What Is The Difference?
There is a misapprehension that the native mobile apps and web apps are similar. But they are not. They are two different things.
The differences are not just for the end-users but also the developers.
First, though, remember that a website and a web app are different things. A website is a group of interlinked web pages that have a single domain name. The website could be both static or dynamic, responsive, and offer a great level of interaction. Web application, on the contrary, is a software or program that can be accessed by the phone's browser or any web browser. It possesses a fluid design that will get accustomed to any screen that you are viewing.
Mobile App Vs. Web App
Native mobile apps are designed for a specific platform like Android for Google, Samsung, Moto devices, or iOS for the Apple iPhone. They must be downloaded and installed via an app store and should be given access to the system's resources like camera, GPS, notifications, etc. Mobile apps reside on the device itself.
For example, shopping apps like Amazon, eBay, social media apps like Instagram, Twitter, Facebook, Google Maps, etc., are a few popular mobile apps.
Web apps, as highlighted above, are accessed via the internet browser. It will attune its design to whichever device you are viewing them on. They are neither native nor specific to a particular device or a screen size. It need not be downloaded or installed. It is equally responsive, looks, and feels a lot like the mobile apps.
Let us consider the Google Drive native app vs. the Google Drive web app. On both the mobile app and the web app, the layout will be similar and, so will be its functionalities.
However, the web app does require an internet connection to run. The mobile app will work offline. Besides, mobile apps are efficient and run faster, but they need to be manually updated every time there is a release announced. Web apps don't need to be updated manually, they will get updated automatically.
Primarily, the web app development process and mobile app development are designed and built very differently.
What Is A Mobile App?
Any application that can operate on a mobile phone, or a handheld device like a tablet, a smartphone is a mobile application. It also includes support options.
How Mobile App Is Developed?
Mobile apps are extravagant and involve huge costs for development. It has to be specific to a platform like iOS, Android and building apps for different platforms require different expertise in terms of design and development. Nevertheless, mobile apps are much faster, efficient, and advanced with regard to functionalities and features.
Native mobile apps are developed using specific languages and Integrated Development Environments (IDE) depending on the platform. Apple devices run on the iOS native operating system, so the apps are developed using either Swift or Objective-C and the Xcode IDE. Native apps for Android are coded in Java and are commonly built using the Android Studio or Eclipse IDE.
Apple and Google also provide their specific development tools, interface elements, and software development kits (SDK) which developers can leverage to build native mobile apps.
Benefits of a Mobile App
1. Personalization
Personalization is one of the most important benefits of using a mobile application when compared to a web app.
Mobile apps can be customized according to the user's needs and preferences to use the application.
Mobile apps allow users to save their data, adjust setting preferences, and share media files on their social media accounts easily.
The specialized features, functionalities, ease of use, and sophistication will enhance the user's experience of the business.
2. Convenience
Mobile apps are so profoundly convenient that people can shop, order foods, purchase anything from the comfort of their homes. Thanks to e-Commerce apps.
Mobile apps load quickly, provide a great user experience, navigates faster, and it is easy to use. What more could convenience mean. It tends to people of all generations.
Mobile apps are revolutionizing the healthcare practices, political sector, and entertainment industry, and financial sectors in unimaginable ways.
3. Supports Online And Offline
The key feature of a mobile app is it can be used offline. The details can be synced later if needed.
The mobile apps are revolutionary, one of the main reasons for gaining traction.
Users do not need to fret about not having an internet connection. All they require is a battery backup.
AI technology plays a great role in mobile app development for a great future.
4. Faster than web apps
Mobile applications are relatively faster than web apps.
Quicker connectivity is one of the main reasons why people prefer mobile apps over websites and web apps.
Every time, a user loads a mobile app, the data is stored on the device locally, and it makes information accessible without any hassle.
5. Secure
Mobile apps are highly secured. They integrate with the device's current security features to give improved security to the users.
Safe access and information sharing involve a high deal of security in smartphones.
Demerits Of Mobile Apps
1. Maintenance and Support
Mobile apps need to be updated every time an update is released. Regular bug fixes and update is mandatory to experience the improved version of the mobile app.
The update and installation are manual.
2. Compatibility
The mobile app development process involves a lot of time. Each mobile application needs to be developed from scratch according to the platform.
Compatibility is an issue.
A few devices do not support mobile apps because of cross-platforms and different versions.
What Is A Web App?
Web Application is a self-supporting software program that runs on the internet browser. The end-users need not download or install on desktops, tablets, or mobile devices. With the evolving web app development process, it can compass different web pages or be limited to a single page.
Web App Development Process
Web apps generally are built using HTML5, CSS, and JavaScript. There is no definitive software development kit for building web apps. However, developers can use templates. In comparison with mobile apps, web apps are easier to build and quicker — however, they are a lot simpler in terms of features and functionalities. They are not as advanced and progressive as mobile app.
Progressive Web Apps: The Best Of Both?
Progressive web apps, as an extension of the name, is beyond web apps' deficient functionalities and features. It is progressing. Progressive web apps, to a certain extent, can work offline and load extremely faster. It is because of the advancements in modern browsers that have the Application Cache feature, websites can store a huge data volume offline.
It performs similar to native mobile app functionalities like sending push notifications and playing audio and video offline.
It does not require download or installation either. Progressive web apps are a benefit-driven combination of both a mobile app and a web app.
Benefits Of Web Apps
1. Cost-effectiveness
The most considerate benefit of choosing web apps over mobile apps is their cost-effectiveness.
The app is developed for only operating systems, and it is common across all platforms.
With a web app, startups can avoid developer fees. Apple and Google take 30% of revenue on application deals, incorporating subscriptions and in-app purchases (IAPs). It is a huge deal for startups if they are planning on a mobile app.
The app tests perform their job and ensure that the app runs and performs correctly on every platform.
End users can easily access the system via any stable environment. It is a key advantage, especially for startups.
2. Endless Access
Web applications are manageable. They can be accessed anywhere and anytime with an internet connection.
A desktop with a stable internet connection is adequate for accessing the web app.
3. Customization
It is upfront to customize your web-based applications in comparison with desktop applications.
Customizing the look and the feel of the web app is straightforward.
Skilled and experienced web developers will require only minimal time and effort to customize web apps.
4. Support Different Devices
Web apps update themselves automatically every time an upgrade is released.
They run on all devices and attune themselves to multiple screen dimensions and platform versions.
Web apps support all the devices equally as long as there is a stable internet connection.
5. Easy to update
If you experience a performance glitch or there are typos, you just need to fix the glitch and the typos, and you can push it live.
By using the web app development process, you can exchange information easily with extended performance.
Demerits of Web Apps
1. Overhead Size
It is important to note that web applications function and work slower, unlike native desktop apps.
The app size will increase as the developers will push the entire web browser with the web application.
2. Does not work offline
It constantly requires a stable internet connection for the users to use a web app.
3. Lesser features
The web apps are not listed in the app store, and hence their visibility and discoverability are relatively less.
Web apps don't possess advanced features and functionalities, unlike mobile apps.
4. Security
Quality and security are not a guaranteed bet as web apps don't need to be approved by the app store.
Is A Mobile App Better Than A Web App? – Deciding Factors
The merits and demerits should help you understand the million-dollar question – Is a mobile app better than a web app?
We have listed four more important pointers that will help you decide, Web App vs. Mobile App: What's Best for your Business?
1. What does your market research say?
With a new startup, you are launching a new idea that may or may not be welcomed by your audience. There is always a risk tied to your launch.
How can you escape the risk? – Direct and prudent market research.
Before you make any investments, understand your target audience, their behavior, their likes, and how your product or service could address their pain points. Make sure that your audience needs your solution.
2. Do you need the phone's fundamental features?
You can opt for a native mobile app for your startup if you need access to the phone's fundamental features like camera, mic settings, speaker, location, etc.
3. Do you need to personalize the user experience?
Your users will love you when you walk that extra mile and personalize their experience on the app. Personalization can be best achieved on native or hybrid mobile applications. They help you to tailor your user's needs based on the research behavior, instead of showing a one size fits all model.
4. Will the end-users be excited to download a mobile app?
Mobile application downloads are increasingly seeing a rise in developed and developing markets. Getting your users to download your mobile app could be challenging, however if you keep a check on the other factors that give them an overall pleasant experience, yours could be a solid winner.
For example, let us consider the mobile apps for booking travel tickets. Ticketing applications are conventional as they collect and store important user details and provide a constant user experience optimized for speed. This application tends to the pain points of people who want to travel suddenly or would like to plan their travel at the comfort of their homes.
If your startup does not need this service immediately, you could begin with a web application that provides instant access with certain limitations. The best case for a web application would be when your startup is providing data or content, where users will be less inclined to rely on a mobile application.
Is a mobile app better than a web app? – Certainly!
Can you choose the web app development process? – Absolutely!
Whatever is your pick, Velan has your back!
Wrapping up, by and large, there is no fixed solution or a process available for the startups, especially. You should gauge and make your choice personally based on the proven factors above. In the process of selecting a mobile app vs. a web app, Velan can throw light on the details and intricacies of what you need for your startup to achieve your goal. Velan is a mobile app development company and a web app development company as well. From the beginning of consultation to helping with mobile app development or walking you through the completion of the web app development process, we have your back.
Your target audience, budget, startup idea, features, business, and revenue model contribute to the major decision-making of choosing between the mobile app and the web app.