Improve Your Medical Claims Billing Process In 9 Steps
9
Jun
2021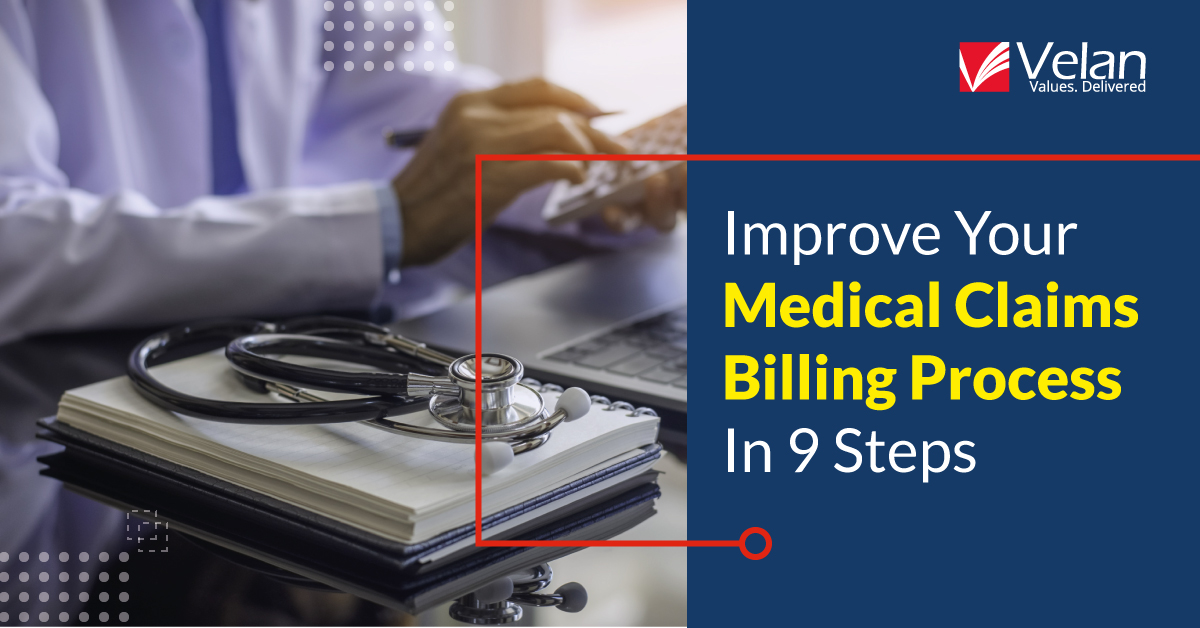 There is a stigma revolving around the medical billing processes that the claim process is complicated, does not get paid on time, will be denied multiple times, and whatnot. It does not have to be complex for the patients and the healthcare facilities. In fact, it has to be the last thing for the patients to worry about.
However, the bureaucracy and off-the-record maneuvering make the medical claims billing process challenging and troublesome. The challenges lie within the internal team's workflow and practice, coordination, lethargy, unclear and dynamic protocols. Additionally, the claim processing vendors and their external clearinghouses, the processes add fuel to the fire. It demands constant follow-up to know the status of the claim.
But the truth is the medical claims billing process does not have to be challenging. With a few changes like improving the coding and billing process, software upgrade, integrating automation, the workflow will significantly show a difference in speeding up the process, leading to quicker submission, and getting approvals in the first submission.
We will help you understand what those best practices are and how implementing them will make your medical claims billing process a cakewalk. Besides, it will also improve your customer satisfaction, increase your growth, and bring in success.
1. Explain your collection process honestly
Honest and straightforward communication with your patients will help them understand the costs upfront. It is vital for having an efficient medical claims billing process. You will keep your patients informed and save the eleventh-hour troubles. Ensure to clearly speak about the patient's financial responsibility.
If the treatment requires your patient to keep visiting often, you can send them all the paperwork with costs inclusive before their next visit. You will have a happy patient visiting you who will not blame you for being ignorant or dynamic with your policies.
Additionally, you can have a helpdesk who will be able to clarify any doubts with regards to the claims and payment. And after the patient is admitted, maintain daily billing records along with a copy of their insurance ID and other chronicles.
2. Update your patient details promptly
It is a must to have the latest information about your patient. Train your billing staff to get clear information – from name to the demographics and insurance information. It will save a lot of chaos.
For example, with people changing their jobs, their insurance providers will also change, and it needs to be updated in your systems. The nature of the insurance may have changed, there might be a difference in plans, sponsorships may change, etc.
But ensure to validate the existing information that you have on your system is 100% accurate and all the details match with the policy information. You do not want to surprise your patients with a relatively higher bill amount that they may have to pay from their pockets.
3. Automate the billing process
Filing individual claims is laborious, especially for the healthcare providers who have to file hundreds of claims every week. Streamlining and automating this process will create a positive impact on your entire claims billing procedure. Bulk claim creation and filing will allow providers to file claims in mass, as grouped by the payer.
To begin with, identify tasks that are routine and have the potential for automation. A few of those tasks that prove the best candidates for automation are
Filing individual claims,
Generating payments,
Sending payment reminders,
Selecting the correct medical billing codes, etc.
Automating mundane processes will improve billing productivity, and you can be free of zero errors with software taking the upper hand. Your staff can shift their time and focus on revenue-impacting services.
4. Educate and train your workforce
Make employee training programs a part of your must-haves for the success of your organization. Your staff must be trained to proactively collect all the details (which may help for the billing too) from the patient and record them in their daily chart notes. It will address any communication gaps or also provide an update to the existing information. It will help the billing desk to expedite the claim process without any hassle.
5. Track denials
Here's comes the most abhorred process – tracking and working on denials.
Unanimously, the billers and the insurance companies will agree with this to be the most tedious part of their work. Ironically, this is the most important task that is holding the entire medical claims billing process.
The reasons for denial could be a wrong calculation done from both ends of the spectrum. Either the biller didn't get his calculation correct, or the insurance company missed a few things and chose to reject with verifying. An investigation is essential. And working on it is the solution.
From the healthcare side, having a streamlined process, performing multiple checks by different authorized people, and approving will drastically reduce the mistakes from the healthcare. Besides, it will improve the accuracy, speed, and responsibility of your healthcare staff to ensure the bills are correctly submitted for claims.
And if it still gets rejected, your employees must be trained to look at the bigger picture and follow up regularly on the reasons for the denial. And if the denial rates are high, it is a call for training time.
Here are a few reasons that your team can check proactively in order to avoid claim denials.
Invalid physician credentials
No proper substantiating documents
Incorrect codes used by your team that is not supported by the insurance providers
When you monitor the denial codes, you will be able to identify a pattern to boost your efficiency.
Let's get back to updating the daily charts as an example. Your healthcare nurses can update their daily chart notes with the billing codes in them and send them to the billing department. It will save a lot of time and increase efficiency. And if you are constantly facing "non-covered" as the reason for claim denials, it is a warning call to review your coding practices and update them.
6. Track the long-pending Accounts Payable
You can consider outsourcing this process to settle the claims of patients whose accounts are payable. It is a long old process that needs regular follow-up, and the messages must be delivered to the patients as your healthcare's reputation is at stake. A claim collection agency like Velan can be of great help to you as we deal with this day in and day out. It will save your company a lot of time, revenue, and you can make more business when patients become your brand ambassadors.
7. Outsource your pain points at work
Like we mentioned above, Velan has been the most trusted outsourcing partner for many healthcare providers. From submitting the medical claims billing to getting it approved and bringing more revenue to our clients, we have been the masters in this area of business.
We recommend you consider outsourcing such laborious tasks because your revenue will be at stake. Working with us will free your staff and allow you to engage them in more meaningful tasks that will actually help to grow your business.
Besides, your reputation because of your staff's behavior will be saved from damage. We will deal with your unhappy patients who have trouble paying their bills and deal with them till completion.
8. Improve quality control
Getting rid of errors in the claims will help to keep your healthcare's financial state balanced. The medical claims billing and collection process has more work and does not stop once the claim is approved. It requires you to adopt a few proven accounting practices that will post and record payments. This process will help you monitor the cash flow closely.
Additionally, you can enhance your account balance by creating a deposit record for every receipt, and it must be sent to the billing team. Ensure to include every detail about the patient and their insurance service provider so it will be easy for the reviewer to validate against the details and confirm before releasing the payments to the correct user account.
Your log must contain:
Patient's name
Patient's account number
Check/Cash receipt number
The due amount
Date of service or referral reference number
9. Don't cut out on delinquent claims.
The amount of incoming money your medical practice must receive will determine the percentage of delinquent claims awaiting service. Employ a dedicated staff to work on delinquent claims like reviewing account aging and identifying which claims are not paid promptly.
After an exhaustive review of long-pending accounts receivable, you can resurrect your communications and address the gaps with the insurance providers or the patients.
Get answers to the following questions:
What is the reason for delinquency?
Are the patients able to understand the denial statement issued by the insurance providers?
Are your billing and coding vendors working efficiently on your claims?
Higher delinquency rates indicate a bigger problem. Detecting these problems earlier will help you review delinquent claims and process them sooner. Ensure your team is trained on implementing the best practices to file claims faster and follow up till closure with the same dedication. It will improve your overall productivity, processes, and contribute to your revenue.
Want to improve your medical claims billing process? Contact Velan today!
Velan, a leading Medical Billing Services organization can help your healthcare firm fix an inefficient billing process. With a great passion and experience in helping hospitals of all sizes, we offer turnkey billing solutions to improve our client's medical processes, increase their RoI, and streamline the entire settlement process. We leverage the latest software and technology to key in codes instantly, execute faster collections, and get that settlement amount promptly.
To know more about our process, contact Velan today.