How To Tackle Claim Denials? – The Easiest Way Out
18
Nov
2020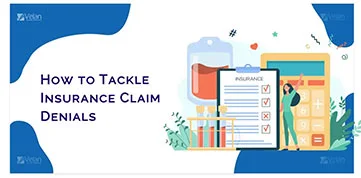 Your insurance claim was denied!!! – It is something you do not want to hear.
A denied claim means it is reversed to the pavilion to appeal once again, and, long waiting hours and more costs ensue it.
Claim Denials Management is often confused with Rejected Claims.
Let us understand what claim denials are before we try and avoid them:
These claims are acknowledged by the insurance companies, at first, and then marked as denied claim at the time of processing.
These claims mainly contain errors in pre-authorization details that will most likely be identified during claim processing.
The reasons could be information loss, claiming for services that do not cover under the claim umbrella, inaccurate patient details, and policies that insurance companies don't address.
Re-submitting the denied claim without any research and failing to comprehend why the claim got denied will cost you extra time, loss of revenue to unpaid claims exempting the provider and most importantly, purposeless stress.
The Rejected Claims, on the other hand, is:
These claims contain one or multiple errors that fail to meet the specific formatting required by the insurance companies. It could be inaccurate patient's details, entry formats, ID number, claiming for extended timelines, etc.
These claims will be identified as rejected even before reaching the insurance companies, and clearinghouse thus, giving them zero room to process your insurance claim.
These claims would be stuck before reaching the insurance payers and get marked as rejected.
The timeline to file these claims is very critical. The rejected claims must be re-filed within the payer's deadline to avoid revenue loss.
Did you know
Only about two-thirds of denials are recoverable, but almost all (90%) of them are preventable.
6 Quick Tips To Tackle Insurance Claims Denials
Insurance Denial Management is an endless subject. Although most healthcare systems assure a smooth process, only a few can assuredly reduce insurance claims.
We have listed out the most common checklist that you need to remember to reduce insurance claims denial.
●      Ensure 100% accurate patient information to its last details.
Inaccurate patient information and diagnosis codes are the most common reasons for claim denials.
Take enough time to corroborate to the last details of the patient – name, insurance policy number, address, age, etc. It is easy to overlook the small information.
You must select the diagnosis codes specific to the health issue. If you encounter multiple suitable options, take time to study the coverage policy under the diagnosis code and select the most relevant.
●      Automated solutions can help.
Using automated solutions can help you to reduce apparent human errors. And this would mean fewer chances of claim denials.
You can surf the internet to understand your claim format and discover an EHR software solution that will help you automate the process.
●      Strictly adhere to the deadlines.
Every claim has its submission time. Missing to find out the deadline will mean to run the risk of getting your insurance claim denied.
Every healthcare has its deadlines to follow, and the details will be filed in their system. Have a physical checklist to make sure that you find yourself ticking against the claiming process. It will help you to identify the gaps and be prepared with every document required at the time of submission.
●      Stay up-to-date with your payer's requirement.
With the evolving medical rules, it is common to neglect the obvious. Before filling out the forms and submitting the patient claim eligibility verification, make sure to contact your payer and get a confirmation from them about the details you are about to enter.
Getting the details on an email can serve as a testament that you can produce at the time of claim denials.
●      Regularly follow up on the claim.
After you have submitted the claims, keep track of the process. It will help you identify the problem and find solutions when your insurance claim does not move forward. Besides, you can use this knowledge when you set out appeals.
●      Outsource claiming process to avoid claim denials.
After reading each subsection, I'm sure you are feeling overwhelmed. It is challenging to compete against a healthcare facility without much knowledge and experience.
And that's where Velan can be of help to you at every juncture.
There is a solution to Insurance Claims Denial Management with Velan Health care services. We specialize in handling Insurance Claims Denials and eligibility and verification.
We have an expert Insurance Denial Management team in the US that holds a record for having less than 1% in claim denials. We use a mixture of automated and manual hands to reduce insurance claims denials.
We cut back on reimbursement loss due to denied claims, help to process the insurance claim and submit within two business days.
From patient claim eligibility verification to performing quality checks, submitting the insurance claim document to your insurance providers and staying informed about every move in the process, we will ensure your claims are sifting through seamlessly to guarantee nimble revenue in your account.
Reference:
[1] https://www.advisory.com/research/Revenue-Cycle-Advancement-Center/at-the-margins/2014/12/denials-management