How To Edit Your Product Images Like A Pro In 7 Easy Steps?
17
Nov
2020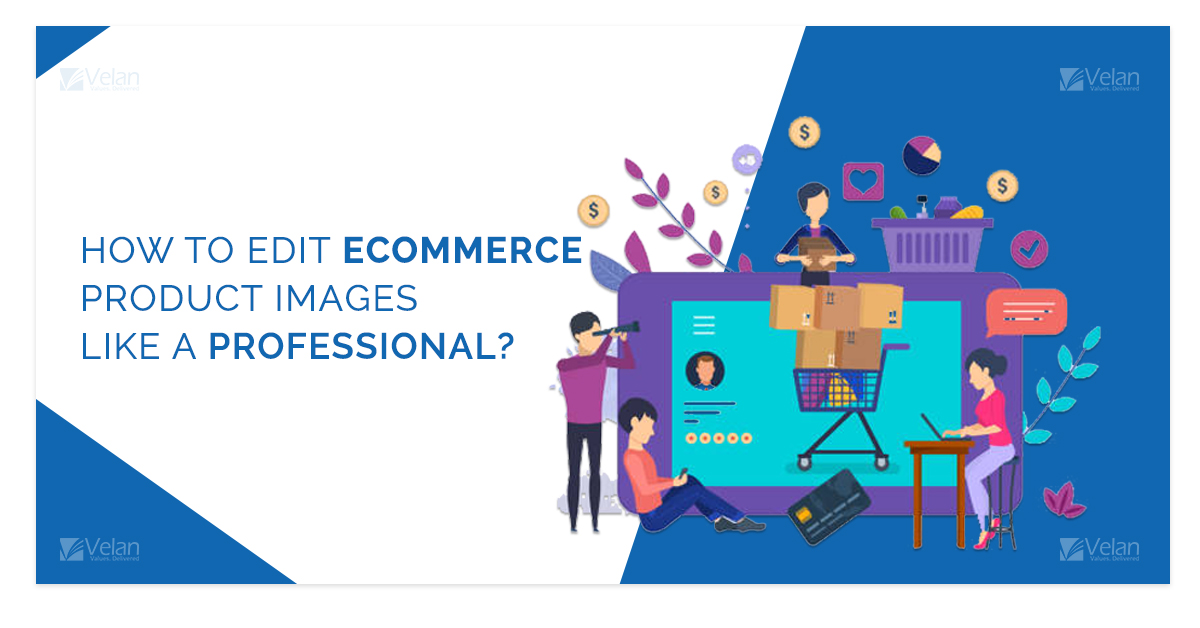 How To Edit Your eCommerce Product Images:
50% of online shoppers say images helped them decide what to buy.
That's a whopping number that decides your eCommerce's fate.
Product photography is crucial when your business is revolving around it. It may sound intimidating, but it is certainly not. However, that does not mean you can simply click photos and upload them to your online store. You need to put some efforts to capture a good image, think of ideas to present it in your online store, draw attention to the product, make it pleasant for your audience, epitomize your brand, and finally tempt your prospect to convert into a customer. The entire process can be summed up in one word – EDIT!
After all, your eCommerce store is a personification of your business, and you cannot risk your brand's identity.
Your product images should be 100% professional, optimized, and uploaded in its best quality.
We will cover the best practices that you can follow for editing your product images that include touch-ups like background removal, colour correction, adding shadows, cropping, flat laying images, maintaining the aesthetics, etc. We will cover how you can keep your product images professional, clear, crisp, and engaging while being truthful and accurate because you do not want to mislead your audience with fake images and later be swarmed with a bad reputation, negative reviews, and customer frustration.
And at any point in time, if you prefer to outsource this task, we will tell you why you can choose Velan. Either way, we recommend you to read the best practices first.
Product image editing 101: 7 steps to follow
Images can influence your emotions and change your views about a brand. Visual cues eclipse copy and everything on the page on the eCommerce page.
Step #1: Invest in editing software
As a first and foremost step to editing product images, you must decide on the software. There is a lot of software available in the market known for its features. (After you have read the blog, you can decide which software will allow you to do the touch-ups and buy one.)
After you have zeroed in on your software, review the images from the photoshoot. Look at the images in an aerial mindset so it will allow you to think of new ideas. Select multiple stronger images from the lot and transfer them to a bigger screen, preferably your desktop screen. The larger the screen, the better you will be able to look into the details and edit.
As a precaution, always remember to duplicate the selected images, just in case!
Step #2: Keep your background WHITE
Having a background is great, but it will disturb your viewer's attention.
Besides, your product's accurate colour, dimensional angles, details, etc. can be accentuated with a white background.
Having a white background also will help you to
Eliminate your viewer's distractions
Bring the complete focus on your product
Lessen your product's file size, as they go easy on compression
Remove shadows
Blend with the webpage, as most of the webpages are white-dominant
Having a white background enhances the total look of your product and gives a professional feel instantly. Having a white background has partially become industry standards owing to the many benefits. So, remember to buy software that will allow you to remove the background without many efforts. Or you can always choose to outsource for a professional finish.
Step #3: Enhance and retouch the spots on the images
How much ever you keep your lens clean during the photoshoot, you are still likely to attract dust. And that is why we recommend this step – retouch the spots.
Retouching is getting rid of distractions on the image and enhancing the overall quality. It is not similar to colour correction. When you retouch the spots, you will eliminate stray fabric, wrinkles, docs, spots, shades, etc. and refine the photo overall.
Step #4: Correct the colours in the image
Colour correction is one of the important procedures to put that worthy picture on your online store. Your photographer could have missed that bulb popping out on the image while clicking and that can be corrected in this step.
Colour correction is important mainly because it will
Help your customers perceive the real colour of the product and influence them to make a purchase decision
Adds and corrects sharpness, white balance, and clarity to the image
Fixes colour hues and contrast
Balances saturation and illumination
Tip: Remember that too much color correction might leave a deceiving end product, and that will mislead your customers. You do not want to fake your product. If you find spending too much time balancing the colors and adjusting the image, you should retake the photo.
Step #5: Process your corrections batch-wise
It is an optional step that you can apply across all the images following step #4.
You can opt to follow this step if you want to be consistent in your editing process.
By doing a batch-wise image correction, you are applying the colour, exposure, white balance, contrast, warmth, saturation, illumination, and all other effects to the selected batch of images unanimously. It will prevent you from having to adjust the editing effects ratio for every image. You can try different options with one image, and when you are happy about the output, you can apply the same ratio to all the other images. It will prove your consistency and professionalism.
Step #6: Use shadows for your image's strength
When we mentioned shadows, we did not mean the shadow that falls on your product. We meant you to 'create' a natural shadow using the editing software. The falsely created shadows must look natural and realistic. When it is done right, the shadow effects will notch up the depth effects of your products giving them a three-dimensional view like floating in space.
You can either create a drop shadow or a reflection shadow. Drop shadows will clone your actual product with direct sunlight effect beaming down. Reflection shadows, on the other hand, will mirror your product upside down. They give a dramatic effect and are recommended for category pages, social media, landing pages, and home pages.
Step #7: Straighten and crop the images appropriately
To maintain consistency, you need to ensure all the images on your eCommerce website maintain the same size and dimension. You can use the grid options in the editing software to make sure all the images follow the size grid you have chosen.
Now that you know the best practices, you can try it for yourselves or outsource it to Velan.
Why must you consider Velan?
75% of online shoppers rely on product photos when deciding on a potential purchase.
Relating to the above statistics, we, at Velan, take the number seriously because stats don't bluff.
The world is smitten with a multi-channel shopping realm, and so, digital commerce services have become a mandatory adoption for businesses to tap into the exponentially flourishing online empire.
We have an expert and professional team of photographers who realize the power of image-driven marketing. We will help your business achieve the desired results for your eCommerce store by providing end-to-end eCommerce support.
We appreciate visual content because human beings are reactive and proactive to visual cues. We create inspiration for our customers to value the brand they are looking at and coax them into buying the product.
We tout our professional photography team because we
Have media-savvy, passionate, and thought-provoking photography professionals
Do not compromise on the quality and lighting
Make sure all product images feature the main product with congruous and clean backgrounds
Use professional equipment
Design photoshoot themes to highlight your product and help with more sales
Give you multiple image options to choose from
Process your design suggestions
Optimize every image, so it does not get heavy for your website and customers
Lastly, all our images will be worthy to share on social media without any edits
Contact Velan for a consultation with one of our eCommerce experts.