Holiday Season Ecommerce Trends 2022: An Exhaustive Guide To Handle Your eCommerce Store Traffic Effortlessly
21
Nov
2022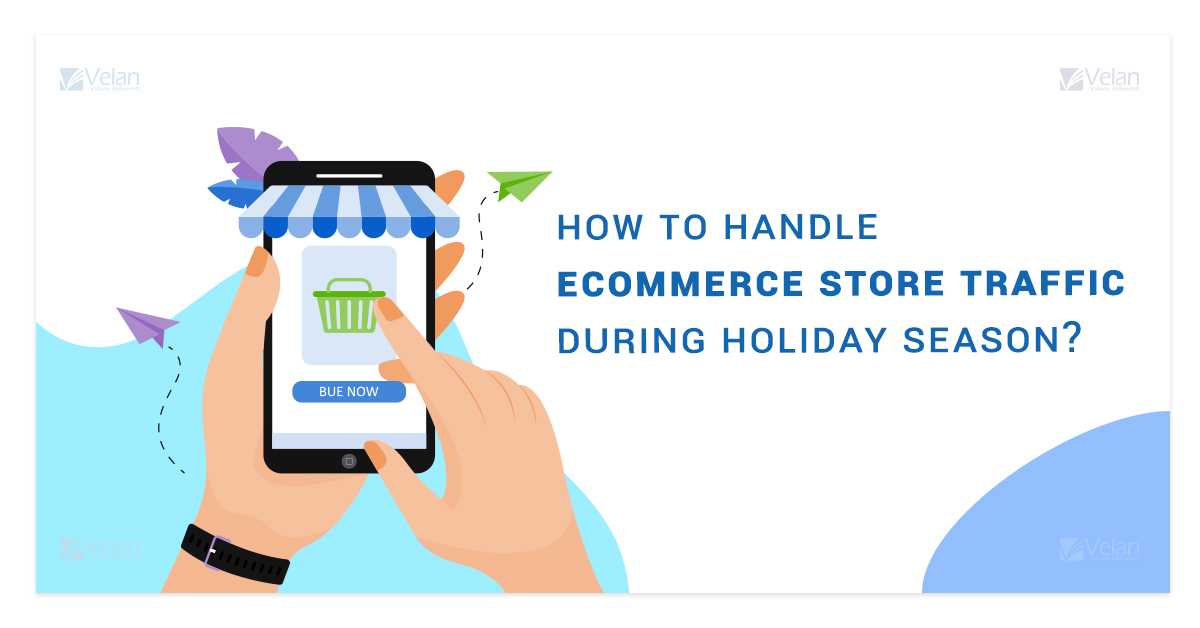 Online stores are concentrating on eCommerce sales which are expected to see a spike in the final quarter of 2022.
61% of retailers are believing in social media to bring in more engagement and sales. And this has incentivized businesses to take their holiday marketing plans seriously and work on them.
So, we are here to help you create a powerful holiday season marketing plan for your eCommerce business. This guide includes what you must be prepared for to be at the forefront of the race, the kind of service levels you must provide for your customers, the things you must be aware of, the checklist, internal readiness, etc.
The Retailer's Checklist To Handle 2022 Holiday Season Sales
1. Systematize your inventory.
Businesses can anticipate up to 120% more website visits on the busiest days of the Holiday Season.
And those statistics mean your eCommerce business should be ready to ship at a greater percentage more than the previous times.
Make sure you are thoroughly stockpiled and can re-order inventory promptly if you run out of stocks. You do not want to leave your customers flat-footed during the sale. It would also influence your online store and brand's reputation.
Ensure you install a monitoring system in your warehouse so you can religiously stay updated about your inventory.
2. Assess your website's infrastructure and speed.
Your eCommerce website's infrastructure and speed should always be your priority. It needs to be able to tackle the high surge, traffic, payment transactions, page loading speed, etc. Your page's loading speed cannot exceed 3 seconds. Any longer than three seconds will unquestionably mean that 'you lost a customer.'
To optimize your web pages to handle the entire load irrespective of the number of visitors, you might want to consider optimizing the images and videos, reducing redirects, keep count of plugins and third-party integrations. Make sure your software and third-party integrations are up-to-date as these are the main reasons to break the site's speed. Keeping your online store's website ready for all this should do the magic to give a great user experience.
Ensure to do load testing very often, especially during the holiday season sales, to make sure your servers are responding well to the huge surge-in. For any assistance, make sure to reach out to your customer support team of eCommerce stores like Magento. They should be able to promptly help you with load balancing.
3. Create a personified shopping experience on your website.
Keep your website's design visually elegant, so it resonates and shows who you are as a brand. Keep note of the font, color, transition effects, and images used, and give your brand the visual flamboyance to create a personalized user experience.
Creating a personified shopping experience for your customers means that you should be able to upsell and cross-sell related products that would clearly complement the sale. You must work on showing relevant product recommendations by using the previous search history and data. You can look for the data from the shopping cart, frequently visited items on the search bar, use Google's search data, purchase histories, wish list items, etc. Social media handles could be a great option too to find out the product behavior of your customers.
Enable periodic cart abandonment notifications. There could be several reasons a customer left your online store with a cart full of items. Sending them periodic notifications will remind them about the products that they left behind. The objective should be a gentle nudge to complete their purchase.
With all these strategies at your disposal, you can directly boost your sales and influence your bottom line.
4. Improve the checkout page.
By the time your customers have reached the checkout page, it means they have made their decision about the purchase. Improving the efficiency of your checkout page, like making the payment process simple, applying the coupon codes, calculating different sale values, etc. will ensure a smooth process to complete the purchase.
Simplify the checkout page to a single page. You can allow the customers to add their personal information, address details, and payment options all on one page. Loading a single page versus multiple pages for different options will take your business for a toss. Do not give your customers any time to leave your website without making the payment. Offer diverse payment options and show your customers that their cash transactions will be safe and secure.
Enabling a guest check-out option is something you might want to consider. Requiring your customers to register to complete their purchases may sometimes become a game-changer. And proactively prompt an option to understand if your customer is looking to send the purchase as a gift to someone else.
5. Check your website's mobile responsiveness.
Especially in the Gen Z generation, you must ensure your online store is very responsive for mobile phones and tablets. They have become an integral part of life.
The bounce rates are usually higher on mobile devices, so you must rigorously optimize your eCommerce Magento site. Every web page should be mobile-friendly in font, videos, images, design, responsiveness, checkout window, payment options, etc. to survive the holiday season, especially. Else, you are risking your business and turning away customers who would have otherwise bought you a small fortune.
Today, almost every eCommerce business has a mobile app for them. In case you do not have one yet, it is time already to develop your mobile app before the sale commences.
6. Create a strategic content calendar.
Whether it is content marketing, promotional strategies, new technologies, or content campaigns, a merchandiser needs to step out of their comfort zone to trade their products efficiently.
Having a content calendar is the most crucial aspect after you have fixed your website and mobile device. You must commit yourself to a content marketing plan to ensure you show at the right places and put up relevant content for your customers. Besides, plan for bespoke holiday contests, giveaways, free shipping, rewards and loyalty programs, etc. for your customers.
It is essential to make complete use of the holiday season to inflate your sales and conversion rates. Giving gift cards for upselling, seasonal services, and free shipping, in addition to a time limit, will create enthusiasm and a sense of urgency in your customers to make use of the coupons and shop more.
These promotional plans will bring bountiful benefits to your business while giving a sense of achievement to your customers to celebrate the holiday season.
7. Combine your marketing efforts with the content calendar.
Now that you have a calendar in place, you must synchronize your calendar with your marketing.
Social media, videos, blog posts, push notifications, emails, SMS alerts, etc. must be incorporated as part of your marketing strategy. Keep your content original, and interesting, and show up everywhere possible on the internet. Consistency should be your key to reaping the complete benefits of your marketing efforts. Sleeve up and show up every day at regular intervals on the internet and mobile device.
For instance,
(i) You can reach out to your customers on social media. Boost page views by using paid advertising and campaigns to announce on social media. Simultaneously, post regular pictures of your new collections, sale details, intriguing gift vouchers, encourage your customers to participate in your promotions, etc. to sustain the existing customers. You can run different programs for your customers to give giveaways.
(ii) You can create seasonal blog posts like DIYs, decorate homes for the festive seasons, different clothing styles they can adorn themselves in, etc., and feature flagship products in that blog. By doing so, you are garnering a high chance of a visit and a sale.
(iii) Send promotional emails, SMS, and notifications to grab your customer's attention. You must customize the messages according to the timezone of your customers to score a higher chance of them visiting your website.
(iv) Use SEO tactics to show the first on Google. Organic traffic is appreciated, but paid advertising will do better during sales. Allocate a budget for paid campaigns and advertising efforts. Besides, having a holiday season customized SEO plan will help you improve your performance by multifold.
8. Decide your shipping terms.
To make great sales, you must provide a great customer experience. And shipping is a part of the customer experience.
During the holiday season, you are most likely to expect a surge and an increase in purchases. To balance the increased traffic, you must consider associating with multiple, reliable logistics partners. Automating your shipping process can handle the updates load for you. Invest in shipping software where you can see the entire shipping information for a customer on a single dashboard.
You can offer free shipping to customers that exceed a certain amount and secretly encourage them to shop more.
Apparel, footwear, and fashion accessories are more prone to return and exchange. Having a detailed, clear return and exchange policy for every product will not only improve your customer loyalty, but will also benefit your operations and sales.
Besides, the holidays are when you should be a little easy for your customers on an exchange, returns, and sales — because things certainly happen then.
The crucial thing for you to focus on is to establish trust in your customers by ensuring your exchange and return policy is fair and lucid.
9. Ramp up your customer support.
Remember your customer support team is one of the faces of your business. Develop a strong back-office support plan before the holiday season hits the ground. Have a dedicated customer support team for relevant categories so that inquiries can be answered swiftly. A customer support experience can make or break the entire purchase, so providing a positive experience even when things go wrong can still assure you sales.
Make sure to have a 24/7 customer support team during the holiday season. This way, you will be prepared for the global audience.
Make it easy for your customers to reach out to the team. Reducing redirects, especially on calls, will save you a lot of customer frowns. Creating a FAQ page will also help you survive customer frustration. Providing a seamless customer experience is an eternal process, and getting feedback will help you sail smoothly on that journey.
10. Take advantage of the holiday season to build returning customers.
Repetitive customers are eCommerce's bread and butter. And what better time to keep up with them if not for the holiday season?
You can adopt organic methods to stay in touch with them. Sending email campaigns, involving them in your business journey, giving them frequent giveaways, posting gift cards, exceeding expectations, etc. are a few ways you can consider staying in touch with them.
The eCommerce business has become a beast in recent years as the market has extended on a global level, consumers are well-educated and have become choosy. With advanced marketing strategies and technologies sprouting every day, it has become difficult for eCommerce businesses to sustain the technology wave.
And to ease these ripples, eCommerce Outsourcing can prove extremely beneficial for your business and your organization. It will give you the time and strength to focus on your core business while helping you accelerate sales and move ahead of your competitors.
How can Velan help?
Velan is an established eCommerce outsourcing agency for decades. From building your website to providing 24/7 back-office support, Velan has a dedicated team in each arena. We are Magento enthusiasts, the future of the best eCommerce websites, helping you from planning to taking your online store live.
By building a Magento website with us, you will get entitled to a lot of ancillary services like Magento platform implementation, systems, and network integration, network support, web development, web maintenance, load balancing, back-office support, customer support, etc. We will keep you ahead of technology with a little capital investment. And the aforementioned guide will be taken care of by Velan in addition to a lot of customized value-additions.