How Is Business Intelligence Transforming Accounting And Financing?
20
May
2021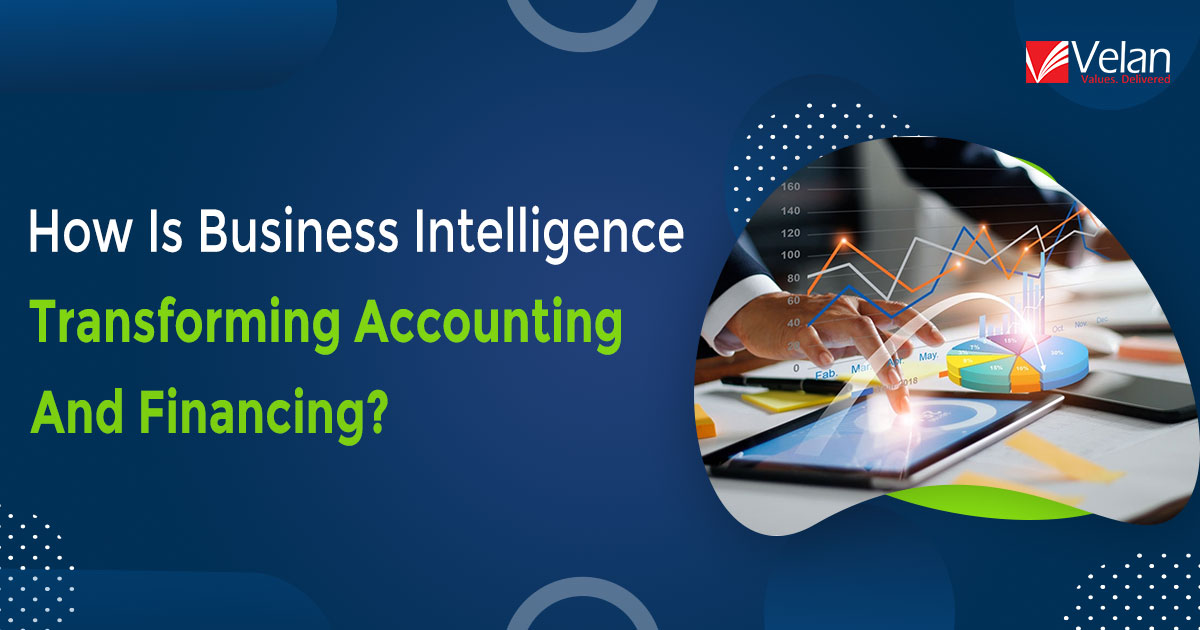 Improve decision-making in your organization by unlocking Business Intelligence.
Business Intelligence is the collection of historical and present data of an organization. It leverages software and services to transform that data into actionable insights for the benefit of the organization. In other words, it integrates business analytics, data visualization, data mining, data tools, infrastructure, and other best data extraction processes to help businesses make informed data-driven decisions.
Ideally, you are using business intelligence if you have an extensive view of your organization's data and if you are using that data to bring in change, address inefficiencies, adapt to new market changes, and help your business scale and grow.
Business Intelligence helps you to answer all the "why" questions from the data based on real-time scenarios. When Business Intelligence and Business Analytics are used together, organizations will be able to clearly understand the present situation of the business, make predictive, take precautionary measures, and make informed decisions for the future.
For example, having a single ingredient is not a complete dish yet. Raw ingredients hold zero value until you combine those ingredients and produce a beautiful, edible dish. However, with an obscure recipe and various unknown methods from different channels, it can become difficult to find the exact recipe to produce an edible dish. Similarly, with data, there are privacy issues, various data formats spread across different mediums and locations, and complex data extraction, it is always a challenge to put the data to work. And here is where using the right technology will help you. And that is a Business Intelligence software. It will help you unveil any historical data and give you insights to capitalize it for the benefit of your organization.
Why is Business Intelligence significant?
It is important because great Business Intelligence aids organizations ask and answer questions about their data.
BI empowers businesses to make better and informed decisions by showing present and historical data inside their business context. Analysts can use BI to support performance and competitor standards and help the organization scale, run smoother, and efficiently. They can also identify market patterns to amplify their sales and revenue. When used effectively, the right data can support the organization with anything from maintaining compliance to 10x sales.
The veritable aim of using Business Intelligence is to improve decision-making. It is true that decisions are taken based on the available information, however, involving BI will enhance the data along with providing multiple insights, which will help the decision-makers to substantially improve their decision-making skill.
The second aim is to keep the corporate actions transparent with BI. It will encourage employees to understand certain company's decisions and also own their every move with supporting facts and numbers as BI gives a clear view.
The other objectives of business intelligence are:
Discover different ways to increase profit
Explore customer behavior and their market patterns
Draw an analogy between their data and their competitors'
Make data-driven decisions
Monitor performance
Optimize operations
Project success
Understand market trends
Identify problems
Accounting and Financing!
It is customary that time is money, and it exactly suits an accountant's job description. The finance team is regarded as the backbone of the company. With Business Intelligence, various things in the finance department can be simplified. The role of BI to extract information from huge chunks of data and condense them into useful information will be of great support to the accountants and finance team. This, in turn, allows the accountants to optimize business efficiencies and streamline the income.
BI is an indispensable solution that will assist organizations to:
operate more efficiently,
make better logical decisions,
comprehend the customers better, and
can make things work for the betterment of the company.
The accounting business is improving every day, and this has pushed the companies to invest in business intelligence software to enhance their customer relationship.
Business Intelligence and its relation to the Technology and Accounting methodology
From the accounting division's standpoint, Business Intelligence helps the business heads, a.k.a. decision-makers by providing real-time examples and influences to adopt in their business. The BI software is fully provisioned to run and maintain a large organization's data. And this makes reporting, layouts, dashboards, fetching data, etc. easier, and business heads can depend on the data produced by the software to understand where the company is spearheading and what needs changes.
For example, when an accountant or a finance member is asked to plan and predict the results, the challenge for them lies in extracting data from all the available and historical sources, and to derive meaningful results from the collected data.
It also requires them to understand the data before they could make any further move. The data must be interpreted to the evolving business conditions while meeting today's market needs. It is highly essential for making any decision.
As an aiding tool, Business Intelligence combines data from various sources and permits the professionals to:
See every data, interpret them to their needs,
identify the root cause of the problem, and
create bespoke reports that meet the requirements of the day
All the teams that are involved with the software can customize and update the data to increase their understanding of the data. Eventually, as the data grows along with the company's growth, using the software to collect huge chunks of data and to interpret and communicate it to the company's advantage will become easier. In the end, the BI software and tools used by the organizations will lead to smarter management practices and to make better business decisions along with customer data.
On the whole, the accounting and finance industries are using Business Intelligence (BI) tools and solutions to mitigate risks, boost their profitability, create a competitive advantage, and retain their customers.
Business Intelligence approach used in Bookkeeping
We are here to break the common misconception that key performance indicators, i.e. KPI stands valid only for retail staff, marketing teams, production teams, IT professionals. Nevertheless, the truth is it is very valid for accountants, bookkeepers, and financing teams. Their KPIs include tasks like constantly measuring the business performance, monitoring finance market trends, discovering valid solutions that will prove beneficial for the company, understand the ongoing financial problems and find solutions to address them, etc.
For example, let us consider how BI can help the accounts payable division and accounts receivable team. The main role of the entire team is to ensure getting the invoices cleared. It involves digging into the vendor's history and understanding the previous payment amount, payment time, and its statuses. Collecting data about the payment dispatch, the time taken to pay, the credits if any, errors in the invoice, number of updated invoices. etc. needs to be fully scoured to identify any pitfalls and then release an invoice.
Besides, accounts receivable departments can determine KPIs to predict cash flows in a brief manner. It is possible by combining the accounts date-wise. And if your KPI demands you to identify any disputes associated with that invoice, then you must track the credit account holders, agency solutions, and other litigation. This process should help you understand your administration expenses.
The above practices clearly define how Business Intelligence helps you in quantifying your overall accounting services and their performance. It all boils down to how transparent and efficient your accounting service provider is in tracking the progress and fixing the mistakes. If it is closely monitored and recorded, then Business Intelligence will help you go a long way successfully.
Conclusion
Business Intelligence is a luxury for businesses to steer good decision-making and lead the organization in a successful manner. It helps in streamlining the business processes, predicting and minimizing the risks, increasing the overall value, and optimizing the business spends. Above all, it gives you access to historical data which, you can steer for your benefit to suit your present and future business objectives.
Velan's role in Business Intelligence!
Business Intelligence is continuously evolving. You need a customized BI tool to support your accounting and finance needs. At Velan, we exactly cater to that. We help you unveil the benefits of Business Intelligence in a way that suits your business's financial requirements and help you find answers to the most complex and bland data.
Using our technological expertise, we help our financial sector clients accelerate their business operations, monitor key performance indicators, bring in to focus specific customer data, automate reporting, etc. We will help you construe your raw data into meaningful, worthwhile data in order to drive efficient decisions for your business and implement them successfully to take advantage of business revenue and overall growth.