Microsoft Power BI | 6 Insightful Tips
3
Feb
2022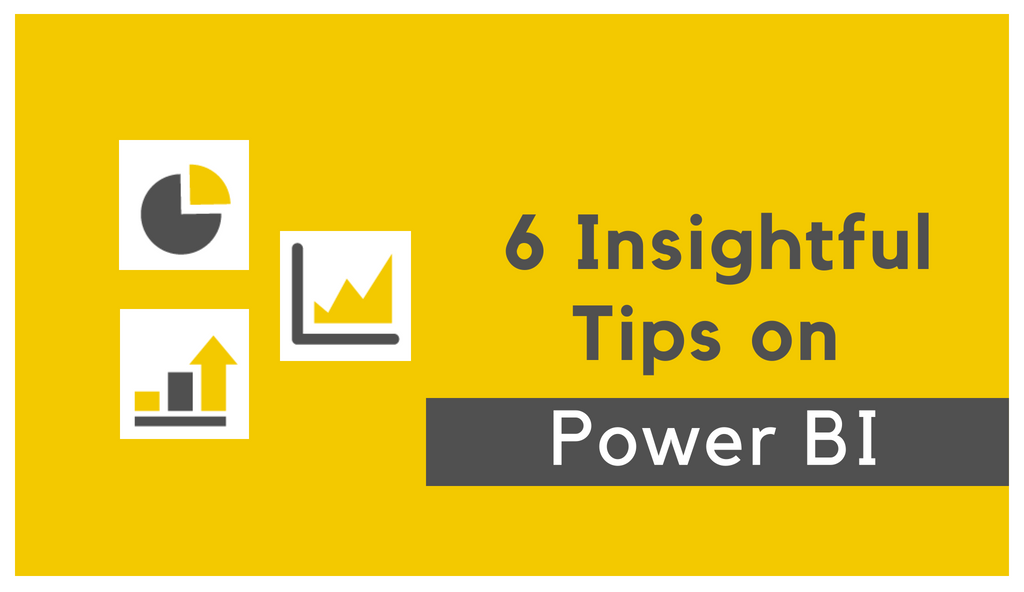 Power BI is Microsoft's tool that helps create awesome data visualizations and dashboard reports for business intelligence. You can retrieve relevant data from the cloud, or your premises to create dashboards that enable tracked details to drill in or ask questions to help make informed business decisions using real-time data.
Create a visual display of services used
Power BI offers an abundant number of content packs, templates, and integrations for various apps, data services, and other services that can extract reports and visualizations. Companies using various platforms and services like K2 Cloud, MailChimp Xero, or Salesforce, can also visualize the data from these services to create excellent reports, and put them on a custom-built dashboard using Power BI; a suite of business analytical tools. Alternatively, you can install an on-premises gateway enabling Power BI to examine and analyze the data to produce your own reports, calculated measures, and visualizations. Access to specific reports and dashboards can be restricted to individual users as it may contain sensitive information.
Storytelling with your data
While charts and pie diagrams are good for numbers, they may not be handy concerning data details that change over time. For these, Timeline Storyteller, a trending custom visual in Power BI, maybe a preferred option. Its interactive range can present data in circles, grids, spirals, any custom shapes, or even a simple linear list. There is the flexibility of choice to decide how best it can be represented, scaled, and designed in a timeline. This adds conviction and credibility to project your business in the right light, explaining how sales have been constantly growing, and so on.
Ask for answers in real-time
Take advantage of the natural language features of Power BI in Real-Time to derive visualizations and in response, ask questions in real-time. You can custom specify the way you want the data to be presented, not limiting it to charts and reports. For example, you can ask for data on total units sold, region-wise sales for the quarter as a line. Power BI picks up a viable layout for simple, basic questions like What was the sales data last month?
When there are tiles present on the dashboard, the Q&A will suggest some terms as questions are added to the data. When an extremely useful question is identified, it can be pinned to the dashboard for the discovery of simple and creative visualization of data. Now, even featured questions can be added in the settings. Q&A puts to use words or names of columns, tables and calculated fields in the data sets. If there is a column named 'region', then asking for 'sales by region' will pull out relevant data. The Q&A can identify words by breaking them down and their plurals. Power BI supports the Power BI website and iOS Power BI App.
Create custom visualizations
Power BI is loaded with a range of visualizations and more can be added by downloading them from Office Store. You can create your own visualizations with Power BI Custom Visual Tools using, TypeScript, CSS, and NodeJS. Visualizations from Office Store have Microsoft, a correlation plot based on R script and chord charts to depict the correlations in a circular matrix; the box and whisker diagram focuses on clusters and percentiles that generally tend to disappear in outputs, like averages and visualizations created by the other Power BI clients.
Adding Visio presentations to Power BI can contribute to illustrative diagrams, thereby motivating operational intelligence. Similarly, using Frontline Analytic Solver from Excel analytics models can be converted into customized Power BI visualizations without relying on custom visual designing in Javascript. You can create dynamic models whereby, the drag and drop option enables Power BI data sets to stimulate and enhance various options.
Furnish extra data into executive dashboards
BI users at various levels need different data in their visualizations. For example, a manager or business analyst may want a whole lot of data, while executives may demand particular data in multiple regions, preferring simple projection rather than complicated visualizations. Here the Power KPI custom visualization is very useful as it can combine multiple reports into a single tile.
Accord business ownership over BI
Experts are of the opinion that success rates of companies are higher when they place BI in the hands of business users rather than with IT. Earlier, IT was in charge of BI technologies because of their complexities. Nowadays, the tools are more intuitive, allowing business users to run queries relevant to them. Likewise, the speed of users to access data for insights through BI has increased, as the reports generated are quick for actionable information for decision making.