What Is a Fractional CFO? Why Do You Need One For Your Business?
13
Jul
2021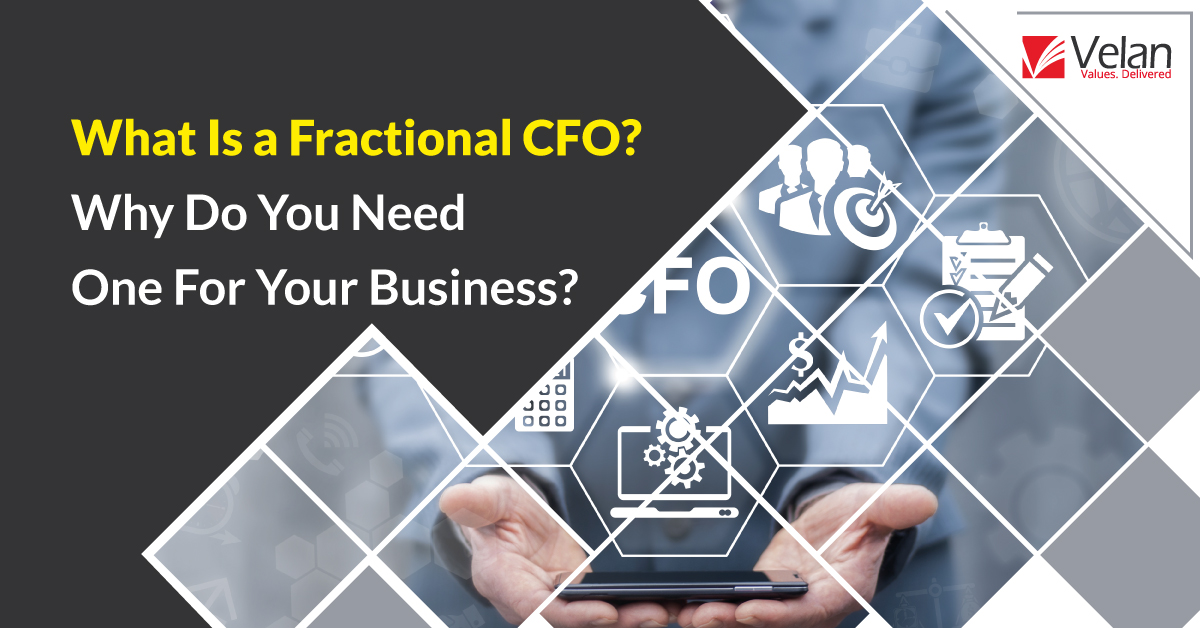 Hiring a CFO will apparently cost you high, and in case you are on a budget crunch, we understand why you would have already ruled that option out. Fret not because we have a solution. In fact, a monumental solution that would help you cross leaps for your financial sector. A Fractional CFO.
One of the most obvious challenges for startup owners and entrepreneurs is keeping the financial health of the company sane. Evaluating your present financial situation, strategizing, and planning for your future growth requires a great amount of time. An experienced financial expert will need a considerable amount of time. If you are not one, then you may need massive time to figure things out and plan, which instead could be spent on the core business, sales, and marketing or your skillset.
So, who is better to run the financial sector of the company? – A Chief Financial Officer (CFO).
For example, if your business makes up to $50MM in annual revenue, you should undoubtedly hire a full-time CFO already. If your business's annual revenue is lesser than that but above the $500K mark, then you will most certainly benefit from Fractional CFO services.
What is a Fractional CFO?
A Fractional CFO [also known as an outsourced chief financial officer (CFO)] is a skilled finance professional, who works part-time, unlike a regular CFO. The main catch with a Fractional CFO is you will get access to the knowledge of a full-time CFO, but at a fraction of the cost.
The individual will provide all the CFO services that they usually offer to their full-time companies. A CFO's role does not limit them to accounting and giving financial advice, but it extends to maintaining the reputation of the company, preserving every asset, and running the company towards growth. Fractional CFOs are adept at developing, advancing, and implementing an efficient business strategy, handling operational issues, change management, and market expansions that run day in and day out in most of the smaller companies. CFO's for startups can be in either Fractional (or part-time) positions, interim positions, or even on customary purpose engagements.
Why Hire A Fractional CFO?
A few small businesses or startups may not be financially strong to afford a full-time CFO. It is one of the main reasons to make use of the Fractional CFO Services. They will help you handle your financial situations in a calculated manner. The modern CFOs are diverse and carry a great pool of knowledge with them that you can leverage on a multitude of tasks. The Fractional or outsourced chief financial officer (CFO) could possibly help you with:
Developing well-planned financial processes
Handling the entire finance gamut
Working on the key strategies to comprehend, assess, and forecast potential revenue opportunities
Taking control of the management reorganization and other vital change situations
Fractional CFO rundown
The daily operations of a Hire Fractional CFO can be adjusted based on your company's needs. Before making use of the Fractional CFO services, remember to take the points below into account.
Performance record of earlier CFO roles
Diverse industry experience and skillset
Experience working with startups, small-sized, medium-sized, and large companies
Indispensable skills to guide and mentor team members
Proven record for handling and leading through responsibilities
All of these cumulative essential characteristics will make for a great Fractional CFO team member to optimize your business's growth and expand the horizons of the company.
Fractional CFO Services
1) Helps your business with funding
A striving startup is forevermore in need of trustworthy financial resources to accelerate its growth and to run its operations even during a downhill. Fractional CFO's would be helpful with fundraising in Series B groups or with loans. Besides, you would get more financial insights that will benefit your company in the long run. You could leverage the outsourced CFO services during negotiations and other financial regulations. Your investment plans will be calculated ones, unlike a naive individual.
2) Streamlines your business
During business streamlining, a Fractional CFO is a worthy asset. Unlike your executive team, your Fractional CFO will be able to detach themselves and build a new vision that will align your goal. Not just that, the Fractional CFO will indicate the pitfalls in your current strategy and totally restructure all the negatives that will deviate your business from achieving its goal. They are prodigious in grasping reorganization and cash flow to expand the company's financial footprints.
3) Fills the gap in the leadership roles instantly
One of the most preferred Fractional CFO services is their instantaneous ability to fill the missing leadership resources. Mostly, during the buyout times, the company tends to make changes in its leadership roles. A CFO will be the company's first and the best pick to take charge and lead the pack. As the CFO is a huge part of the company's vision, they will be able to follow the track without halting any opportunities and carry on the managerial work. Virtual CFO services or outsourced CFO services will not fall short of anything an actual CFO will offer to the company.
4) Great support system to the board of directors
A Fractional CFO is the immediate professional capable of taking over an interim leadership role in the board of directors group. Unlike the usual team, the Fractional CFO could orient themselves while detaching to provide a fresh outlook. No better person than the Fractional CFO to communicate the business goals and lead towards the vision.
5) Helps with decision making and resource allocation
Many companies dissent from making cash-allocation decisions. The executives either become a yes-man, or the budget allocation and cash spending will become a decision made without considering important things. It would be way too quick. Why do you need a Fractional CFO? – is because the outsourced chief financial officer (CFO) will be able to assess the project and help in making planned and time-sensitive decisions to accelerate your business's growth.
For example, a fractional CFO will be the right person to help you understand and decide if you should invest in organic growth or pursue an acquisition.
6) Improves your business processes
Internal processes are usually defined based on the company's performance, approaches, beliefs, regulations, operations, and administrations. Why do you need a Fractional CFO here? is because the Fractional CFO is the one fully capable of understanding the entire gamut of operations and optimize the overall business processes. From making the internal processes cost-efficient to adjusting them to contribute to the company's growth, the CFO has it all.
Improving your business processes will entail regulating the administration, understanding the loss and profitability, boosting the overall performance of the staff, managing the cash flow and shareholder returns, and efficiently running the organization. Your business's standard operating procedures (SOPs) will also be improved.
7) Enforce administration changes
A Fractional CFO is an asset during the rough times in the company. The transitions can be smoothened and made stress-free by using the Fractional CFO services to handle complex decisions. Since the administration changes influence a business's reputation and financial decisions, it is only right to let the outsourced chief financial officer (CFO) drive that huge change. Besides, the CFO could leverage his experience with diverse industries to help with a smooth transitioning.
8) Mentors the team
Many small businesses are leveraging Fractional CFO's and their services to mentor the internal team for development and the company's growth. Smaller organizations do not possess the internal expertise to build an accounting and a finance person but are devoted to the long-term staff. A company can very well utilize the skills, expertise, and experience of a Hire Fractional CFO to mentor and groom its employees. (for example, mentoring a controller to handle the CFO role.)
How Much Does a Fractional CFO Make?
It is another intriguing question that we have an answer to.
Most outsourced chief financial officers (CFO) charge on an hourly or a daily basis. The monthly costs will vary depending on the engagement with your outsourced chief financial officer (CFO). It could be a one-off project, or you can work associate on a retainer basis. It completely depends on your business's needs.
On an aerial view, if you are wondering how much does a Fractional CFO make, here is the average cost (It is subject to change).
On average, an ongoing association with a Hire Fractional CFO will charge you between $3,000 and $10,000 a month. Agreements with startups to small and mid-sized companies typically range between $5,000 and $7,000 a month.
In comparison with the full-time CFO's salary, considering the industry and the location, the base will be around $200,000 per annum. Including the equity, benefits, bonuses, and overhead will cost you between $300,000 and $350,000 annually.
One of the main reasons why do you need a Hire Fractional CFO will be the pay. Availing outsourced CFO solutions and Fractional CFO services will cut down your costs by at least 50%.
Finding The Right Financial Fit With Fractional CFO Services
According to a study performed by Jessie Hagen of U.S. Bank, 82 percent of businesses fail because of poor management of cash flow. If your business's expenditure is more than its returns, then you certainly have a cash flow problem.
Here is where the answer to the question – Why do you need a Fractional CFO? – will deem perfect.
A full-time CFO or an outsourced chief financial officer (CFO) will be the door to all your pressing financial problems. A CFO will bring with them experience and expertise in strategic forward planning, special projects operation, budgeting, software automation, investment plans, and other skills required to propel and grow your business forward.
Beyond being a decision riding on the cost factors, hiring a Fractional CFO for startups and making complete use of Fractional CFO services rides on your need to strike into a different skill set. If your business is confronted with sudden change or going through rapid stress, it is squarely time to seek help. Analyzing your overall ROI from hiring a CFO can help you understand which type of financial investment keeps you afloat and safe.
Despite limited resources, especially for startups, it would be a beneficial and safe option to consider hiring a Fractional CFO or an outsourced chief financial officer (CFO). Investing in the right Fractional CFO services for your startup will be one of the few decisions that you will appreciate later. Taking this huge leap will reward your startup as it grows and expands its horizons.
How Can You Get The Best CFO Services For Small Business Or For Your Company?
As with any position, it is essential to find the right fit. You cannot mess with a CFO. A skilled Fractional CFO will be trustworthy, qualified, and experienced – three essential qualities must for the individual handling your company's finances. Scout for Fractional CFO services with proven experience with different sized companies specific to your industry. In case, you cannot afford a full-time CFO, you could also consider an outsourced chief financial officer (CFO). If you are determined to achieve your business's goal, it is worthy that you select a Fractional CFO who has done it and can share the results with you. You are handing over your complete financial department, after all.
Since your outsourced chief financial officer (CFO) is going to be the voice of your entire financial department, it is crucial to take your time and pick the right individual. At Velan, you will get the best, outsourced CFO services because all our CFOs are qualified and possess more than a decade's experience. Velan is a CFO consulting company that offers comprehensive and highly efficient CFO services for small businesses and large ones.
If you are still wondering, Should I hire a CFO? – We have the answers for you.
To discuss more, call us directly.