Proven Ways RPA will Transform Your Business
1
Jan
2021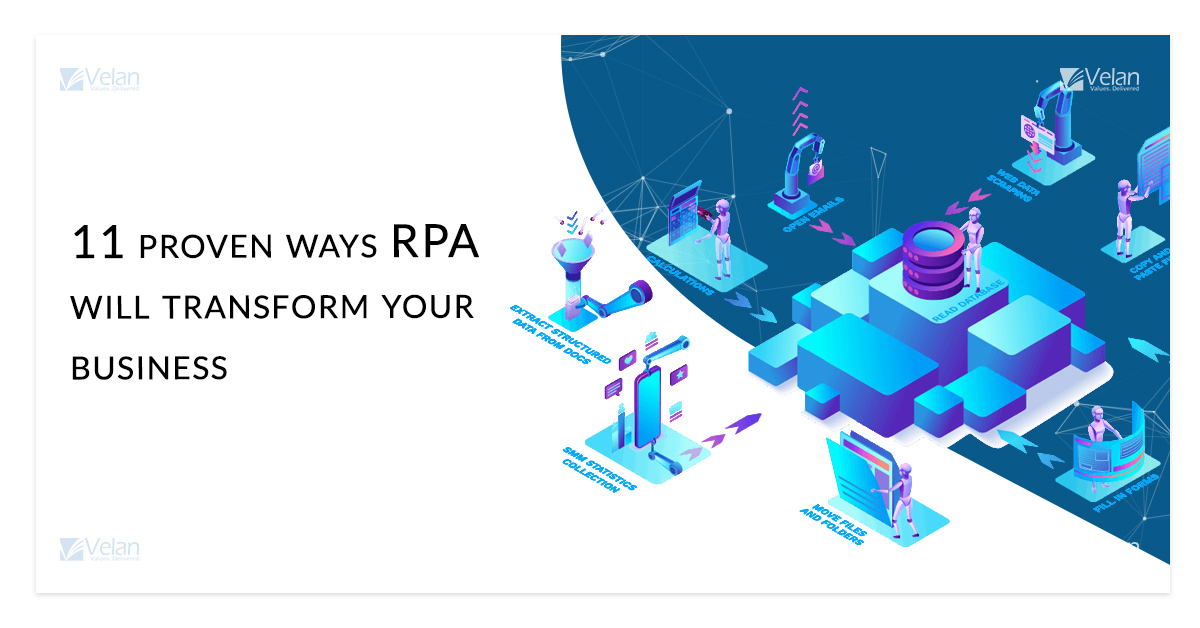 Robotic Process Automation (RPA) is the advanced business process automation technology. It is notching up the business's competition in an incredible manner that supports artificial workforce and software bots to do the tasks that humans were doing before. 
The crux of RPA is to intelligibly make use of real resources. It is getting more done with little. And in that process, it is hugely transforming the manual and core business processes of the organization and conventional ways in which the businesses are run. It has taken over the mundane, repetitive tasks of human resources and completes them with utmost accuracy. The human resources on the other side can focus completely on their core business objectives and benefit the business. 
Robotic process automation makes the application of specific technologies easier with lesser investment; thus making the software bot interpret data and communicate through the digital systems.
RPA is expanding at breakneck speed, especially in the banking and finance domains owing to a large number of mundane transactions. RPA scales your business competitively and helps to sustain on the top.
Let us look at 11 ways RPA can transform the current business for good and contribute to improving your bottom line.
#1 Notably Reduces Cost
RPA decreases the overall resources and daily business operation costs by automating manual chores. With bots playing a major role in automation, your business can stay alert round the clock without a human necessity and its related costs. Automation can save up to 30% of the overall costs, and software bots are a one-time investment as opposed to a regular full-time workforce.
#2 Entitles your Workforce
You can free up your regular workforce and give them the space to work on their core. Your team needs to possess the skill to implement the RPA software, and the rest will be taken care of by the RPA itself. It makes the whole process simple for end-users too.
#3 Gives Superior Control on your Business Operations
RPA enables you to settle a dispute without any hassle with the third-party and outsourcing vendors. The software bots will take care of such work and clear the tasks immediately to avoid dispute, unlike a human workforce where negligence and procrastination are inevitable. It helps you to keep your relationship with your workforce and vendors in good health and gives you superior control, visibility, and transparency in your business operations. 
#4 Assures Accurate Analytics and Insights
RPA is indeed accurate than humans, and it is revolutionizing businesses today. It possesses all the capabilities of the human to monitor, collect, streamline, analyze, and record structured and unstructured data and information. Besides, it can outperform the human's capability providing better analytics and reports with future forecasts so you could take an informed decision. With RPA in place, business operations are tremendously increasing, and the results are proving to be instrumental.
#5 Enhances Accuracy
The mundane tasks are inevitable to human negligence and errors. RPA is implemented to reduce these errors and give accurate results. Precisely, this is exactly how RPA is transforming businesses by assuring 100% accuracy with intelligent bots. And accurate results from the first process will improve the overall quality and performance of the business. The more accurate results are, the more efficient organization will be.
#6 Makes Complex Processes Simpler And Flexible
Due to the automation technology, bots are making the business processes simpler and flexible. RPA does not require steadfast coding, which gives the freedom to flexibly change processes when required. With quicker and efficient workflow automation, businesses are reaping extreme benefits, unlike the past, at lesser efforts.
#7 Guarantees you a Huge Returns on Investment
RPA needs very little investment, and it can notably mitigate the daily operating costs in the organization. The automation capability of RPA makes your whole business operate at lesser costs without burning your pockets and giving you greater returns on investment. 
#8 Assures Faster Turnaround Time
The software bots, unlike the human workforce, take relatively lesser time to complete a task, regardless of its complexity. It increases the cycle time and maintains an overall positive equilibrium in the process. Thanks for programming the bots to make manual work more accurate and efficient.
#9 Orchestrates a Digital Transformation Roadmap
As RPA is the primary step in business automation, it will help the business orchestrate a digital transformation roadmap. In the 'pilot' phase of RPA deployment, you will get enough time and scope to understand the implementation process, and decide what is best for the organization with regards to automation. RPA can help you decide a digital future for your business to gain ideal automation.
#10 Improves Customer Satisfaction and User Experience
RPA contributes to improving your customer satisfaction and experience along with streamlining your back-office functions. Since the workforce is replaced by software bots to complete the mundane tasks, your employees will get enough time to build a rapport with the customers and can also involve themselves in upselling. 
#11 Boosts Agility
RPA stimulates agility in an organization through implementing innovative and advanced automation technologies. The software bots substitute manual process with agility, accuracy, and error-free process. The RPA technology boosts the conventional business processes and promotes agility inside the organization.
A future that will work for your business
The National Association of Software and Services Companies (NASSCOM), RPA implementation can provide companies with a "cost reduction of 35-65 percent for onshore process operations and 10-30 percent in offshore delivery…[and] an investment recovery period as short as 6-9 months…"
RPA software can be used in all business sizes – from startups to organizations.
Benefits are multitude, with RPA increasing efficiency, automation, accuracy, agility, and productivity by organizing mundane tasks and allowing the organizations to make proper use of the workforce. 
With Robotic process automation, your business can surefire achieve a competitive advantage in their vertical. Through leveraging the ideal tools, that have proven to increase the productivity of the staff and reduce costs – businesses can certainly benefit from the higher operating capacity and deliver superior customer satisfaction.
To understand RPA in detail and learn about how you can streamline your organization with the right automation tools, contact Velan, and we can explain our Robotic Process Automation offering.