12 Important Tips To Protect Your WordPress Website From Hackers
4
Mar
2021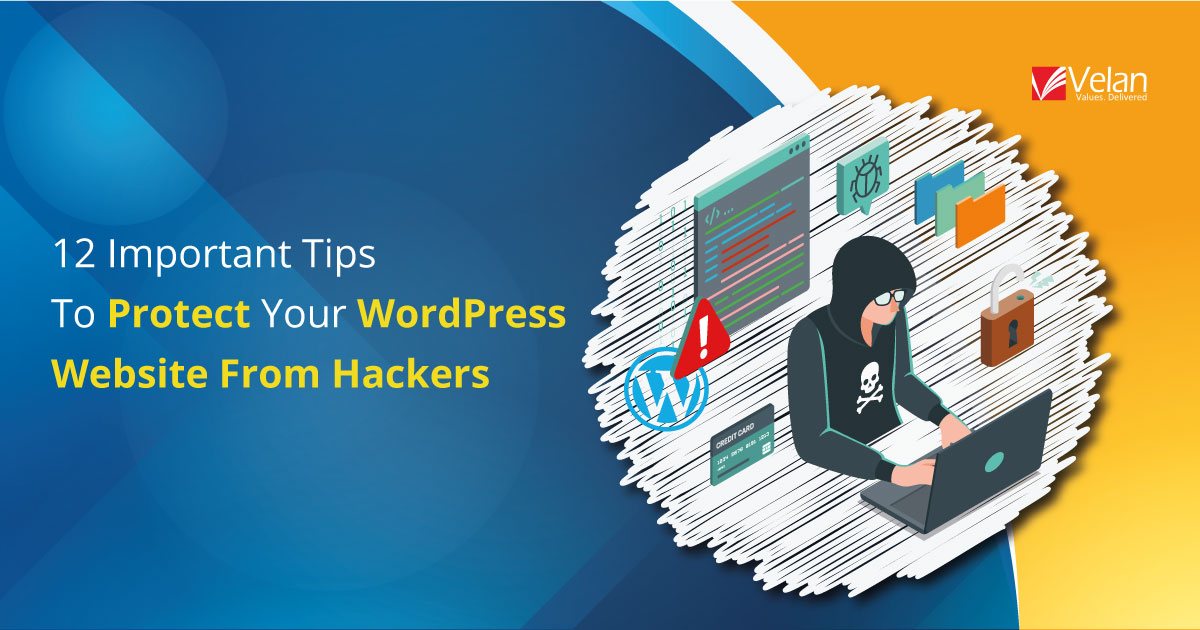 An ounce of prevention is worth a pound of cure. We could not agree more. Thanks to Benjamin Franklin! And when it comes to the hottest topic, WordPress Website Security, it cannot be any less true. Websites Security is the most vulnerable of the few important things digital.
WordPress has a 60.8% market share in the CMS market, and no wonder, it is always in the limelight for hackers.
Sucuri discovered that out of 8000 infected websites, 74% were built on WordPress.
How to Prevent Your WordPress Site from Being Hacked?
If you are in the notion that your website does not entail 8000, well, you may have to think again. Also, if you think that your website or blogs are not worthy, you may have to think again. Hackers attach your website not because they want to break into your business but because your website is vulnerable.
The vulnerabilities include outdated plugins, weak passwords, poor web-hosting, insecure connection, sophisticated hackers, bots, malware, etc.
When a website gets hacked, you will notice the following changes:
Theme files, website documents, business documents that are on the server could be modified
New files can be uploaded to the server by injecting PHP backdoors, malicious code, or malware
Insecure code can be infused into your WordPress database
Users that have administrative advantages can add themselves to your WordPress database
Content can be spammed with unlimited posts and pages
Your WordPress site can be redirected to malware websites
Clearly, keeping your site vulnerable will become a huge mess to repair. It will deteriorate your online reputation, SEO, and all your efforts in bringing your site to the top of Google might go for a toss. No wonder, you might get blacklisted by Google which you would never want.
Prevention is better than cure when it comes to security.
We have listed 10 pointers that you need to pay attention to to prevent your WordPress site from getting hacked.
12 Tips for Preventing WordPress Hacks
1 – Use intelligent passwords
We cannot stress more about having a secure and intelligent password. Come up with clever passwords that are difficult to crack. Change your passwords regularly to secure your website.
Include different characters like uppercase, lowercase, numbers, symbols, special characters in your password. The longer the password, the difficult it would get to crack. Besides, you can make use of secure password generators available online. They encourage your passwords to be long, difficult, and make it unmemorable.
2 – Ensure your WordPress themes, plugins, and core are the latest
Themes, plugins, and core are the essential components for every WordPress website. As important as they are, remember they also make a very good entry point for hackers if they are not kept up to date.
The good thing with WordPress is that it automatically rolls out updates for its users. So, every time there is an update, you will get email notifications about the updates. Besides, your dashboard will host all the information needed for your WordPress website.
As for the plugins, you must update them manually. You can count on the dashboard to give you the link to update.
3 – Take care of your server's health
Run a tight ship with the server. All old data that is no longer required, older versions, files, plugins, themes, documents, etc. need to be deleted on the server. It is very easy to overlook this option, but it looks like it may create a loophole for the hackers.
You can take a backup of those old files and delete them completely on the server, just in case.
4 – Use themes and plugins that are latest and trustworthy
As tempting as it may be to download or purchase fancy plugins and themes, remember they are a risk if they do not have a team at the backend to support you.
Do not fall for the themes and plugins that are very old or do not have a support team. The themes and plugins used for your WordPress site must be regularly updated, and when there is no announcement about an update, it is high time you look into it.
Look for themes and plugins that are the latest, hold good reviews, and will more likely send updates.
WordPress themes are bundled with third-party plugins. The lack of updates might lead way to vulnerability and redirect traffic to derogatory websites.
However, when you purchase premium themes, you can be sure about the regular updates for plugins and themes. And you can eliminate the first level of insecurity as an upshot to this.
5 – Be sure to protect your home and computer network
Ensure you run virus scans regularly on your PCs. Unless you are sure about the websites you visit, refrain from clicking the link. You can inadvertently run into malicious attacks and put your website at risk.
Protecting your home and computer network is about being aware of the websites you visit and not giving way for malware to cling on to your site.
6 – Do not encourage hotlinking
Let us say you got permission to use an image that you liked online. You could directly copy and paste it on your website or copy the URL on your page so the image could get displayed. It means you are using an image hosted on a different server. And it could happen vice versa too. It is room for threat called hotlinking.
You must not encourage hotlinking, allowing others to use your photo, and demean your server's bandwidth, because if you allow it, then you will face loading issues and end up paying more for your server.
You can prevent hotlinking by installing a WordPress plugin on your Online site. It will block all the hotlinks and save you from attacks.
7 – Protect your wp-login, wp-config, .htaccess and wp-admin folders
Protecting your wp-login, wp-config, .htaccess, and wp-admin folder is one of the most important steps to secure your site.
Protect your site by securing the login page and prevent force attacks. By just appending /wp-login.php or /wp-admin/ to the end of the domain name, the backend can be accessed. So, we recommend customizing the login page's URL and the interaction.
The wp-config.php file contains significant information about your WordPress installation, and it is the most important file in your site's root directory. Securing it means protecting the core of your WordPress blog.
Disable your directory's listing with .htaccess. Else, everything in that directory will become accessible.
And remember to automatically log out the idle users.
8 – Install a WordPress website security plugin
You must monitor your website 24*7 to detect suspicious behaviors. You must be aware of everything that happens on your website. That includes knowing the number of logins, login details, failed attempts, file downloads, integrity monitoring, malware scanning, etc.
Thankfully, the monitoring process can be handled well by the best WordPress website security plugin. It is very powerful, and you might have to carefully look through all the options and use it to your advantage.
9 – Refrain from using public or insecure WiFi connections
By logging in to a public network, you are trading your login credentials just to invite hackers to your website. It is easy to crack the credentials using sniffing software.
Regardless of having an SSL certificate, use a Virtual Private Network (VPN) that encrypts your details and traffic on your network, especially while on a public connection.
10 – Install an SSL certificate on your website
Having an SSL will encrypt the data transfer between the sites. It will allow you to log in securely (via https) and force your content to remain secure.
For example, submitting forms, using login pages, entering your details, etc.
Without an SSL, your data will be on the public, meaning anyone who can see it will be able to read it.
11 – Do not go easy on web hosting
Settle for a trusted web hosting companies because they will have your back when it comes to security. Trusted companies will handle the hack threats for you. From doing daily security checks to staying updated on the latest version, the hosting companies will do their part while ensuring you 100% site safety.
Besides, you will always a support team to fall back to in case of any questions or issues.
12 – Have multiple backups of your site
We recommend you to have a backup of your website so it will be handy during disaster recovery and retrieving data when your database gets crashed.
Regardless of how secure your WordPress website security is, there is always room for betterment. Besides, maintaining an off-site backup somewhere means you can restore your site to any version you need.
To sum up:
WordPress website security is not difficult when you are mindful of certain obvious things. However, cleaning up the mess is. Start by reviewing your site with the tips one at a time. Take a backup, update everything, and sign up for Google Search Console. Reset the passwords, and be wary of the networks you are using to access your site and internal files.