Why your revenue cycle depends on patient experience
13
Feb
2023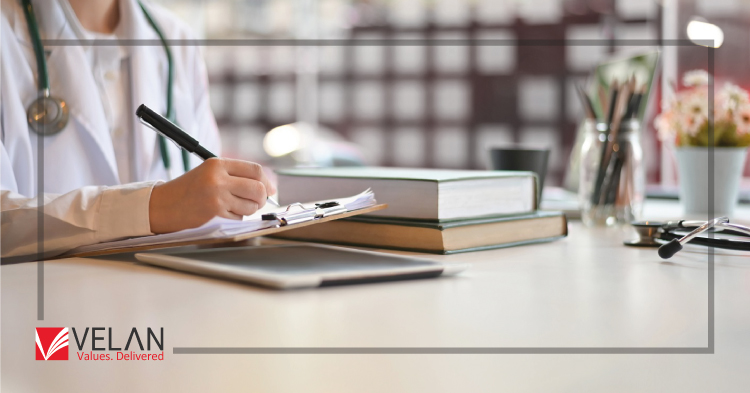 Putting a financial amount on a discussion may seem unusual at first, but it actually makes perfect sense. Why? because patient experience has a significant influence on the growth of RCM healthcare revenue.
First, ask yourself: Do you approach every patient interaction as though it can have a favorable or negative impact on your bottom line? It's not about putting financial gain first… It has to do with your dedication to developing a practice culture where the needs of patient engagement come first.
It's possible that improving revenue cycle management doesn't immediately spring to mind while thinking about the patient experience (RCM). However, healthcare automation may gain from a satisfying patient experience. It can promote an easy-to-navigate continuum of care that encompasses RCM and simplify and streamline the challenging process of managing healthcare expenditures for patients.
Building confidence and trust between patients and providers depend heavily on financial openness. Accurate patient payment estimates and a variety of practical payment alternatives are appreciated by patients who might have trouble understanding medical bills and health insurance coverage—and who are paying higher out-of-pocket expenditures as a result of high-deductible health plans. Providers may free up employees to give patients access who need more tailored care by streamlining the back-end claims, invoicing, payment, and collections procedures.
Why it's important to value the patient's experience and track results
Every encounter with a patient is valuable (financial or otherwise). Think about the stages a patient experiences even before receiving treatment.
An initial phone or online conversation
A waiting room and/or front-desk interaction
The hand-off to a clinical team member
The interaction with you – the provider
The transition from clinical to front-office
Post-treatment or post-appointment follow-up
No encounter is insignificant or too little. Everyone is beneficial to the patient experience
"Net margins are 50% greater for companies offering "excellent" patient experiences compared to those offering "average" patient experiences. This makes it crucial for enterprises to assess the full patient experience continuum."
Revenue increases when customers are loyal. Therefore, if patients feel appreciated, they are more willing to spend money on their treatment.
The cycle of the patient experience:
We frequently confine the patient experience to the visit itself or the treatment received while thinking about it. We don't recognize that there are, however, more or less, a number of sites of engagement besides only the face-to-face connection with a provider. The smoothness of the procedure at each stage of the cycle determines how the patient will feel about their whole experience, from making an appointment to paying their expenses.
For a variety of reasons, the patient payment procedure can be particularly difficult to manage. Patients often have to deal with paper statements that could be misplaced in the mail or missed. The patient would then need to either mail a check or worse, phone the doctor's office to make the real credit card payment. Consider the possibility of receiving statements by text or email and being able to make a payment there or even at the point of service. Patients don't really care if the clinic uses an internal or external biller, nor do they truly have access to such information on the backend.
Therefore, if the front-end process is unorganized, confusing, or challenging in any manner, you can expect that the patient's experience suffers and that the practice will bear the brunt of that negative experience, erasing all the effort and thinking that went into delivering excellent medical treatment.
Why Patient Care Is Important:
The finest patient care involves more than just admitting a new patient, giving them care, and being paid. The patient experience is impacted by each and every encounter a patient has with a hospital. The patient has several chances to influence income flow throughout the patient-provider relationship, for better or ill.
The provider must be ready to deliver first-rate customer service from the minute a potential patient picks up the phone and calls to book an appointment. As with any company, these initial encounters shape the patient's opinion of the provider and have a significant impact on whether they choose to become a patient, which increases revenue.
Further, once a person has received treatment and officially become a patient, it is important to see to it that their needs are met and that they receive excellent service in order to predict whether they will continue to be a devoted, contented, and paying patient or whether they will seek out alternative treatments.
The patient experience doesn't always start when a patient makes direct contact with a facility. Before calling for an appointment, patients searching for routine, non-emergency treatment will do some web research and read a number of reviews about the doctor.
The following were crucial stages in revamping the RCM:
Including financial data about patients.
In order to give staff members faster access to the information they need and to promote a consistent, highly patient-centric experience, Atrium Health's initial objective was to unify benefits verification, billing operations, payment plan procedures, and even patient billing services.
In order to efficiently integrate patient financial information across Health's legacy systems and enable ease of access for both patients and customer support representatives, leaders from the companies got together to propose solutions. They also re-evaluated their available payment plans in an effort to remove the difficulties in setting them up while giving patients more flexibility and continuity.
Changing the financial policies for patients.
When circumstances prevented patients from paying their bills in full at the time of services, customer service representatives used to be tasked with not only matching patients with the appropriate payment plans but also with calculating the interest associated with plans over six months based on the total due after insurance had paid its portion. The health system's administrators were afraid that having both an internal and an external payment plan would confuse patients because the internal payment plan was difficult to manage.
It then took a step back to assess its payment plans in light of the health system's objective, which was to make sure that any outstanding sums were paid as soon as feasible. The healthcare system required a framework that would motivate patients to make full payments on their bills within three months or to start payment plans as soon as feasible.
The health system ultimately came to the conclusion that an internal payment scheme no longer suited its purposes. The healthcare system, on the other hand, collaborated with its payment finance partner to provide payment plans for all patients in need of flexible payment choices. Through this endeavor, the misunderstanding was reduced and the payment finance partner was given the flexibility to, when needed for the convenience of the patient, combine invoices from all of its providers.
Depending on the billing method (government payers), organizations could expect to receive funds in as little as 15 days. The business office must create a procedure for claim follow-up if insurance payments often take more than 30 days to complete from the time claims are submitted to the time payments are made.
It has been demonstrated that a structured procedure for checking on the status of claims can cut down on the number of days those claims remain unpaid. Billers are supposed to be aware of the claims that each payer accepts and denies. Rejections happen when an editor misses an error on an outgoing claim, which the payers send back right away without entering it into their processing system.
Billers should work on these claims while focusing on the reason for the rejection to prevent it from happening again. Lowering the number of claim denials might contribute to improving the revenue cycle's efficiency.
A comprehensive rejections management program must include monitoring, tracking, and reporting of denials. Implementing a successful RCM approach depends on recognizing patterns and the underlying reasons for rejections. Practices should track KPI, notify departments of rejections, and report by the following in order to successfully prevent denials:
Payer and type, reason, and department
Percentage of the revenue submitted
Denials as a percent of gross revenue
A drop in accounts receivable (AR), an increase in cash, an improvement in clean claim rates, a decrease in the number of denials, and a lower cost to collect are all possible outcomes of best practice denial management systems. Programs for denial management ought to contain:
Regarding the recognition, monitoring, and reporting of rejections, there are clearly stated regulations and processes.
Monitoring rejections data using reporting tools and analytics as described above
A multidisciplinary group of clinical and revenue cycle professionals with responsibility for the processes impacted by rejections
Meets with the multidisciplinary team on a regular basis to analyze denying patterns and concerns and to create action plans to find the process's core causes
Staff education and training that emphasizes standardized procedures to reduce the possibility of denials
Reporting to the management team on projects for process improvement, analytics for rejections, and plans for education and training
Frequently Used RCM Key Performance Indicators:
Performance improvement in practice is based on constant KPI monitoring, effective management that involves department accountability, and the revenue cycle in particular. Without continuously updated data and benchmarking describing current performance levels, it is impossible to grasp and analyze revenue cycle KPI correctly. The business should have a dashboard or scorecard that shows the current days in accounts receivable as well as historical values so it can assess if current efforts have been successful, for instance, if the organization's aim is to reduce days in accounts receivable by 10% by next year. The following are typical Key Performance Indicators for the revenue cycle:
Patient Access: Net patient service income collected at the point of service; insurance verification rate.
Pre-Billing & Claims: Discharged not final billed (DNFB) days; Discharged not submitted to payer (DNSP) days, the clean claim rate
Account Resolution: Gross Days in Receivable (AR); Net Days in Receivable (AR); Insurance AR aged > 90 days from discharge date; Insurance AR aged > 180 days from discharge date; Denial Write-Offs as a percentage of Net Patient Revenue
Financial Management: Days with cash on hand; Cash to Net Revenue; Bad Debt as a Percentage of Net Patient Revenue (percent)
Any healthcare organization's backbone is Revenue Cycle Management (RCM), which ensures long-term financial viability. It will take qualified personnel with experience in medical billing, coding, and other RCM tasks to implement the aforementioned procedure. If you lack such competent personnel, you might want to consider outsourcing your RCM and medical billing operations.
Patient's Eligibility Verification
In order to make sure that the patient's care is covered by the insurance company, the patient's eligibility verification involves examining the patient's insurance information to confirm coverage and benefits under the patient's plan. Typically, this occurs during the actual practice. Since the majority of Americans have health insurance, it is crucial for practices to maintain procedure clarity in order to effectively recover payment for the services provided and prevent any instances of unpaid claims.
The profession itself takes a long time to determine each patient's eligibility. The practice staff finds it extremely challenging to balance their daily tasks with phoning the insurance payer to determine each patient's qualification prior to the appointment.
However, practices must go through this procedure since ignoring it would result in significant income leakage and unprocessed claims. Practices must choose professionals with enough process understanding and provide them the authority to handle it for that reason. Practices must make it easier to find answers so that the Eligibility Verification team can oversee the whole process and quickly adjust to changes.
Keeping the needs of the patient first in mind
Every stage of the patient cycle, including appointment reminders, patient intake, obtaining financial and insurance information, the physician encounter, and the payment process, all work together to create a compelling case for a pleasant patient experience, should everything go according to plan.
The likelihood of collecting payments in a timely manner, if at all, might be hampered by issues like no-shows brought on by a lack of appointment reminders or mailing paper statements that cause delays in making payments.
When everything you want is in one location, it is, in practice, simpler to deliver that seamless experience. We at Velan are concerned with your concerns. We work together because we care about the same things that you do. So, it stands to reason that your patients come first for us. With the help of our revenue cycle management service, you may grow income while still giving patients a first-rate experience. Let us handle the paperwork so you can concentrate on what really matters.