What Are The 4 Problems With In-House Medical Billing?
17
Nov
2020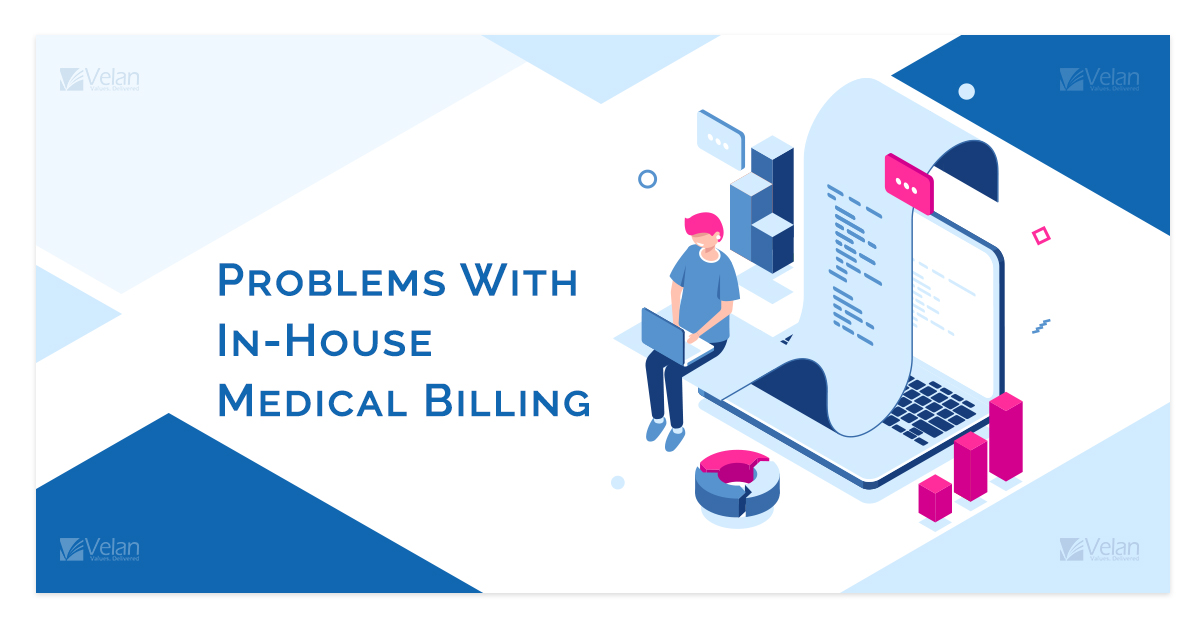 Outsourced Medical Billing in-House:
Handling a medical practice has never been easy in the past, and there is no new reason for it to be in the present unless you outsource it to the right expert because having an in-house medical billing team is difficult. We will get to the details.
It makes the physicians look up to medical billing as a financial solution.
The medical billing process is known as Revenue Cycle Management a.k.a RCM, and it is the most significant wheel in steering the medical practice. Not to mention it is most complicated too. Besides taking care of the patients and their needs, medical business owners also have a lot on their plates that need attention like technology, financial assets, government requirements, expenditure, legal documents, etc. And to top this, a medical bill must be properly filled and cannot be taken lightly. It is a matter of money. The form needs to be carefully looked into, must hold accurate answers, and it does not provide any room for errors because a lot is riding on it.
And a small error would mean zero reimbursements. It will affect your business's reputation and your relationship with your stakeholders.
Owing an In-house billing team is not recommended for every business. It revolves around an array of factors, like what business you are into, the size, labour market, etc.
Let us look at the most common problems that companies encounter with an in-house medical billing and coding team.
●      Big-budget
Setting up an in-house team apparently comes with way more costs. From paying your employees to making them part of the company's policies that involve medical insurance, reimbursements, pay hikes, etc. and investing in the technology side, it gets more expensive as opposed to outsourcing your medical billing process.
A third-party company like Velan, who already owns dedicated specialists in medical billing will not only complete the job for you but also save you huge money.
●      Accountability
Medical billing departments are one of the many departments that need careful monitoring. It is where embezzlement, inappropriate claim denials, irrelevant discarding of bills, employee negligence, etc. are very common. Unless there are accountability and responsibility from every individual of the team, it gets very difficult to run the entire medical billing show.
And what better option to pass on the responsibility factor to the specialists. This way, your company can be free of legal works, stress, and being held responsible when things go wrong.
●      Efficiency
The in-house medical billing team requires every member to be in the office daily. Unlike an outsourcing company that employs a lot of staff for this process, your company might not find it rewarding to employ much staff. And with less number of staff and they took an off, it could mean serious issues for your company in terms of efficient work. A lot could get compromised, pending billing, cash flow, operations, follow-ups, etc.
●      Employee replacement
It really gets along with how overpriced it can be to have an in-house medical billing team. Investing in the process, technology, software, staff might surpass your income and end in loss of funds. Consequently, you will be left with more expenses than returns. It can damage your employee retention history.
Why can you count on Velan for processing your medical billing?
At Velan, our business is focused on providing quality Medical Billing & Coding services to our clients. We are a medical billing and coding solutions provider that offers intelligent insights and manages entire processes from billing to patient care. We have the best credentialed and billers that have proven to hold an incredible aptitude and record.
Our in-depth marketplace skills and cognizance are second to none. We leverage the medical billing software to its fullest potential and ensure a user-friendly medical billing and coding service. We are impeccable communicators because communication plays the most crucial role in healthcare services.
Rest assured, we make every granular aspect of your billing process and reimbursement effortless. And you could never have imagined a streamlined outsourcing company.
You can focus on your patients as medical billing is time-consuming, wants you to know the entire process, and gets complex due to various reasons from submitting claims to reimbursements.
Consistency is primary when you are involved in medical billing and coding. You must submit the bills and claims on time, and you really have to keep a check on accounts receivable, and you cannot overshoot it. With an outsourcing company like Velan, you get dedicated specialists to work only on that process of billing and collecting money.
Cost-effective is another major benefit that you can set up to. By outsourcing, you eliminate the need to set up a team, purchase relevant software, office space, remuneration, company benefits, etc. and succumb to just paying one bill for the entire service. Also, technology, training, software, and hardware all become part of that one small bill.
Last but not the least, experience! Dedicate medical billing companies like Velan have a lot of expertise and experience in dealing with this business. All the sudden challenges and other issues can be handled like a pro faster than the in-house billing team could do.