E-commerce Web Push Notification Guide 101: Types. Anatomy. Advantages.
7
Aug
2021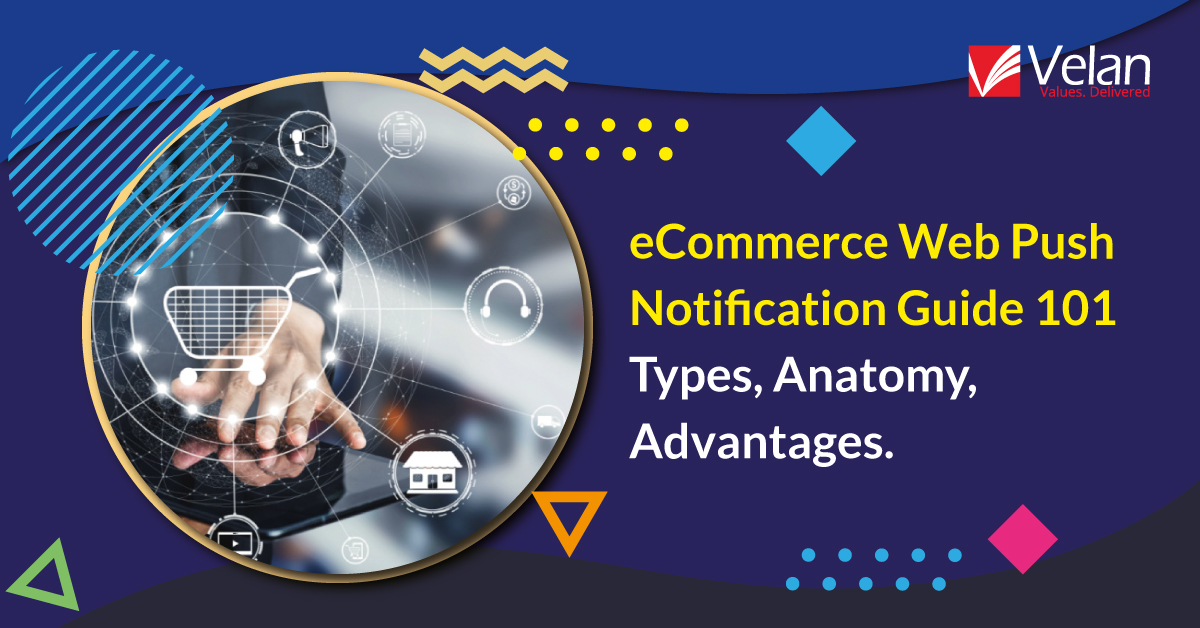 The internet, smartphones, tablets have transformed humans in many ways. Flip phones and pagers evolved into sleek smartphones, tablets, and tablets, thus, making it useful for the users to know about what is happening in the world with just an internet connection and accessibility. As the brands have understood the importance and impact it has created on humans, they started realizing and ventured into engaging with their customers on the smart devices that they have. Today, there is no single person that does not get push notifications on their mobiles or laptops, and surprisingly, most of them convert and see themselves in the company's sales funnels.
Welcome, Push Notifications!
What Are Push Notifications?
Push notifications are clickable pop-up messages that display on your browsers regardless of the browser and the device you are using. A push notification serves as a quick communication medium to enable companies to convey important messages, offers, or other vital information to their customers. As long as the subscribers are online and on any page on the browser, they can receive a push message.
Push notifications are the primary and often the most important communications medium used by apps.
Almost all the popular apps leverage push notifications for re-engagement and transactions.
Push notification technology is evolving quickly from being a simple message delivery system to a powerful, interactive medium.
There are four types of push notifications:
Web Push Notifications
Mobile App Push Notifications
Desktop Push Notifications
Wearables Push Notifications
What Are Web Push Notifications?
If you shop online, then you already know what web push notifications? The reason behind emptying your pockets and bank balances is the push notification.
Throughout the day, you would receive a lot of mobile notifications from different applications that you have on your phone. That is exactly how mobile push notifications are designed to work. Web push notifications are sent to the users' desktop and mobile browsers in the same manner.
Web push notifications are a marketing tool to re-engage and retain your website visitors. These visitors can opt-in to receive updates and notifications from the websites they like. Marketers use this tool to re-establish the connection with their online visitors and convert them even after they have left the website.
The three main reasons businesses use web push notifications are:
content distribution,
visitor retargeting, and
customer retention.
Web push notifications don't always require the users to opt-in for their newsletters. It is one of the main benefits that online sellers, eCommerce business owners, bloggers, publishers, etc., capitalize on to engage their audience and keep them updated about every new information.
These web push notifications are supported by almost all the çommonly-used browsers like Chrome, Firefox, DuckDuckGo, and a few other website browsers on android and desktop devices.
iOS (Apple) mobile devices have not embraced mobile web push notifications yet. It means even if your iPhone or iPad uses Chrome, a supported browser, you still cannot receive web push notifications on your Apple device.
Emails and push notifications are different marketing techniques. Length, content, open rate, click-through rates, and conversion rates all differ in both of these.
Types Of Web Push Notifications
There are three types of web push notifications:
Trigger-based: The trigger-based notifications are more intent-oriented. It is based on the visitor's behavior on the website and has higher chances of opt-in.
For example, If a user on a travel website is taking too long to book a flight, you can send a trigger asking whether they want to get notified when prices go down.
Segment-based: Segment-based notifications are personalized notifications. It is done to ensure that your content is received by the right audience. The segmentation is usually done based on your audience's demographics, traffic, campaigns, gender, online behavior, and more.
It is digging further based on the information from trigger-based notifications requirements.
Alert-based and reminder-based: Endorsing the name, businesses can use well-timed or prompt marketing messages to improve customer retention and customer loyalty.
Here are a couple of relevant use cases:
For example, if a user has booked a movie, trigger a reminder a few hours before the showtime.
Anatomy of a web push notification
The anatomy of a web push notification is built on the six indispensable elements mentioned below. They make a clickable-worthy and great web push notification.
Title: Title is the first important thing that people notice about your push notification. You could simply add your brand's name if it is popular, or you can add messages that will entice your audience to click and see beyond. Urgent and interesting titles have proved to convince a lot of customers to read the push notifications.
Icon: Icon is the signature of your brand. Ensure your logo stands out and will be remembered well because people are bombarded with several push notifications on a daily basis.
Description: Description is the most important segment to tell the audience what your message is about. It certainly has to be clear and brief. Note that the description should be in line with the title.
URL: It can be the URL to your homepage, your blog section, or the contact us page.
Banner: A notification image or banner should complement your push notification's content. Include impressive images that are visually appealing to your audience.
CTA button: CTA buttons should redirect your audience to the page you want them to visit on your website. Push notifications without a CTA button will serve no purpose unless you want it that way.
When And Why Should You Use Web Push Notifications?
Web push notifications can be scheduled or sent to a user's mobile browser or desktop browser at any time. As long as the users have their web browsers open, the web push notifications will find their way into the device.
More than 22% of push notification users are in the eCommerce industry.
According to a Business of Apps report, "40% of web push notification senders belong to either the eCommerce or media, publishing and blogging sectors."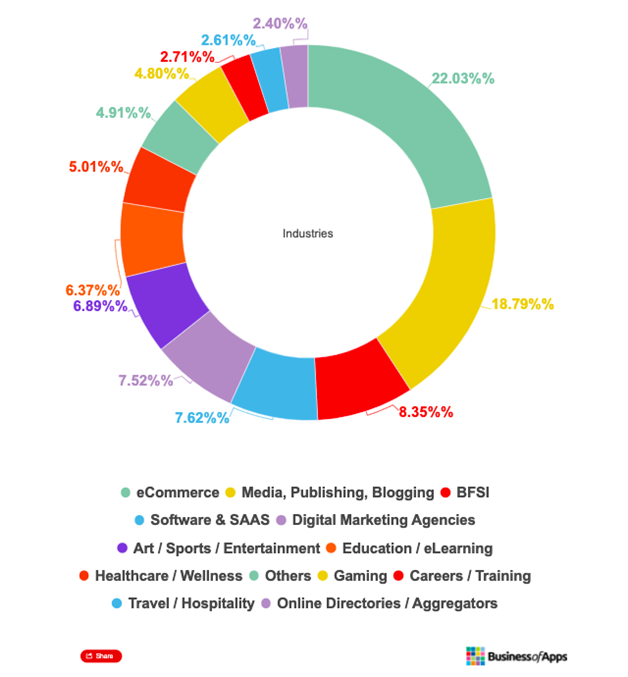 Source: Business of Apps
Browser Push Notifications for eCommerce Websites
Here are a few reasons when marketers and businesses will exploit the benefits of browser push notifications for eCommerce websites.
There is a huge discount on your abandoned cart products
A new flash sale or seasonal sale is coming up
Offer the latest score update on your favorite sport
Inform the latest movie release, showtimes, and reviews
Apprise about an upcoming big event/workshop/webinar
Announce discounts on food from your favorite hotels
eCommerce websites were the pioneers in sending real-time push notifications, and other industries started following the approach later.
What Are The Advantages of Using Web Push Notifications?
A few important advantages of adding web push notifications on your website for your marketing are:
– Send messages even when users are inactive
Businesses can reach their audience even when they do not have a mobile app. How cool does this sound, huh?
Let's assume a user first visited your website and then switched to another site or a social media site, you can still send them a web push notification from your brand. All they need is just an internet connection and a visit to your website previously.
– Easy opt-in experience
Unlike lead generation opt-ins, web push notifications do not require the audiences to share their personal information like name, contact number, email address, etc. All they have to do is click the "Allow" button that pops on the top left of their browser.
Web push notifications are GDPR compliant. Isn't that good news for marketers?
– Rapid delivery
Web push notifications are instantaneous and do not experience any kind of transmission delays. All the messages are sent and received in real-time. The delivery needs a trigger from the back-end and the messages are sent immediately to the users.
– Increased engagement
Web push notifications' real-time abilities help brands get higher engagement rates compared to other marketing mediums. By offering discounts, announcing big news, updates at the right time, web push notifications help companies with increased engagement and re-engagement. Besides, it is all possible at just a click unlike other marketing channels – email notifications, where users have to open their emails to find out the exciting news.
– Higher conversion rates
Personalized messages and segmented news offers your audiences a great experience. A great experience is synonymous with higher conversion rates.
Reiterating the fact that your audience needs just an internet connection to increase your business's sales. So, ensure that your messages are highly targeted and specific to your customers.
Wrapping Up:
This is just the beginning of Web Push Notifications. If you wish to go deeper and learn more about how to effectively optimize web push notifications and the examples, we highly recommend checking out our following detailed guide 102 .
It's the efficacy and effortlessness of setting up and using web push notifications that have made them so popular in any marketing campaign, globally. Regardless of what business you are into, there is always room for web push notifications that you can leverage to increase your conversions and boost your sales.