Digital Transformation Guide | What Is Digital Transformation? Definition, Purpose, Examples, Types
19
Jul
2021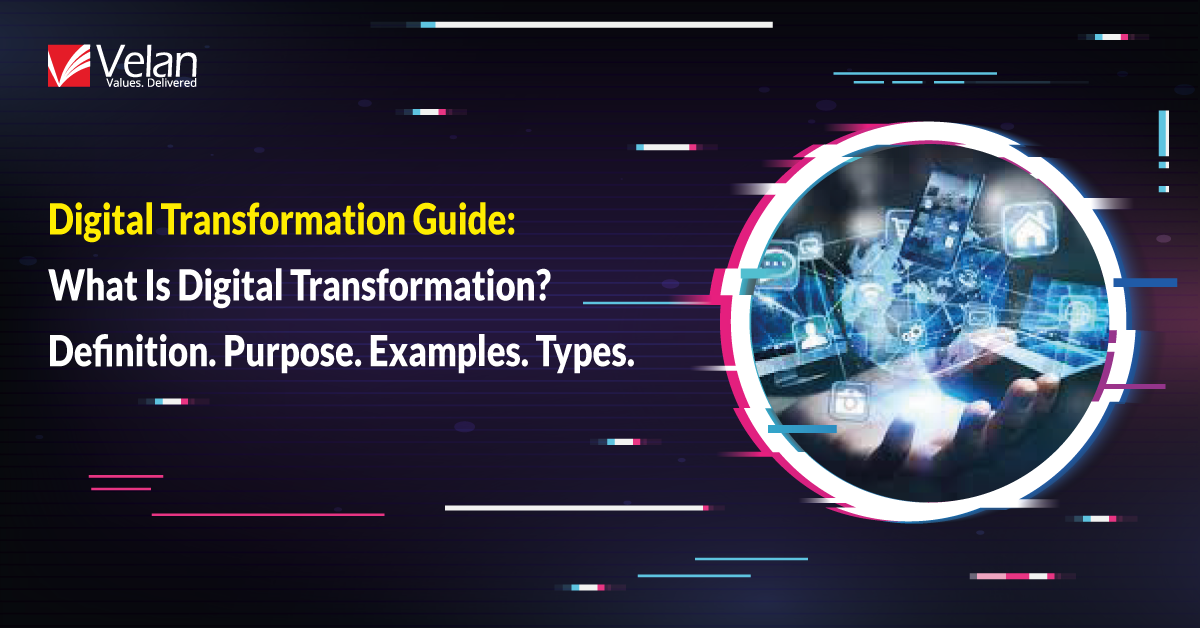 Definition Of Digital Transformation:
Digital transformation (DX or DT) is a continual journey of using digital strategy combined with digital technology to radically transform an organization's operations, business processes, customer experience, and culture.
What is Digital Transformation?
Digital transformation is the use of digital tools and the integration of digital technology in all areas of the business. It is done predominantly to increase the efficiency of business operations, enhance customer experience, accelerate change, and influence the corporate culture towards betterment.
Digital transformation is not a one-size-fits-all approach. It means different things for different organizations. But whatever it means for every organization, the end goal is to integrate digital technology to enhance the overall brand's reputation and business. It brings radical changes to how the businesses are operated and received at the customer's end.
The most commonly used digital transformation technologies to enable business transformations are
Mobile phones
Apps
Internet of Things (IoT)
Artificial Intelligence and Machine Learning
Cloud Computing
Digital Twins
Digital technology has unquestionably reconstructed the landscape of commerce, marketing, sales, daily operations, client engagement, and more, in a way that governs every area of the business. Every company today is a technology company! Or they predominantly rely on technology to get things done quickly. It squarely means handling the transition to a digitally-driven business model is crucial to outdo your competitors and for corporate sustenance.
The top three reasons digital transformation in business is so crucial are:
Acceleration of Change – Digital change is growing exponentially, thus making it tough to sustain the industry leadership and embrace new digital solutions introduced in the market.
Digital Contest – Companies are constantly under pressure to keep up their pace with digital innovations, and mainstream business models are being disrupted by "newly digital" start-ups.
Customer Expectations – Customers are no longer accepting regular touch bases. They expect an overall good experience across all touchpoints.
Digitization vs. Digitalization vs. Digital Transformation
In the process of understanding what is digital transformation, let us not interchange digitization, digitalization, and digital transformation.
Digitization:
Digitization is the process of converting information from a non-digital or a physical format into a digital format so it can be used on computer systems.
For example: Scanning a paper file and saving it on a pen drive as a digital document, like PDF.
Digitalization:
Digitalization is leveraging digitized information to improve the business processes, create revenue, be more efficient, productive, and create a digital culture. It means to make digitized information work for you.
For example: Uploading a PDF document from the pen drive to the cloud and sharing it with the team to analyze the data; examine and derive insights.
Digital Transformation:
Digital transformation is adopting digital technologies to improve business processes, activities, models, and products. The main objective is to increase efficiency, handle risk, and tap into new monetization windows. Digital transformation services is digitally doing things.
For example: Reading the data from the online PDF to get more insights. The insights can be leveraged to work on new business opportunities, products, and enhance customer services. This process requires minimal human interaction because it is fully automated. Resultantly, increased efficiency, cost reduction, huge sales will follow.
What Is The Purpose Of Digital Transformation?
The key purpose of digital transformation is to help organizations challenge their status quo, get comfortable with the uncomfortable, perform various experiments to discover what suits them better, and comprehend and embrace that failure is inevitable with a lot of other new possibilities. The digital transformation in business requires constant analysis, evaluation, examination, and incorporation of change in all aspects of the business. They are:
Corporate Culture
Leadership and management
Operational agility
Customer experience
Business processes
Workforce enablement
Customer experience
Adoption of digital technology
Unconventional ideation and strategizing
Precisely, digital transformation prepares companies to provide phenomenal experiences to their customers — not to forget that people have come to expect and desire — with the latest digital tools that influence both internal and external processes.
What Is An Example Of Digital Transformation?
A few recent examples of digital transformation include
IT modernization, adopting cloud computing, and IoT
Upskilling employees and influencing them to possess a combination of other skills
Implementing digital tools like artificial intelligence (AI), Machine Learning to liberate employees to concentrate on other aspects that require human creativity, wild imagination, decision-making, problem-solving, and other human-specific skills
Leveraging design thinking to identify and fix pain points in the customer satisfaction journey
Overhauling mainstream processes to adjust to customers' needs
Embracing remote-friendly workspaces.
What Are The Types Of Digital Transformation?
There are four main types of digital transformation services in business. They are
It is a combination of your business processes, applications, and employees. In the literal digital transformation sense, it refers to reorganizing your business processes, models, and services your company uses by introducing digital technology that can leverage the skills, successes, and new opportunities for your team. Process transformation is inclusive of fetching important data and analytics to retrieve and process information.
● Business Model Transformation
Reworking a business model in digital transformation means embracing technology. It will boost revenue and improve the overall customer experience, rather than just implementing technology for its sake. Business Model transformation represents infinite possibilities in business.
For example, Netflix. The major transformation of Netflix from a mailbox DVD business to one of the world's largest streaming services is commendable. Thanks to Digital Transformation in business!
● Domain Transformation
Domain transformations refer to a business's ability to branch into diverse sectors under a single brand.
For example, on top of being the coveted e-Commerce platform, Amazon now owns a streaming platform (Amazon Prime) and the largest cloud computing infrastructure service, Amazon Web Services (AWS). Both the individual domains were dominated by different business industries earlier. However, Amazon's financial backup spearheaded and made major headway into diverse domains through digital transformation solutions.
● Cultural and Organizational Transformation
Different people use different systems. Enabling every team member to accept new challenges, changes in the daily operations, and training is laborious. However, it will be worth an effort to undertake this challenge to deliver great customer satisfaction and produce better outcomes.
That said, the intelligence lies in knowing when your business needs Digital Transformation. It will not be a direct call stating "Hey, your business needs to improve digitally or transform digitally!" or "What are you waiting for? Adopt Digital Transformation!" It will be indirect cues calling out for Digital Transformation solutions. Also, your business's performance is a direct indication and a ring to adopt Digital Transformation services.