Product Page Design- 15 Proven Tips To Increase Conversions
15
Sep
2021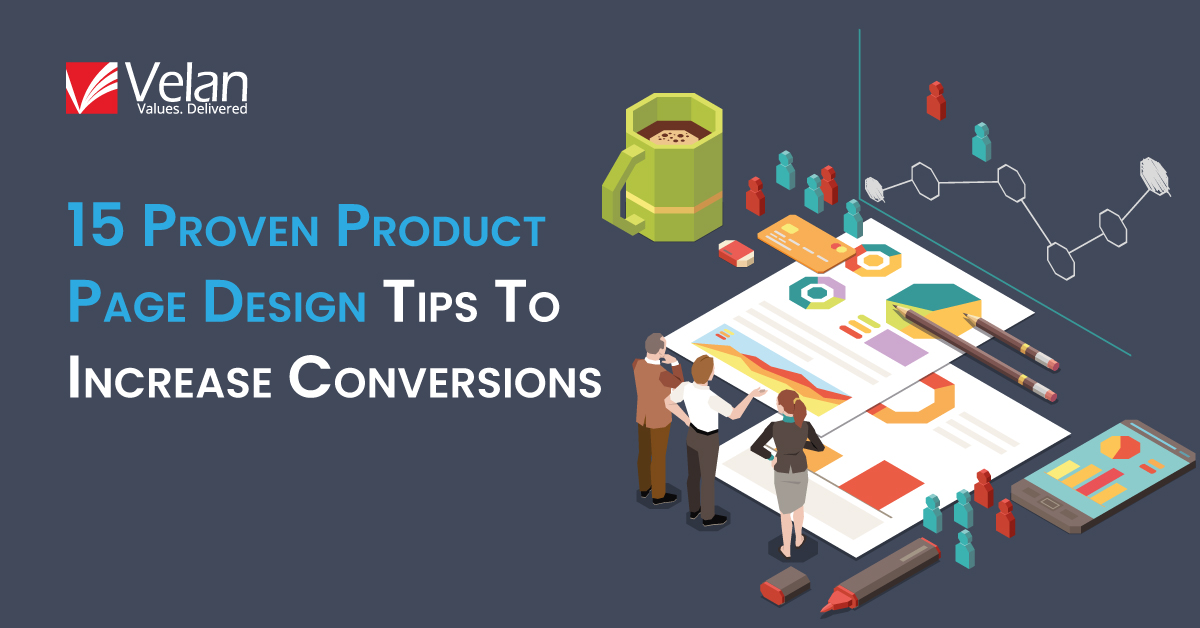 In this article, we explain how the smallest differences can make an impact on the website's conversion rate, while designing e-commerce product page design.
What Is A Product Page?
A product page is a page on an eCommerce website that helps your customers decide what to purchase. It includes the product specifications, features, manufacturer details, benefits, and a lot of other significant things about the product you are looking at. It also provides the answers to the questions you may have about the product, customer reviews and their experience using the product, and product comparison with a single goal to make you buy.
Like mentioned earlier, the purpose of packing the product page with too much information is to enable your visitor to become your customer. The product page should be alluring enough to enable your visitor to buy from your page. Enticing copy, compelling visuals, strong calls-to-action are a few important factors that drive this decision.
In addition to the key features mentioned above, most eCommerce product pages also feature an interactive demo of the product and different angles of the product to make a strong standpoint and enable decision-making. A product page provides entire information about the product in addition to influencing visitors to turn to customers. And that is the role of a compelling call-to-action button.
An eCommerce product page is a kind of a micro-site. It contains several web pages that embody product information and other related product recommendations. In a way, it is making the customers come back after the purchase and look for other products that will go with what they have just purchased and other safety tips and recommendations. In short, an eCommerce product page is like a hamster wheel where customers are put in a loop to shop over and over again.
Key Benefits Of Having An Ecommerce Product Page
Obviously, the primary benefit of having great eCommerce product pages for your items is you will get higher conversions and more sales. And the other benefits that will follow are:
Creating brand awareness
Getting your messaging clear to your audience
Increasing your business's visibility via search results
Lowering product returns
Lowering cart abandonment
Great platform for social media marketing
What Are The Essentials Of A Good Product Page?
To create a product page, there are certain rules you must abide by. Amazing visuals showcasing the complete product at different angles, a video, clearly written copy and product descriptions, product recommendations that will go together with the main product landing page, etc.
Analyzing your audience and studying their online behavior will help you present the best product page. Their online behavioral statistics will give you insights into what elements should be on your eCommerce product page.
We have listed a few basic elements which you cannot overlook for your product page:
Clear, seamless UI mobile version.
A variation of clear, high-resolution product images.
A clear and detailed product description written in easy-to-understand language. Strictly no hard words.
Pricing information.
The product information like colors, sizing, fit, materials, and other specifics.
Manufacturing and development information – for example, some people prefer to purchase bags that are not made of animal leather, cruelty-free cosmetics, shampoos that contain no sulfates, and are paraben-free, so you should mention this. In fact, you could use these terms as your key selling point. (Well, we will leave that choice to you but don't forget to mention them!)
An eye-catching eCommerce store layout that is easy to navigate and make purchases.
Social media sharing buttons.
Email and SMS sharing buttons.
Clear call-to-actions such as "buy now" and "add to cart."
Customer ratings at the top of the page and customer reviews about the product towards the bottom of the page. The ratings and reviews carry a lot of potential, and they simply must not be taken for granted. These two factors are your social proof.
Now that you know the essentials of a product page, let us understand the wow factors that you will need to bring in sales. Because a great product page with zero conversions and sales is pointless. Consider the pointers below to optimize product pages:
Your page must load faster. Compress video files and large images without compromising on the quality.
Use engaging, clickable (but specific) titles.
Add precise details about your product.
Enhance your product descriptions by making them more attractive in simple ways.
Your call-to-action buttons must contain an obvious message, prominently displayed, and easily accessible.
Add social media buttons if you didn't have them before.
Make sure your eCommerce product page is mobile-friendly and displays everything correctly on different screen sizes.
Tips On How To Create An Effective Product Page Design To Increase Conversions
Making sure that you have got an engaging product page should play a significant part in the eCommerce optimization strategy for your online store. It will help both you and your customer to get the best results out of your website. Velan, being among the top website design companies, recommends you to follow the following product page design tips that will definitely help you with conversions.
1. Write the most engaging and persuasive product description.
One of the biggest elements of an eCommerce product page, or any web page for that matter, is to have a well-written, powerful product description. It should clearly describe what you are selling and how your customers will miss a huge thing if they do not buy it. Your copy should cajole your audience into buying the product.
From the marketing standpoint, the product description should be brand-agnostic and relevant to your audience.
A highly converting product description is not just attractive but also offers end-to-end information and answers the following:
Who is the product for?
What is the product used for?
How does the product work?
What makes this product different from others?
Why should your audience invest in the product?
In addition to answering these questions, your product descriptions should also be framed conversion-worthy. Here's how:
Use verbs. They are compelling words than adjectives.
Talk to your target audience. You should be conversational and not monotonous.
Connect the benefits and the features subtly.
Steal copy from the testimonials, customer's vocabulary, and daily conversation.
Check for readability. Use short, clear sentences. No difficult words.
2. Answer the questions for your customers about the product.
Before buying the product, your shoppers will want to be certain about what they are buying. As a seller, you should probably anticipate the most important and basic questions and provide answers so your customers could buy with confidence.
For example, if you are selling a shoe, tell shoppers what type of shoe it is, is it ideal for walking or running, or both, the fabric, breathability ratio, sizing, etc. Or if you are selling a cosmetic, share the ideal skin type, the after results, which weather will it ideally suit, who can use it, which skin tone will it fit, what are its ingredients, packaging details, expiry, etc.
3. Use bold and clear product images.
Unlike a brick-and-mortar store, your shoppers will not be able to physically interact with your product. So, good and clear visuals are your only way out to solve this problem. Make sure your product photography has the best quality images, high-definition, accurate pixels, and different angles of the images, all perfectly seen. Customers should be able to zoom it to its very last extent.
Use multiple images and show different angles of the product. Help your customers visualize what the product will look like if they already possess it.
For example, if you are selling a piece of furniture, shoppers will want to see how it will fit in a room and what it would feel like when they sit on it. You can use lifestyle images. They are a big plus. It is a great idea to convey the story behind your product and help your customer understand how they could feel in real-time.
While you are focusing on filling the best images for your product page, be mindful of the page load speed. Compress your images, in such a way that the image quality is not compromised and so, is the page load speed.
4. Jazz your page with videos.
In addition to using the best and multiple images, ensure to use lively videos. A nicely edited video featuring the benefits of the product is one of your best bets. It is a quick method to convert your customers and entice them into buying the product.
5. Give shoppers obvious calls to action.
One of the best product page design tips is to have an obvious call-to-action button displayed prominently on the page. The message should be strong and click-worthy, the button should be easy to find, it should prompt when the shoppers scroll through the page and stand out from the other elements on the page.
Once you have caught hold of all the sections of the product page, that shoppers will pay attention to as they land, you can then turn their attention towards the compelling call-to-action. From there, your sales will boom.
6. Make navigation between pages easier.
We recommend breadcrumb navigation to let your shoppers know where they are on your online store. Breadcrumb navigation helps visitors understand the product hierarchy and also navigate to other pages that might be of their interest. They are known to reduce bounce rates.
7. Create a sense of urgency.
Another effective product page design to increase conversions is to impose the urgency or scarcity principle. When you use the bait of products selling quickly, your conversions are likely to happen quickly.
Airlines and clothing stores are the best emulators of using scarcity principle. They simply don't give you time to contemplate the purchase. They create a sense of urgency with their emails and notifications.
For example, just 1 piece left, or last 1 hour for free shipping, or last call for a 50% discount to fly to your dreamland, etc.
8. Update the product stock on the page.
Just when we spoke about creating a sense of urgency on the eCommerce product page, you can emphasize it by updating the stock meter. Break this news to your visitors every minute and when a purchase is made. That is a sure-shot of converting them and making them feel guilty if they have missed the product.
Additionally, if you have run out of stock, you can still get your shoppers to purchase the product later by adding call-to-action to notify them when the inventory is updated. In addition to the scarcity principle, you are building the waiting queue and preserving a sales pre-hand.
9. Offer price comparisons.
If you are offering discounts, show your customer the great numbers. Don't shy away from using your competitor's rate. You can tell how much your customers can save by purchasing on your site. Always, and always show a comparison of the actual price and the discounted price. Display the actual saving and the percentage savings made on the purchase. Different customers are convinced by different messages.
Keep your customers intact until they purchase the product. Position your pricing details and other salient features close to the CTA, so they enable quicker decision-making.
10. Position your customer ratings, trust badges, and customer testimonials well.
Online scams are always on a rise. Thus, it is peremptory for an eCommerce store owner to establish trust and credibility for your audience. Add the trust badges and customer rating stars on the top of the page where it is evident. A small message of guarantee, displaying safety icons, highlighting social media mentions, showing trust seals will definitely boost conversions and increase your customer's confidence in your online store.
No better eCommerce store than Amazon has made the best use of this feature. They were the pioneers in strategically positioning the trust labels below the product name. And brands follow Amazon's strategy on how to design a product page. And boom! Their sales improved like crazy that it can't be explained in words.
11. Be mindful of different geographies.
Language is one of the major factors in online shopping. Be sure to change words and vocabulary, size meters for clothes and shoes, weighing measurements based on different locations.
For example, in clothing, the definition of small, medium, large, extra-large, and so on varies. Give your shoppers the size selector on global standards with a size guide in centimeters and inches. Position the size selectors strategically, and the best place could be right below the product description. Additionally, you could also mention the model's clothing size to give a clear picture.
12. Show product recommendations and other related products.
As an online store owner, you want the user to buy related products, accessories, and other add-ons that would go with their main purchase. One way to achieve this is to offer good options for cross-selling and up-selling on your product page. The other way is to provide suggestions with lifestyle images for similar products, which will enhance the browsing experience and also lead to more product exploration. Remember you are directly hitting the shopping nerve of your customer.
13. Mention your shipping and return policies clearly.
Don't keep your shoppers in the dark when it comes to product return policies and shipping charges. Honestly, most of the customers would not want to shell their money on shipping.
Seventy-nine percent of people are more likely to shop online when there is free shipping. So, be really considerate if you have to get the remaining twenty-one percent to shop with a shipping fee. How would you do that? Be honest about it and display the shipping charges upfront and not wait till the checkout stage. Make them feel the product's worth and why you are charging an extra fee for shipping. And offer a really hassle-free return policy. List it out clearly if they have just 7 days or an exuberant 30 days to return the products.
14. Make your customer care support easy to reach.
One of the best product page design tips is to have a customer support team that is easy to reach. Live chats, callbacks from your team, emails answered in a short time, FAQs are really good ways to keep your customers happy and hold their loyalty.
15. Don't skimp on your website's load speed.
If you want to have all the product page design tips featured on your eCommerce product page, then don't skimp on your website's load speed. It is very crucial. And this single thing could break the investment you made on the above 14 product page design tips.
After you have finally decided all the elements that should go on your page, continuously optimize your page for faster load speed. At every juncture, check on what should be made better and keep working on it.
Tadaa! And here you are at the end of the blog. You have just learned 15 great and proven tips that will help you with an effective product page design to increase conversions. Hope you found it useful!
You can also get in touch with Velan, a custom web design services company, and avail our services. Right from how to design a product page to how to optimize product pages, or how to build an effective product page design to increase conversions, we have it all. Please spare a minute and fill out our contact form and we will get in touch with you.