How To Do Digital Transformation?
25
Feb
2021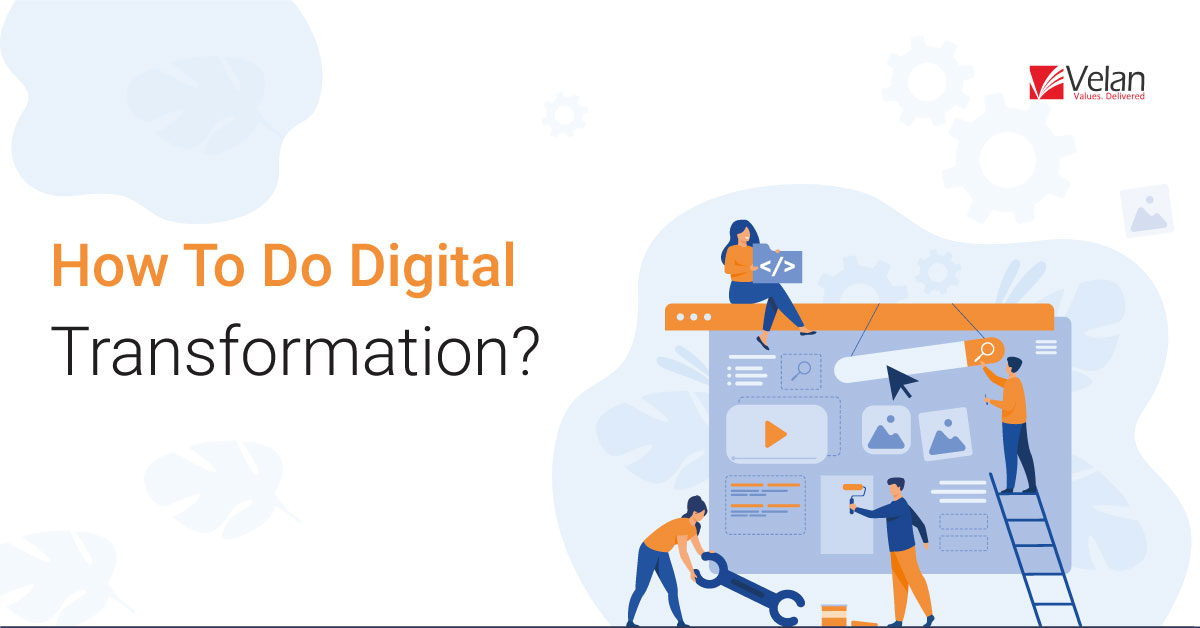 The talk of the town today is 'digital', wherever you go all you would hear is Digital Technology, Digital Marketing, Digital Media, Digital Transformation, Digital Data, and everything with the prefix 'Digital–'. Going digital is the new norm, especially after the pandemic. Across the world, digital transformation has become the buzzword in industries and corporate offices – across all sectors.
So, what is a digital transformation? Why is it becoming so crucial for businesses to have digital transformation? Moreover, can you do a digital transformation?
The term' digital transformation' can be interpreted for myriad things and often mean differently for each industry and business. In short, a business owner needs to have a well-defined idea and a solid purpose for which the organization should go for digital transformation. It is highly important to understand how it will serve the business, partners, stakeholders, employees, and customers.
Businesses that are looking to embark on the journey of digital transformation must have a compact understanding of the approaches, concepts, and benefits of digital transformation.
With an in-depth understanding of what digital transformation is and how it can prove to be beneficial for your business beyond IT, it would be easier for you to overhaul your business and put it on a path that will have a positive impact.
What Is Digital Transformation?
It is a tad bit difficult to pinpoint a definition of digital transformation (DT or DX) since it is different for every organization and industry. However, in layman's terms, it can be explained as
"A technology that is used to create differentiating ways for doing business so that, it can help with the growth within the existing market while opening up untapped opportunities for new markets."
The reason that the definition of digital transformation varies for organizations is that every industry and business is unique and it comes with specific digital requirements.
But one factor that remains constant in digital transformation, across industries and businesses, is the implementation of the technology in different sectors of the company to create a more sustainable relationship within the organization. Furthermore, the focus of digital transformation remains to understand the customer's needs so they can be served better. It can be one way of viewing digital transformation.
When businesses and industries talk about using digital technology to transform their business, they also consider ways to unveil new frontiers, understand and use the technology for innovation, and push the business for the better. Digital transformation, hence, can be associated with companies that are trying to find new possibilities within the existing service to design and deliver an enhanced experience to the customers. Some might also say that it is a new frontier that is being explored to interact with customers better.
With all these said, here are other solid reasons why organizations can leverage digital transformation to move their business forward.
What do the statistics say about adopting Digital Transformation…
71% of companies that are going through or have already gone through digital transformation stated they could attract and hire new talent based on their use of the digital platform.
51% of senior executives said that digital transformation is critical for business within the next year.
27% of senior executives of different enterprises believe that digital transformation is necessary for the survival of the company.
Without digital transformation, only 16% of marketers believe their organization can deliver and satisfy their customers fully. (Well, they will get there!)
Two-third of marketers believe their efforts to fulfil their customer's needs are not full proof; it is more like hit or miss.
14% of marketers understand they are missing the mark of satisfying their customers without digital transformation.
One-third of CMOs believe that 75% plus spending will be accounted for digital marketing in the next five years for a company.
One-third of the senior marketing leaders believe that in the developing digital market, their business will be digital in the next five years.
In the race between startups and traditional enterprises, 55% of startups are already equipped with digital transformation, while only 38% of the latter have adopted it.
It has been estimated that 89% of the established companies are adopting or planning to embrace digital transformation.
Only 44% of the companies are equipped enough to handle the disruption that the digital trends are causing. In comparison, 87% of companies understand that digitization is going to disrupt their industries eventually.
These figures showcase that digital transformation is the way to move forward to be relevant in the market.
How to do Digital Transformation?
Before getting started with digital transformation, the enterprise must develop a digital strategy that supports the strategic goals of the business. Since digital transformation encompasses a vast area, it is impossible to transform the entire company at one shot. A business needs to, therefore prioritize the resources it has based on the unique goals of the organization. Moreover, the enterprise needs to understand that a plan for continuous optimization is vital instead of the idea of "set it up and forget it."
The enterprise needs to know its exclusive digital transformation framework to kickstart the process. And that begins with defining a leader to lead this entire transformation. While it is a team effort, it still requires an executive-level professional to drive the whole process forward, to make informed decisions, to define the strategy focusing on the objectives, and to prepare the organization and resources for any inevitable disruptions during or after the process.
With a designated owner and a team, the business needs to take into consideration the strategy for the transformation. The key is to let your team, data, and process work in unison.
There are four general frameworks from which a company's digital transition can be adopted to launch with alterations.
●         Process Transformation
This focuses on the corporate activity of the business process with data, analytics, machine learning APIs, and other technology to reinvent the business process across the business. The goal is to reduce the cycle time, lower the costs while increasing quality.
●         Business Model Transformation
The goal of this transformation is to understand and work on factors that can add value to the delivery service by overhauling the traditional business model. This will provide the business with significant growth opportunities.
●         Domain Transformation
With new products and services, industries are blurring the boundaries. Technology is being used to create a new set of domains for the business that is beyond the existing market they are serving.
●         Cultural/Organizational Transformation
To have an entirely digitally transformed organization, the mindset, functioning, process, talent, and capabilities of the enterprise needs to be changed. While getting aligned with the digital world, the corporations have to engage with agile workflows, decentralize the decision-making process, test and learn, and rely on the present business ecosystem.
In a nutshell,
Ideate and create a compelling digital strategy
Align the digital transformation with the business goals
Document the risks
Run pilot tests
Continue to analyze the impact of the transformation
Prepare for the cultural change within the organization
Wrapping It Up…
According to the forecast made by International Data Corporation (IDC), digital technology and services will reach $1.97 trillion in 2022, with a growth rate of 16.7% from 2017 to 2022. Looking at the amazing statistics, digital technology will help you connect people with machines and offer a service that will help to perform better. Your organization will find the right solution for business while increasing productivity, ROI, and customer satisfaction. By investing in digital transformation, a company can thrive in decades to come.