5 Steps to use Power BI Web Part for SharePoint
19
Jan
2018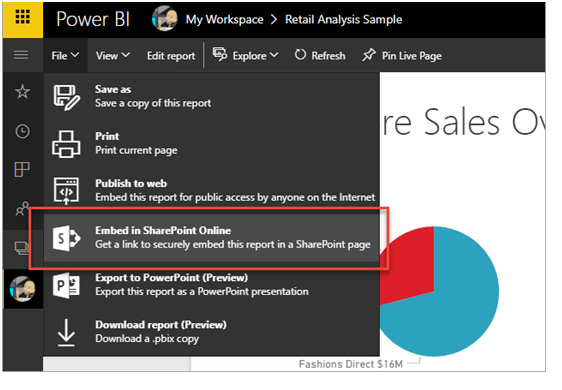 Power BI gives your SharePoint installation a much-desired edge – useful insights and analytics that are as user-friendly & easy, as they are powerful. Microsoft's team just kicked the usability up a notch by launching a web part to allow users easily embed Power BI reports into SharePoint! This post is all about exploring how organizations using SharePoint can leverage Microsoft's Power BI Web part. We're going to show you how to embed a Power BI app into a SharePoint Component (announcement, page, etc.).
You can embed Power BI reports into SharePoint Components using the newly launched Power BI Web Part – in 5 steps.
HOW TO USE POWER BI WEB PART TO EMBED A POWER BI REPORT/APP INTO SHAREPOINT?
Before we start, note that Modern pages are a requirement for the Power BI web part & consequent embedded reports to work.
STEPS TO EMBED YOUR REPORT
GET THE URL TO BE USED FOR EMBEDDING:
Create a report or open an existing report in Microsoft Power BI, and find the "Embed in SharePoint Online" option in the "File" menu.
Source: Microsoft SharePoint Blogs
COPY THE URL PRESENTED:
Source: Microsoft SharePoint Blogs
IN SHAREPOINT
Create a new modern site page, or open an existing SharePoint Online page wherein you want to embed the chosen Power BI report. Select "+" and select the Power BI web part & add your report by clicking on "Add Report".
PASTE REPORT LINK & PUBLISH
GRANTING ACCESS TO REPORTS
The most important step to ensure the newly embedded report is visible to the intended users is to grant access! This can be done either within Power BI or using Office 365 Groups. In the latter case, you need to list the user as an app workspace member within the Power BI service. Doing this inside Power BI gets a tad bit complicated – you'd need to add a tile from the report to a dashboard, and then share the dashboard with all the users you intend to share this report with.
CAN "FREE" USERS ACCESS THESE EMBEDDED REPORT?
The big question right? Since the users creating the reports are analysts and the people it is shared to, are consumers – you can't have consumers ridden by license. Free users CAN view reports that are embedded with the Power BI web part for SharePoint Online. Providing access is the same process as described in Step#5 above.
ANY HOOKS?
Yes – the Outsourced Business Intelligence, Power BI workspace wherein you're creating the report in question, has to be of Premium Capacity.
SHAREPOINT & BI AT VELAN
Velan has a strong team of SharePoint professionals and Power BI specialists to help you reap the maximum benefits of your Microsoft setup. Call us @ +1 516 717 2049 or email us at [email protected] for more information on how we can help you derive useful insights using Microsoft SharePoint and Microsoft Power BI.