Productivity Tips For Virtual Assistant And Work Performance
30
Jun
2021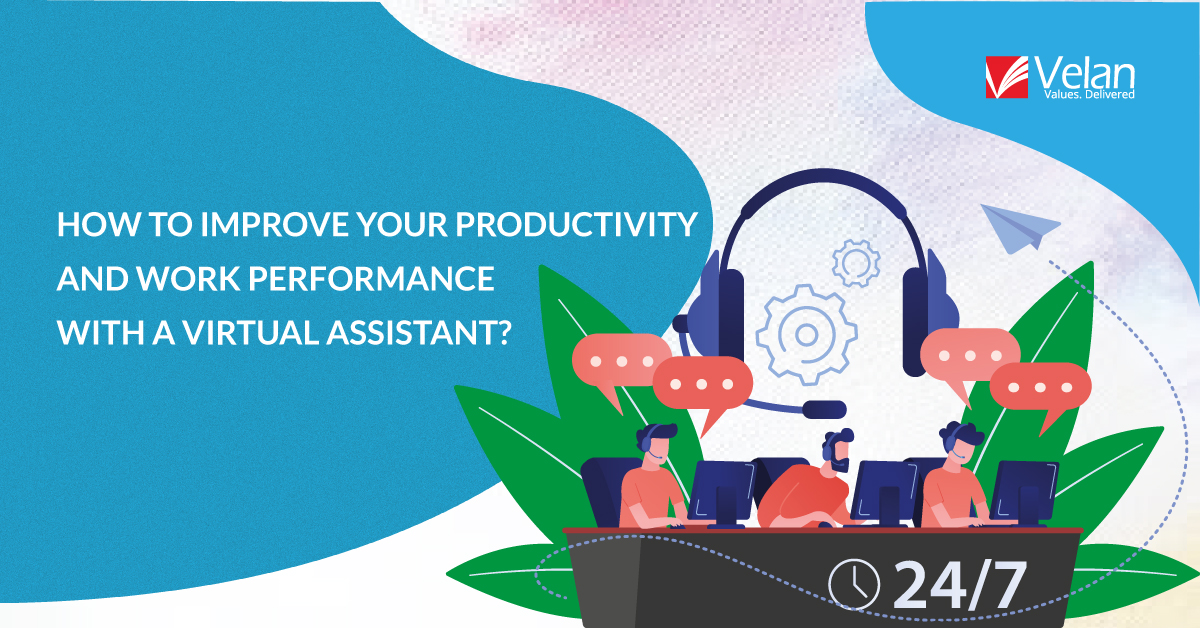 A virtual assistant is an independent and self-employed contractor that provides administrative services to an organization. Virtual assistants work remotely outside of their client's office, usually remotely or in a home office. Hiring a Virtual assistants will have access to their client's necessary documents, calendars, and meeting schedules.
They carry expertise, experience, and knowledge to complete the administrative work with utmost precision and accuracy. The most common tasks outsourced to virtual assistants are:
Data entry
Administrative work like travel planning, scheduling meetings, confirming appointments, managing emails, managing calendars, etc.
Cold calling
Handling clerical tasks
Accounting and bookkeeping
Online file storage
Database management
IT services
Customer service
Graphic designing
Photo editing
SEO services
Social media marketing
Website design and management
For employers, having a virtual assistant do their routine jobs will free up their valuable hours to concentrate on work that brings more revenue. Engaging with a virtual assistant will make the employers focus on sales and growing the business.
The benefits of hiring a virtual assistant are copious. One of the main advantages includes the flexibility of the contract. Unlike an employee, a virtual assistant can be hired just for the services they provide. The cost will be highly manageable and needs to be paid only when they are working on that specific task.
The other benefits of hiring a virtual assistant are:
Increased productivity
Flexibility
Precision of work
Reduced (or zero) labor and operational costs
Expertise and knowledge
Zero training
Scheduling and multitasking
Rapid business growth
When should you consider hiring a virtual assistant?
Are you feeling short of time to get your everyday things done at work?
Are your staff employed completely on particular tasks and have no time or less time to focus on other tasks and incessant demands of their job duties?
Do you need an extra hand to clear your to-do lists?
If you have so much to handle with very little time, it is time for you to add a skilled professional to your team. Welcome virtual assistants. They make your life simpler, easier to manage, and clear your to-lists as quickly as possible with utmost efficiency.
You must consider engaging with a virtual assistant if:
You are burdened by workload.
You have more paperwork than your team can handle.
You are less productive.
You cannot afford a full-time employee.
You want to be stress-free.
You don't possess the skills of a virtual assistant.
You want things to get done promptly.
1. Great communication
Communication is an indispensable skill that a virtual assistant must possess. Virtual communication is bereft of direct interaction that provides non-verbal and emotional cues. Missed communication will risk your entire business and lead to unruly errors.
The only rule of thumb is to ensure your virtual assistant and you maintain proper and clear communication. Make sure your virtual assistant demonstrates effective communication skills on calls and emails. Set clear expectations with your virtual assistant in terms of different means of communication and its purposes – messaging channel, project management and updates, calls, etc. Encourage them to open with questions when a message is not clear. They need to apprise you about the status of the work, any setbacks that they are facing, and update the project status on time. With clear communication, you can expect the results to grow substantially.
2. Adequate Organizational skills
The purpose of hiring a virtual assistant is to keep work-related stuff organized, which you had trouble doing so. In fact, virtual assistance is synonymous with great organizational skills. From scheduling your meetings to ensure there are no overlaps, and also being punctual with their deadlines, a virtual assistant must possess adequate organizational skills. It is in continuation with being a good communicator.
3. Resourceful and Dynamic
The purpose of hiring a virtual assistant is to be an auxiliary power source. From completing the assigned tasks on time to solving any issues that arise with your clients, your virtual assistant should be proactive. Instead of waiting for a problem to settle with you, they must be able to find resolutions and come to you for approvals.
4. Reliability
Reliability is paramount. Despite having a brilliant and highly skilled virtual assistant, if you cannot rely on them to know the project status, answer your emails promptly, it will be distressing for your business. Since your virtual assistant will be working remotely, they must demonstrate reliability, autonomy, and trustworthiness without a hawk-eye.
As an employer, you should feel optimistic and confident that they can produce high-quality work and show up every time required.
5. Pressure resistance
Sometimes, things at work may get chaotic. However, you do not want your clients to see the chaos behind you. Your virtual assistant must discern this.
Regardless of the pressure and hectic workload that your virtual assistant may encounter, client satisfaction should not be sidelined. Ensure to give a heads up to your potential virtual assistant about chaotic scenes and understand how well they will be able to stand that. Negativity and stress can never become visible to your client.
6. Relentless perseverance
Sometimes, things may take an unending route at your client's side, and it is inevitable. Having a relentless virtual assistant who can cut the mustard to reach out and follow up on the status instead of waiting for the client to get back, you have really found the right person. Your virtual assistant must be proactive to nudge and get the answers or approvals.
Now that you know the essential qualities a virtual assistant must possess, let us further read to understand the tips to hire a virtual assistant.
4 tips to improve your work performance with a virtual assistant
General distress when hiring a virtual assistant is making sure that you improve your productivity at work and not create another job for yourself.
Ideally, you want to build a long-term relationship with a virtual assistant and define routines that will help you both operate and work seamlessly.
Having defined routines and processes are the key to achieve maximum work efficiency. We will give you four crucial tips that will help you improve your work performance with a virtual assistant.
1. Conduct daily huddles
Routines, when followed religiously, will become a foundation for your business as long as they are achieving something. Ensure to meet your virtual assistant daily to keep things transparent and to make sure that your virtual assistant is clear with their tasks.
Like we mentioned earlier, communication is the key to achieve maximum productivity and efficiency at work. Oral communication is significant to get things straight over email communications which may lose the emotion in translation.
2. Document procedures
Documenting the processes is an incessant task. Even before you onboard your virtual assistant, you must have documentation that reads all the processes of your organization. It is one of the important tips that will undoubtedly make you more productive and set you up for success.
Although documenting may seem laborious, you will realize that it was worth all the effort. By documenting detailed guides on the to-dos, the task list, the procedure for the completion, the protocols to be followed, you are indicating that your virtual assistant must exhibit autonomy and leadership in completing the tasks. Besides, documenting the procedure will leave little or zero room for errors and can be used as a toolkit to train new hires.
3. Employ the right tools
The only means of communication with a   is to use the right tools that technology has. It will ensure that your team is working efficiently and collaboratively.
For example,
Google Drive, Dropbox, etc. for cloud storage,
Zoom for meeting calls,
Slack for internal team communication,
Trello, Monday.com, etc. for project management
These tools will help you be connected with your team for work collaboration. Be very simple in selecting the tools and avoid having multiple tools to meet the same purpose as it may create confusion and unnecessary chaos. And your virtual assistant must be given proper training to use the tools.
Make cloud storage part of your performance improvement strategy. With the cloud, your documents will be safe and saved often, so you don't lose anything.
Make it a part of your performance improvement plan to use cloud storage in your systems. Cloud storage will keep your dossiers and crucial data of your business alive always.
4. Invest real relationship
Human interactions, unlike bots, require real association. If you want your virtual assistant to resonate with your business goals, make some genuine time showing interest, comprehension, and concern when you talk to them. Get to know if they have any pain points and see how you can help them.
Virtual assistants have copious openings outside. And if they are not properly cared for, in fact, any employee is not properly taken care, they are prone to leave the organization. Do not let them feel that. And if they leave, your productivity game will have to start from scratch.
5. Be pragmatic with your deadlines
When you assign tasks for your virtual assistant, make sure you are giving them reasonable deadlines. Ensure that your virtual assistant is cognizant of your expectations and deadlines for them.
If they have multiple deadlines to meet, communicate promptly of which task needs immediate attention and completion. It will ensure a smooth relationship between you two and will make delegation easier. By giving them practical timelines, you are allowing them to produce high-quality work with the right tools and time, which in turn will grow your business.
Takeaway
Virtual assistants are powerful weapons which if leveraged correctly will turn into a massive success for you. They help entrepreneurs and businesses to boost productivity and increase business growth rapidly. It all starts with hiring the best virtual assistant or an agency like Velan that has the best virtual assistants in town.
We have a team of virtual assistants with multiple skill sets that can be leveraged to improve your business's productivity and growth. We have the right tools and defined procedures which will make your work collaboration seamless and streamlined with us. To learn more about how we can help you with boosting your productivity and giving you more time to plan on the marketing strategies, contact us today.