8 Trends That Are Re-defining Back-Office Outsourcing
25
Jan
2021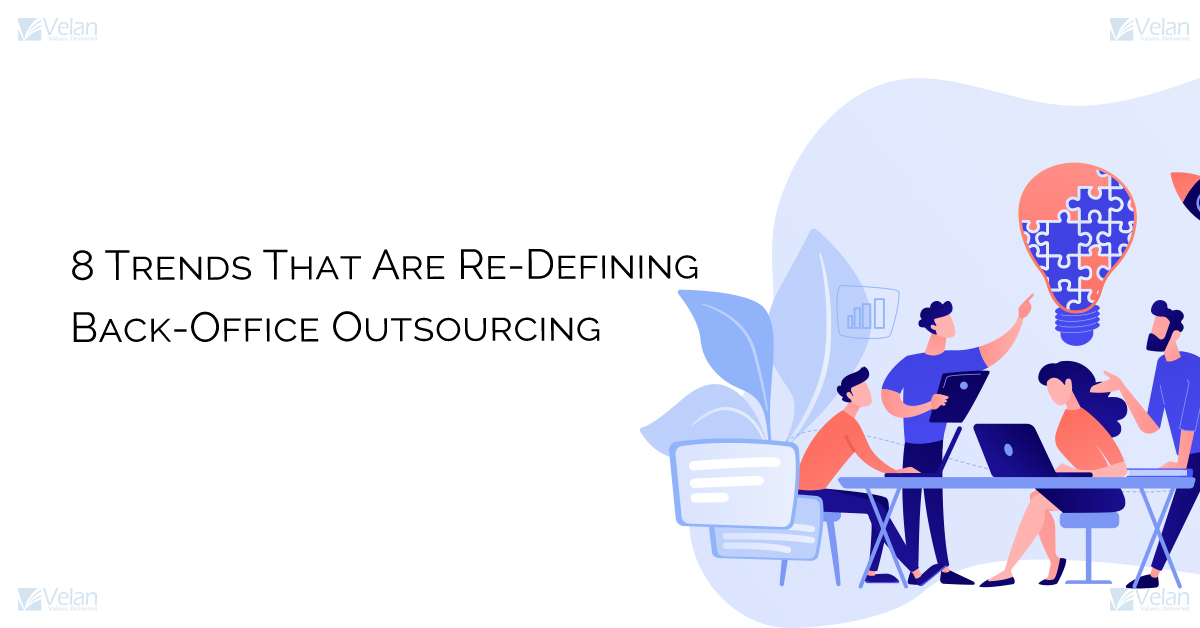 What is Business Process Outsourcing (BPO)?
BPO or business process outsourcing is a common business practice where one organization engages with another organization to complete the tasks for the hiring organization. Outsourcing happens when the hiring organization either lack the expertise and skill or do not have enough time and money to invest in a whole new process. Either way, the hiring organization will benefit more as they are outsourcing the non-core business tasks to the experts to get it done efficiently.
It has its roots in the manufacturing business vertical, where manufacturers hire other organizations to manage specific business processes to build their end products by getting the components of their supply chains totally independent of their core competencies.
Eventually, other companies in diverse industries adopted the outsourcing process. And now, BPO has grown extensively that almost many organizations in different industries contract with BPO service providers.
The advancement in technology is growing continually, and it has been the major backbone for BPOs to thrive.
What is 'back office' and 'back office outsourcing'?
Back-office, as the term indicates, refers to the back-end business functions that must be performed efficiently to make sure of the business's success. It refers to all the roles within a company that improves customer satisfaction without directly involving it. Precisely, back-office support does not fall into facing customers.
It is the core of an enterprise that performs essential behind-the-scenes tasks.
For example, data entry, IT services and management, human resources, business research, accounting, eCommerce, photo editing and graphic designing, administrative tasks, etc. all fall under the back-office support arena. Without these essential functions, it is impossible to run a business.
But the major drawback with the back-office is the significant money, resources, and time it requires. Thanks to Business Process Outsourcing – BPO, and you probably have read it why.
Having a BPO eliminates the need for your resources to be a jack of all trades and underperform in their niche. It helps you to run sensible management that will prevent your employees from depletion.
Many multinational companies have a skilled team to perform the back-office tasks, with exclusive in-house departments for HR, payroll, legal, accounting, bookkeeping, IT management, tech support, etc. It endorses how important back-office support services have evolved and become pivotal to influence an organization's success.
Why must you outsource your back-office business processes?
There are a multitude of benefits if you outsource back-office functions. And the major ones are:
Concentrate on core business operations
Gain access to the avant-garde technology, software, and infrastructure
Higher flexibility levels
Lower costs
Zero investment for resources, infrastructure, and technology
High-quality out as the tasks will be performed by the experts
8 trends that are re-defining back-office outsourcing
The six major trends that are influencing change across the back-office outsourcing space are:
– Artificial Intelligence
The prognosis of AI and advanced big data analytics was to automate many manual, mundane tasks that are presently outsourced. Automating such tasks, that are presently carried out by offshore employees, will influence businesses to use those resources and their expertise to focus on complex tasks and involve them in making strategic decisions that would drive an impact on the business.
The combined workforce of people and technology is an asset to be harnessed and used together to seize more value.
– GDPR compliance
Since May 2018, the General Data Protection Regulation (GDPR) has caused a radical change in the business. Companies are susceptible to growing data management policies and legal threats that are byproducts. Data security and data protection are becoming an essential consideration for risk management, however, it could be normalized by having an informed partnership with a reputable BPO service provider.
For example, we have a dedicated data management team for data entry and data security at Velan. We offer extensive and best services to ensure that our client's data is protected, GDPR compliant, and secure at every walk of business.
– 5G will transform back-office services
The next biggest disruption is expected to be caused by the 5G services. Information exchange is at the center of business, globally. And the 5G network will have a huge influence and overlook the smart phone's usage. Faster data speeds, reliable connection, increased bandwidth, a new look to the internet infrastructure are a few of the transformations that 5G will throw light on. And this will directly influence the companies to expand into the global market and provide better access to talents everywhere.
5G will enable companies to capture enormous data in very little time. It will promote the Internet of Things (IoT), which will make data collection, receiving, and sending effortless. 5G will awaken the need for the BPO sector to upskill its employees and provide constant training and educate staff on the new advancements.
For many businesses, outsourcing their back-office functions will still prove to be a rational solution to cut down on operating costs and focus on their core competencies.
– Blockchain
Blockchain has found its way to the forefront of bookkeeping services. It possesses the capability to simplify business operations, reinvent jobs, lessen complications between organizations, and transform the way things work globally.
– Predictive Analytics
Predictive Analytics help businesses discover untapped customer preferences for their products and services by sifting through organized and unorganized data. The analytics drive business advantages by
Discovering hidden insights
Driving revenue-focussed innovation
Enhancing business operations
– Deep Learning
Auto-learning is changing the way computer intelligence handles manual tasks once done. Deep learning is concerned with cognitive processes rather than just correcting data entered manually. It invests time in learning to understand the pattern from the source data like customer's purchase history. Then the system recognizes the recurring patterns in the data and identifies specific keywords related to each field. Then the system automatically identifies the keywords and matches the related data to complete the field.
– Social Media
There was a time until 2000, where the global customer service business verticals were relying on websites and the INR (Interactive Voice Response) for transferring the call to the representative.
And that slowly evolved to where businesses today definitely have a social media account. Consumer behavior has changed, and they require interactive social media posts to create an interest in the brand. No wonder browsing social media is the third most popular activity online.
Identifying the latest trends, bring innovation and agile, leveraging social media to purchase, and there are a lot more the brands are leveraging social media for. And this has set the fire for the BPO service industry too. Working in tandem, resolving customer queries, answering their questions, helping them make purchase decisions, etc. are what BPO teams are occupying themselves with.
– Robotic Process Automation
RPA is emphasizing the need for streamlined processes to be built and automated to facilitate robots to perform the tasks. As RPA technology accelerates, it is rising as the disruptive forces enabling benefits covering the dimensions of efficiency, accuracy, cost savings, scalability, and compliance. And the connotations of these capabilities are expected to untie revolutionary transformation, especially in BPO and IT.
RPA coupled with cognitive powers will automate mundane job outputs enabling workers to concentrate on core tasks like decision-making, innovation, and building strategy. Rather than using talents for admin tasks, businesses can automate repetitive tasks, and unleash their worthy talent's potential to handle exceptions.
RPA will inevitably transform the way organizations outsource. Automation software eliminates the outsourced worker from substituting for roles that were earlier handled by foreign workers.
RPA aims at retaining company expenditure by not exhausting it on the offshore associates. The intelligent automation allows businesses to maintain their local workers on staff to handle the more complex tasks while the technology manages more mundane activities. This whole concept will cut back the costs while improving service quality.
Velan is a pioneer in the BPO industry. We have a robust understanding of the evolving spectrum of back-office services and its transforming trends. By partnering with Velan, we will ensure that you are adding value to your business today while crossing the horizons by being prepared for tomorrow's new inventions.