7 Reasons Why You Should Hire A Bookkeeper For Your Small Business
30
Apr
2021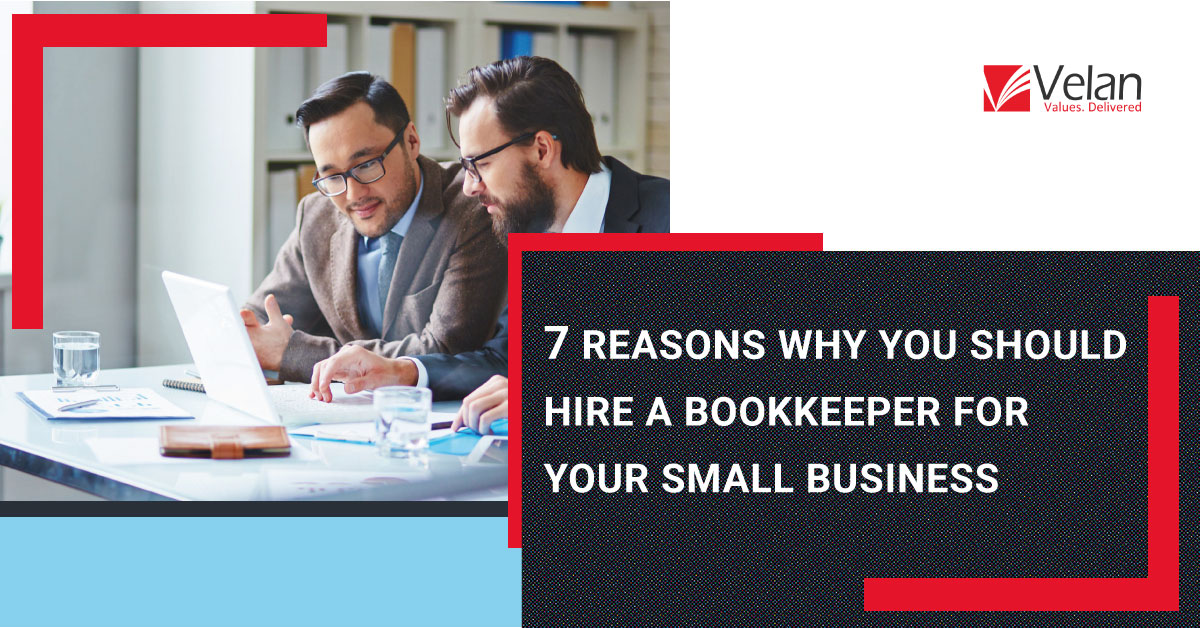 A startup is not instantly a corporate, but all corporates were once a startup. All the needs and daily operations are not the same for both. What you find necessary for a startup may not work for a corporate and vice versa.
Read that again!
As a startup owner or a small business owner, there are many things for you to think about and consider before making any decisions. From taking an idea to a formal business plan, building its MVP if required, deciding between funding or bootstrapping, operational functions, etc., a lot will be riding on you. And not to forget the most important sector – financial management that includes accounts receivables, accounts payables, tax, bookkeeping, accounting, etc.
Here is where you must contemplate what you can do and what you can get done from an outsider. As a startup owner who is wearing a lot of hats, you might have to consider removing the hat of looking after your accounting side of things. One, because it is highly time-consuming, two, if you do not know anything about accounting, you cannot learn it during the launch or initial days of your startup because you have something else to concentrate on, three, because it is easy to outsource and have an expert look at your accounts and give you recommendations on what is best for your startup.
If you are not yet convinced, we have 7 significant reasons that you can benefit from by hiring an outsourcer for your bookkeeping and accounting.
You may not need an accountant for your startup considering the business size. A bookkeeper could be the best alternative to help with your financial aspects.
1. Focus on your core business operations
You did not turn that idea into a business just to pay invoices, track expenses, write checks, and process payrolls. A bookkeeper will look after that financial side of things for you while you can focus on your core business operations. With more time to spend on your operations, you can think of ways to grow your business and work on your skills to grow the company. More time for research and development, building client relationships, working on other ideas, etc., are a few of the other benefits that will follow when you hire a bookkeeper to work on your finances.
2. Get a different 'financial' business perspective.
As a single business owner or a decision-maker, you might tend to overlook a few thinHire a Bookkeepergs. And those special cases may (may not) have a future impact. To ease those things off, having an extra pair of eyes on each department, especially the financial department, will prove beneficial for your small business.
With a bookkeeper, you can rely on someone to advise on budgets, keep you informed on the finances spectrum which will lead to better decision-making for your company. After all, what you do next in your business will be largely revolving around the finances you have and could spend. Knowing financial implications and your cash flow will help you decide if you can spend on something unbudgeted.
Besides business decisions, knowing your finances will also help you make better financial decisions like investments, spending on essential needs, etc. Your bookkeeper will run you reports of your business performance and give you an understanding of where your funds are doing well and getting crushed. You will get that bigger picture to make better financial decisions in the future.
3. Complete your payments and file your taxes on time
With a bookkeeper, you can get away from clearing the tedious monthly invoices, payments, cheques, tax files and returns, accounts payables, accounts receivables, etc. You can ensure that your staff, vendors, will work amicably for you. When you make on-time payments, you instill trust in your professional dependants and create good reciprocity to help you more by working well. You directly tap into their happiness meter and end up getting more passionate, loyal workers.
Tax penalties can give you serious cramps if you do not file it on time. It creeps from failing to report taxes, income, expenditure, and other expenses. And you will end up spending more money on paying penalties. By employing a bookkeeper, you can escape those hard cramps and run a business without any financial obligations in your mind. A bookkeeper's duty is to keep tight schedules, so it benefits both parties. Your bookkeeper who is passionate about numbers will do the job for you and help you reap the benefits.
4. Regulate cash flows
With a lot going on in your business already, you may not realize the outstanding payments. And late payments could contravene your cash flow and create a ruckus in the future.
By working with a bookkeeper, you can entrust that responsibility and ask him or her to send you reminders before the payment is due. On the other hand, maintaining a smooth cash flow can also win you funding when there is a need. You are adding credibility to your company.
5. Mitigate financial chores.
If you are thinking of saving money by doing the work of a bookkeeper yourselves, you are actually not. Besides risking money, you are also risking opportunities and time. With a professional bookkeeper, you are saving time, money, and reducing the risk of your financial obligations. Lack of knowledge, errors, tax obligations, missed payments, delayed accounts receivables will no more be a stance in your company.
In addition, your time and money can be invested in landing those new clients and bringing in the revenue numbers that you were aspiring for.
6. Build healthy budget plans
Budgeting is not considered so important especially during the startup's development phase. You tend to overspend on indefinite things because you are not obliged to anyone or will be called accountable. And this will lead to problems like poor financial management, slipping on professional relationships, and running out of budgets during grave times.
A professional bookkeeper can save you from drowning financially and those relationships. He or she can help you create a proper budget plan based on the company's efficiency and returns. You will understand the concept of balancing expenditure while operating your business at its fullest efficiency. You will become more answerable to every dime you spend and will be able to clearly differentiate between the needs and the wants.
7. Access to technology
Most of the bookkeeping activities are performed by the latest software today. It will reduce human errors, and you will have an expert bookkeeper to validate every financial thing before it reaches your desk. You can completely trust your expert bookkeeper and save time for re-checking and re-confirming.
From saving a great deal of money and a lot of time, focussing on your expertise, and working towards ensuring cash flow, a bookkeeper will make good business for your small business or startup. The question narrows down to who you hire. Your benefits highly revolve around the primary decision of hiring that you make.
Here is an aerial look at Velan's bookkeeping model…
Velan has been offering great bookkeeping and accounting services for small businesses worldwide. From maintaining clean financial records to completing payments on time, Velan is excelling beyond expectations. Our clients call us superheroes for helping them escape the numbers and the crunches. We meet them with all the financial details handy, so they just have to approve and sign it off. And happy clients lead to a happy business.
And how do we do it?
The truth is no anomaly: we are a team of real bookkeeping professionals devouring numbers, gazing at revenue, sales slip, invoices, doing our hundreds of client's bookkeeping. After our initial discussion, we understand and classify your business transactions and formulate tailored bookkeeping for your small business catering to your industry. We are both traditional and modern, meaning we get your books from the banks and the old time's sake, through hard copies.
We will manage all your finances from the time you signed up with us till the finishing line. From the first day of our business, you get complete access to one-year tax advisory support inclusive of the best tips to cut back on your tax bills.
By allowing us to do your books, you are assuring that you will meet every deadline with seamless communication between your bookkeeper and tax professional.
Want to try Velan? Contact us today and we will walk you through the specifics.