Want To Build A Mobile App? Avoid These 10 Common UX/UI Design Mistakes
9
Sep
2021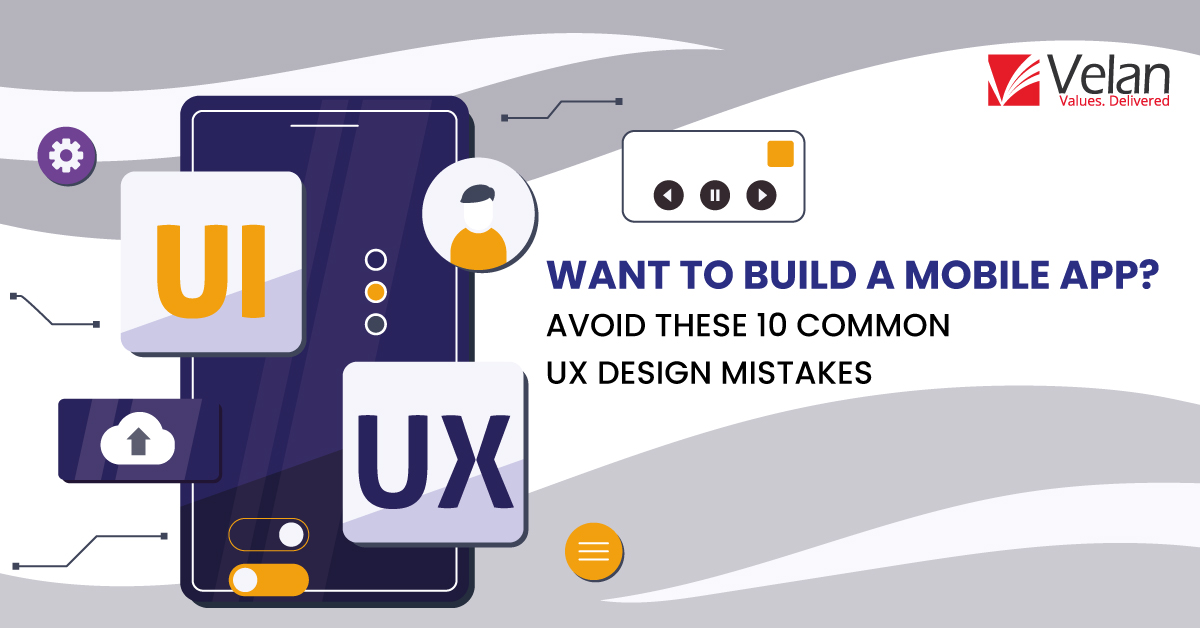 Mobile apps and their UX / UI fundamentals are gaining immense popularity in the past few years. In addition, statistics also predict a brilliant future for the Mobile App UX/UI Design and development industry. Firstly, they expect mobile app downloads to cross 258 billion by end of 2020- a 45% increase since 2017.  Secondly, they predict that the mobile industry would generate over $156 billion, in consumer app spend by 2022.
In addition, surveys have also found that mobile users check their smartphones at an average of 63 times a day. This certainly explains the rapidly growing mobile app market. Mobile apps are blooming like mushrooms everywhere. As a result, it is becoming more crucial than ever to build great apps that can sustain in the market. Right from creating a unique brand identity to providing a great user experience, mobile app development has to be perfect in every sense.
But why? Because if we fail to do so, then we may lose approximately 70% of our users. They will simply find an alternate app even if it takes a long to load. This makes most companies realize the power of a great mobile app design. They understand that it is the central driver for sustained and long-term success. Yet most of the time, businesses fail to understand Mobile App UX/UI Design fundamentals. So let us go through it in detail.
Are UI and UX the same?
UI – user interface
UI is the graphical layout of an application. It includes everything right from the text that the users read, to the images, videos and sliders that they see, to the buttons that they click, and to all the other items that they interact with. It entails transitions, interface animations, screen layouts, and every single micro-interaction. Any sort of visual element, interaction, or animation that you see on an app has to be designed.
UX – user experience
UX is determined by how the users interact with the UI. Is the experience intuitive and seamless, or jerky and nonplus? How is the navigation working? Is it easy to interact with the elements on the app? All this combined together is the user experience. It is determined by how easily an user can interact with the user interface elements, created by the UI designers. UX is all about the experience a user has with the products and services on the app.
In Mobile App UX/UI Design and development, we have to make sure that the product's content and features provide a fluid, seamless and meaningful experience. Otherwise, the product will not address the goals in the important areas of a mobile business structure. It is vital to note that the common misunderstandings develop only because of the overlapping skill sets between UX and UI.
Now that we know the difference between UI and UX, let's get started with the 10 most common mistakes in Mobile App UX/UI Design and understand clearly on how to avoid them.
10 Common Mobile App UX/UI Design Mistakes
The Mobile App UX/UI Design mistakes mentioned below highlight the design challenges that are commonly faced by developers and how simple mistakes can lead to unsatisfied users. When the developers understand what to avoid in Mobile App UX/UI Design, they indirectly start to follow the best practices.
Alright, let's dive in and start exploring them.
1. Complex UI
The UI design of a mobile app must be fluid and intuitive. It must possess logical yet finite steps to reach a specific point, in the user's intended journey. Start by asking these questions to yourself. Does this sentence sound a little complicated? Is there room for simplified writing?
Keep your user interface design as simple as possible. It should be fluid and easy to navigate within the app. As soon as your users land on your mobile app, they should be able to navigate with ease and understand things at the very first glance.
Avoid touch-points and ambiguous feeds which tend to wreck the UX and trigger the user to uninstall the app. Minimize app features that will be too complicated for a beginner to understand. Use commonly used symbols and recognizable icons to prevent confusion.
Mobile App UX/UI Design Fundamentals:
Always perform usability testing of the UI before you launch your product worldwide. A/B testing and testing in batches before the great launch, also help in understanding the common Mobile App UX/UI Design mistakes and best practices.
2. Too much design Interface
'Simplicity is the ultimate sophistication'. This adage is very true to UX design as well. Always keep your UX simple yet elegant. Complicating it with an over-designed interface only confuses your customers. It is also important to prioritize the app's functionality and features, over design and creativity. Never forget that underplaying the design also bores your customers. So, balance is the key. In the end, it's only about finding the right balance between the app's functionality and features.
Mobile App UX/UI Design Fundamentals:
Always plan your UX from the end-user's point of view. Your ultimate goal should be to provide a seamless user experience and to interact with the products and services of your businesses. To achieve this, you must use a lot of white space. Do not overdo or underdo your white space since it can act as a powerful conversion tool when leveraged properly.
3. Skimping on Inbuilt Search
Applications can either have too much content or no content at all, depending on the type of their business. But that's not important! All that matters is having an efficient search feature within the app which helps the users to discover what they are looking for. Otherwise, they tend to feel lost and decide to immediately uninstall the app. Therefore, the UX design must be seamless and easily provide customers with information that they want from your app. Also keep in mind, that having an improper search functionality is as bad as not having one at all. So, it is always good to provide the best search function within the app.
Mobile App UX/UI Design Fundamentals:
Build a good built-in search functionality that automatically prompts multiple search options as soon as the user enters a search word. There are many technologies available in the market for this feature. All you have to do is find the right one and use it in your app for the search function.
4. Poor Integration with other Apps
Seamless mobile app integration is the key to utilize the entire functionality of the app. Your mobile app should interface with different apps and devices for seamless data exchange. This is a feature that most users look forward to and it is important to get it right.
Remember that the users will be total strangers to your app's functionalities. Therefore, you must create an awareness of all the functionalities within and guide them on how to use it effectively.
Mobile App UX/UI Design Fundamentals:
First impressions are the best and it is no exception in mobile app design as well. The users decide to continue using your app, only if the first experience is seamless. So,make sure you spend a lot of time and effort to make the experience seamless and comfortable.
Test, test and test. Beta testing your final product uncovers most of the simple flaws that you might have failed to notice initially. In addition, the end users' feedback also proves to be helpful and important. Pay attention to it always.
5. Over-stuffing Features and Functions
Over-stuffing features and functions cause unwanted confusion and misinterpretations for the user. At some point, it also shows your inability to build a clear mobile app. Therefore, in the pursuit of adding too many fancy features, do not overlook the basic functionality which is the primary reason for which the app is designed. It can save you from delivering a poor user experience (UX).
Mobile App UX/UI Design Fundamentals:
Avoid fancy features and functions in the mobile app. Focus only on the top-notch and most important features and functions. If necessary, you can always release additional features in the upgrades. Once your users are familiar with your mobile app, they can opt for the fancy features through upgrades. However, in the beginning your app developers must enable the end-users to use all the basic necessities within the app and become completely familiar with it.
6. Overlooking Topography
Topography is a crucial facet of UI design. Choosing the right font and the right background can make all the difference to your app. Another important aspect to be taken care of is the content. Ensure that your content is readable, legible and pleasant to the eyes. In addition, avoid dim color contrast with light fonts, tiny font sizes and fancy fonts as they will strain your users and lead to distortion.
Mobile App UX/UI Design Fundamentals:
Consistency is the key. It is accurate for the UX design as well. Your app developers should be able to guide on what fonts and color combinations work best for a pleasant user experience. Though they may seem like minor things, they certainly play a huge role. Therefore, it is extremely important for your app to have a consistent UX design throughout. Try out different fonts and color combinations, only if your content is easy to consume and easy on the eyes.
7. Spamming Notifications and Updates
Push notifications are one of the sensitive features that either make or break an app developer's creation. While too many notifications annoy the users and bleach their memory about the brand, it can also trigger them to uninstall your app. Therefore, as always balance is the key.
Every time you release an update, the user must visit the app store, hit the update button, and install the update. It involves a lot of tours and turns that the user may have to take, unlike with a web app that needs no manual updates and installation. Therefore, you have to be wary about the updates released and also the number of times it is released. It is also important to focus on fixing the bugs and optimizing the app every time you release an update.
The key to strike the balance between not annoying your users and staying fresh in their memory is to listen to what they want and what they say. Always make sure you pay attention to their feedback and incorporate them. Avoid sending similar notifications, over and over again. Incorporate their feedback from the public forums, app store, in the app, etc., and make them feel heard.
8. Multi-Device Test Failure
Mobile App UX/UI Design and development is demanding. Right from creating native OS-based apps to customizing them for all possible screen sizes, the whole journey is expensive, time-consuming, and laborious. Your mobile app developer should be vigilant about this. He should ensure that the apps they build, are responsive and attune to all screen sizes.
Mobile App Design Fundamentals:
You can follow any one of these options. You can either create a poll and send it to your target audience to find out the most used screen size and phone models, or just perform all kinds of testing on every device and to understand how it works. In both cases, do not forget to monitor and document all frictional points and optimize the UX of the application for each device, screen size, and OS.
9. Oblivious of the App Architecture
Instead of concentrating on the architecture and flow, most app designers put extra effort into the application's aesthetics. It is important to map the user's flow and application format and then advance into the wire-framing phase.
As a result, incoherent and complex navigation make the user experience with a great design, serve no purpose. It only confuses them further. Instead of letting them figure things out, you can ensure to present well-figured out things.
Mobile App UX/UI Design Fundamentals:
Begin by creating an outline for the flow of the app. Then, based on how you want the app to perform and react, create the design. Other design details like color schemes, font, animation, etc. can be created around it. Make sure you involve your UI designer in the app development discussions, right from the beginning. This ensures that the UI design aligns with the UX.
10. Not so obvious Call-to-Actions
This is one of the most common UX mistakes web and mobile designers make – hiding call-to-actions. Come on, the whole app was built for this. To keep the layout clean and simple, app designers create a maze for the users to take any action. Compromising on this crucial feature to highlight the design will leave you with zero conversions. You are making it hard for your customers to take action.
Mobile App UX/UI Design Fundamentals:
Call-to-action is important and indispensable. It is the main reason why customers download your app, in the first place. For example, CTA buttons like 'Call Us', 'Order Now', 'Buy Now', 'Contact Us' etc., work only if they are fluid on the design and constantly visible to the users. On the other hand, by making it visible constantly, don't overuse it. You can also ensure that CTA buttons have a contrasting color to the rest of the color schemes in your app.
Mobile App UX/UI Design partner
To sum it up, the above 10 common Mobile App UX/UI Design mistakes give a clear picture of what to do and what to avoid. However, another simple way to get the best mobile app designed and developed, is to hire experts in Mobile App UX/UI Design and development, like Velan.
Velan is a renowned UX design company based out of the US. We are one of the top mobile app development companies as well as website development companies. Our business solutions cover a wide variety of industry verticals – right from providing the best outsourcing services to designing the best mobile apps, web apps and websites. Not to forget, the eCommerce marketing domain that we have ventured into as well. Our web and mobile app developers are thorough in the best practices of the industry.
We assure to design your apps flawlessly by capturing your exact requirements and recommending the best mobile app practices. We truly understand that your mobile app represents your brand and we work diligently to ensure that there is no room for error. If you are looking for an expert to design your mobile app, please feel free to reach out to us. We would we happy to work with you!