Designing & Developing SharePoint Intranet Applications – Advantages
4
Apr
2018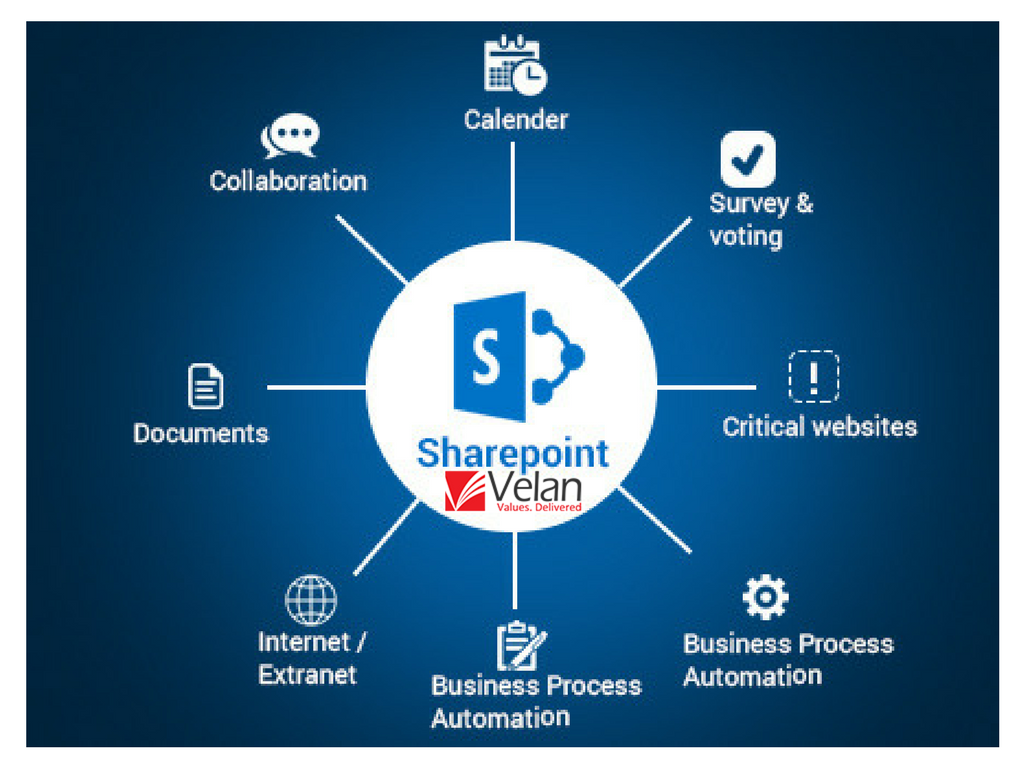 Being one of the most versatile document management platforms, SharePoint has evolved into an application with interactive features for Business Intelligence, CMS development, Performance Point services and Workflow generation. Insightful developers for sharepoint development services create custom built installations and support with this dynamic application.
 INTRANET APPLICATIONS WITH SHAREPOINT PLATFORM
Intranets journey, formerly known as the internal corporate network, over the last 20 years has been metamorphic. Microsoft SharePoint has become one of the most popular platforms for implementing the intranet. Some of the other platforms are IBM Connections, OpenText, Confluence, Liferay and Drupal. Having undergone seven versions so far, SharePoint is also integrated into a cloud application known as the SharePoint Online.
SMART INTRANET DEPLOYMENT
Earlier, the development of intranets on SharePoint platform was tedious and complicated as the company had to obtain client access licenses. Today, it is faster and simpler to arrive at a fully functional solution with SharePoint Online, tailor-made for our clients. Its capabilities are numerous, mobile friendly and offer a one-size-fits-all solution.
FLEXIBLE CONTENT MANAGEMENT
SharePoint provides users the flexibility to manage numerous types of content on their intranet. According to the Forrester Wave for Enterprise Content Management 2017, there are 277 content formats supported by SharePoint. It supports 3D files as well, for healthcare professionals and engineers to optimize their drafts and images.
UNIFORM ENTERPRISE SOLUTIONS
A comprehensive, custom-built, cloud SharePoint based intranet can support a well-developed document management, quality management, project management and overall solutions, simultaneously. SharePoint development services are advantageous for enterprise and medium-sized companies as you can do away with investing in multiple solutions. It facilitates maneuvering many solutions with one service provider.
ONE PLATFORM, MULTIPLE FUNCTIONS
Assorted features of SharePoint give specialists in different fields the flexibility to operate from a single platform. You can witness an HR manager checking on the boarding challenges, a marketing specialist conveying some strategies through mass media, accountants and project managers managing their accounts successfully, all using this lone platform. SharePoint supports informal, thematic workshops and groups where employees' interests are posted.
EASY CUSTOMIZATION
Organizations depend on the SharePoint platform for an exclusive intranet application. The major reason being its flexibility in customizing the design for corporate branding, integrate custom features and exclusive solutions meant only for the enterprises. To further simplify customization, Microsoft has initiated a new experience for SharePoint users. Now users can view site pages, modern list and libraries with editing facilities. This feature has already been enabled in the cloud platform of SharePoint and is expected to be released in the next version of SharePoint this year.
The Office 365 suite is also a good option to create your intranet when your organization has many departments and teams with individual preferences. SharePoint Online can enhance more capabilities to the Office 365 suite.
SharePoint-based intranet portals are designed and deployed for providing optimized solutions. Our Microsoft SharePoint experts are updated with the development tools and our aim is to simplify the technology in hand to design it right for your company. Reach out to us,  to learn more about SharePoint and how we can help you run 'smart business'.