Want to outsource your bookkeeping? 10 Mandatory Things You Must Look For In Your Bookkeeping Team
13
Mar
2020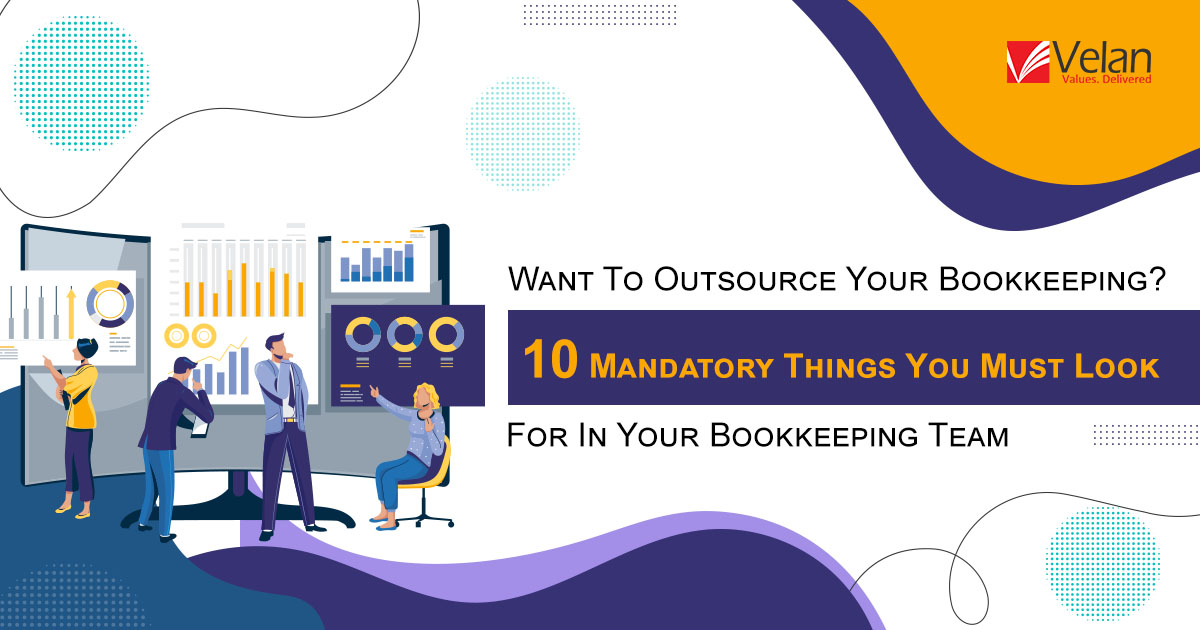 What is Bookkeeping?
Definition: Bookkeeping is tracking and recording all the company's financial transactions – both income and expenses – on a daily basis in accounts.
It is a traditional method for recording financial transactions on a day-to-day basis. In the old times, bookkeeping was mostly done using Excel and spreadsheets. With the advent of bookkeeping software, most of the companies adapted to the new software culture that almost shunned spreadsheets for bookkeeping.
The primary need for bookkeeping is to maintain a perfect record of financial transactions and keep them ready-to-use for auditing purposes. Accuracy is a vital part of bookkeeping.
It is a continual process and requires a dedicated team to record every transaction happening in the organization. It will ensure your company's expenses and income is always monitored with substantiation.
And slowly Outsourcing Bookkeeping hogged the limelight…
Outsourcing Bookkeeping is an external service that provides comprehensive accounting services for business, both large and small. Outsourcing bookkeeping is becoming popular due to its increased data security and continual improvement to the whole process. Instead of the organization taking care of its financial transactions, the outsourced team will maintain the daily, weekly, monthly, and annual transactions of the company along with other ancillary services like accounts receivable and payable, payroll management, financial reporting, etc.
Is it secure to outsource Bookkeeping?
Outsourcing accounting services!
Can it happen for real?
What about the safety of my client's financial information? – One of the most common questions that hit you when you consider outsourcing bookkeeping.
Before you decide to outsource or not outsource your accounting services, we would like you to consider if your outsourcing accounting team has the options highlighted below. It will help you to make an informed decision.
1. Video surveillance systems
Your outsourcing team must be vigilant about the entry and exit systems in their office premises. The data must be preserved for a considerable time so both of you can be fully assured about the security.
Besides, security screening must be a criterion before appointing personnel to access the client's financial information. Creating user-level and specific role-level accesses to reach the information can help. It will mitigate the stress, which otherwise will pose a deliberate fear of the company's data.
2. Encrypted data transmission
Encryption is the key to prevent hackers from sniffing your data. Ensure the latest encryptions – SSL 128-bit and 256-bit – are used by your outsourcing team. Using either of the two will encrypt the data during transmission and requires strong passcode on the other side during decryption.
Make sure to understand what security features are used to protect sensitive data. And consider what level of access and who should be given access on both sides.
3. Regular virus check
Computer malware poses an eternal threat. Check for the team's anti-virus software. Robust software that detects any malware, viruses, phishing, and suspenseful activities are always the best as most malware is designed to sneak on to the operating systems and leave no traces of it for as long as possible. So running regular virus scans should be helpful to get rid of all potential threats.
4. Password protection
Using a password manager is the next option you must consider. Even better, there is software that generates random passwords daily whose concept can be kept confidential. Password managers play a significant role, and your team must have one to prevent data security breaches.
5. Data back-up
Thoroughly understand the various data back-up procedures available with your outsourcing team. Having an efficient back-up drive manager will help in data retrieval in case of lost data due to storage failures. External, cloud-based storage, drive managers are a few of the data back-up repositories. Having these data in read-only format is an additional step.
6. Secured and restricted workstation
Staff at your accounting team should have signed a contract to leave their mobile phones, smartwatches, personal laptops, and other data-transmission devices using technology outside their cubicles during work hours. It lessens the risk of employees using technology to embezzle client's financial data.
An accounting service must curb common internet access for its staff. They must be given access only to the required business websites that are essential for work purposes.
7. Restricted access to duplicating facilities like USB, CD & Printers
Check if your accounting team preempts their staff from allowing USBs, CDs, DVDs, and printers to be used on the desktops. No staff must be encouraged to use the personal data-transmission tools to confirm additional security of data. Also, check for the policies when an employee breaks it.
8.Limited print permissions
In some cases, printers might be necessary. See who has access to the printers. Giving print access to the senior staff will help you be more confident about losing or transmitting any data between the staff. And impose a rule to shred the print outs immediately after use.
9. Periodic auditing
During a strange turn of events like data breaches, understand what process is involved to discover when a data breach occurred and why it occurred. Scheduled periodic and comprehensive auditing can play a crucial part in this process. And your outsourcing team must be fully equipped with up-to-date information to provide you when asked for viewing, anytime.
10. Confidentiality and nondisclosure agreement with employees
It is a standard procedure that an accounting service team signs a confidentiality and nondisclosure agreement with its staff and clients. It will help to define the parameters clearly about the access and information that can be shared to and fro.
Nondisclosure agreements are legally enforceable. Any data breach can end up in court.
The Bottom Line:
The most pressing concern for organizations of all times zeroes down to
Will the financial data of my client remain protected?
How and where will the data be processed?
Does it have the required data security options?
What will be the means to share the data?
The questions highlighted above will mostly linger in the minds of accountants until they meet an expert organization that offers bookkeeping outsourcing services.
To address data security in outsourcing, let us assure you that your client's financial transactions are extremely safe and protected. The idea of outsourcing accounting services is not new. What you must be considerate about is who you are entrusting your accounting services to.
You must entrust your services to a professional, objective-oriented, and reputed company. The reputation should not only lie in the quality but also the confidentiality terms that the company offers. Handling sensitive financial information of the clients require streamlined and well-documented data security and other confidentiality agreements.
For instance, at Velan, we have a set of protocols that we adhere to – from offering different working models to a confidentiality agreement. We have physical, administrative, and technical safety measures in place to be sure of 100% data security and confidentiality. From the beginning to the end, strict protocols are maintained to secure the data.
Outsourcing accounting services to a well-established company, like Velan Info, will prove extremely safe and rewarding for your organization.
Regardless of the size of your business, you can entrust your client's financial accounts work to us. We will make it safe and efficient for you. Your complete accounting information will be stored and managed on secured cloud servers, thus protecting against physical data loss, improving business continuity, and disaster recovery. Talk to us to understand how we operate and provide customized, flexible solutions, and gain insight into our overall process. We comprehend the ripples of stolen or data misuse.