Low-code Platform and Benefits
17
Oct
2022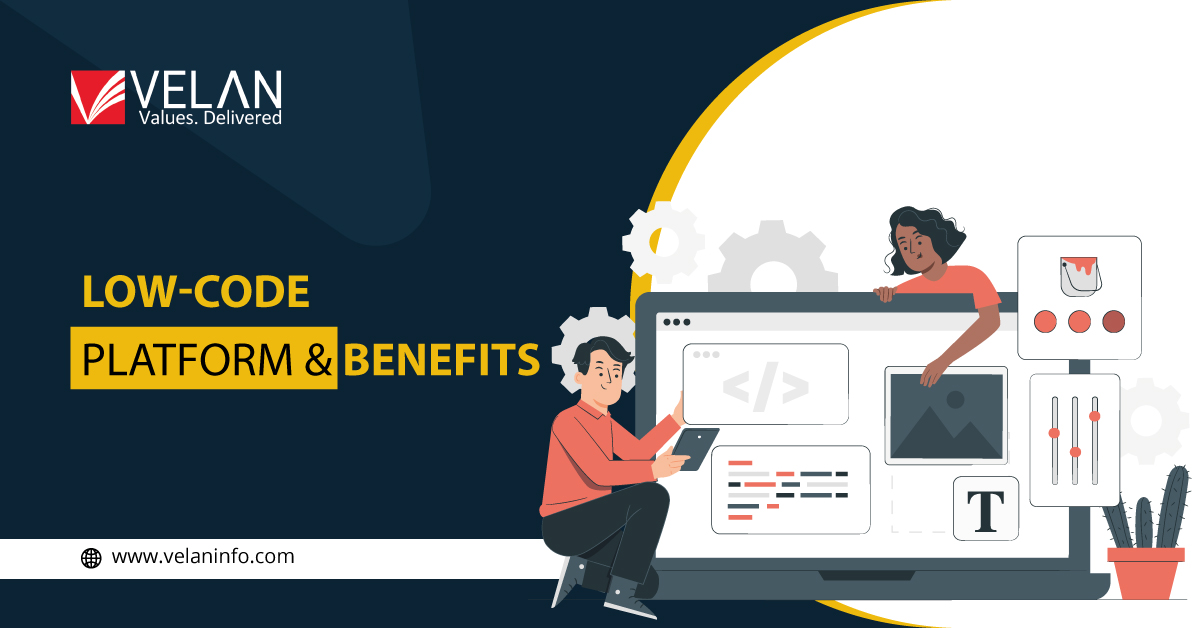 Tables of Content: Benefits of Low-code Platforms
Speed
Nimbleness
Multi experience
Benefits of low code regarding human resources
Termination of Shadow IT
Minimal CapEx or OpEx
Speedy iterations
Great productivity
Low-code platforms are a family of tools. They make it feasible to develop and deliver applications by using a graphical interface. Software Developers need not do hand-coding. They have a drag-and-drop interface for software development. This accelerates the process of software development. The task of writing a multitude of lines of complex code is substituted. These platforms have the usage of sophisticated user interfaces, logic, data, and integrations. Gartner has predicted that by 2024, developers will use low-code platforms for two-thirds of the application development processes. Low code minimizes the software development complexity. Companies of any size can use these platforms to maximize developer speed and productivity. A back-end developer can attempt to prototype a consumer app. Also, a UI or UX designer can perform front-end development.
Low-code development encompasses software development tools, low-code application development, and process development solutions. These platforms deliver the building blocks that can be leveraged by IT users to generate workflows and applications.
The use of these building blocks is mainly to remove the compulsion of hand-coding. The other use is to support the assembly of business apps and workflows without remembering the codes.
Speed:
The most important benefit is the potential to rapidly complete the delivery of new applications and software. Developers claim that low code can develop software with 10 times more speed as compared to traditional software development. They can develop full-stack, cross-platform apps very quickly. This is done by leveraging the data models, logic, pre-built user interfaces, and drag-and-drop functionality. Minimization of the learning curve of developers is possible to a large extent. This is due to the integration of third-party tools that the developers have been using so far with easy-to-implement connectors and APIs. Low code enables one-click application delivery. It handles deployment processes and database scripts and tracks all alterations.
Nimbleness:
Of the benefits of low code, the second most important is nimbleness. Companies can adjust and respond to market changes and upcoming opportunities. They can resolve business problems by digital, innovative solutions. Novel client requirements and abrupt market alterations lead to the need for new digital initiatives. Low code is very helpful to companies to fulfill these needs. An example of such a scenario is the delivery of cloud applications that can be integrated with traditional systems. By this method, companies can fulfill the varying requirements of clients. They can deliver applications across several platforms. Due to this, the customers of a company can interact with the company as per their suitable mode. Developers can use low code to capitalize on technologies that are related to agility. Examples of such technologies are containers and microservices.
Multi experience:
Multi-experience development provides easy chatbots, automated refactoring, pre-built templates, and other features. These assure companies that all the various methods using which customers interact with the business are consistent. These customers can switch among the varied types of interactions and engagements without relearning or duplicating the steps. The low code makes the process quicker. It eliminates the complexity of delivering a highly efficient experience to each customer every time they do interaction. Among all the benefits of low code, multi-experience is an extremely vital advantage. Companies can render a great omnichannel customer experience. This is without spending money on expensive development teams and high budgets. Low code does everything essential to make customers' interactions with the business smooth and efficient one.
Benefits of low code regarding human resources:
A large number of IT leaders find it extremely cumbersome to hire skilled, specialized full-stack developers. This is because companies have to mandatorily aim for digital transformation goals. The two basic reasons for this failure are the cultural attractiveness of Amazon and Google and the dearth of economic resources. Low code renders development simplicity and good velocity. Due to this, tech enthusiasts and junior developers who lack an adequate background can build apps as well as full-stack developers. Moreover, skilled developers can deliver more efficient results. They can spare more time slots for more complex aspects of programming. All of this culminates in companies of all sizes being able to optimize their existing personnel. In addition, they can generate solutions that their businesses need to remain ahead of their competitors.
Termination of Shadow IT:
Shadow IT implies that unsanctioned business users develop apps for usage in routine work. Moreover, this is in the absence of the approval and knowledge of the IT department. The benefits include a focus on innovation for everyone by providing ways for bringing stealth development out of the shadows. Those who leverage low code to develop simple apps can develop apps by avoiding usual pitfalls and following best practices.
Minimal CapEx or OpEx:
The time duration required to develop an in-house solution is more than that to purchase a new piece of software. Low-code development alters this fact. The purchase of a new tool to coordinate SAP jobs is replaced by the usage of a low-code platform. The reason is that this rapidly assembles the required processes. Similarly, the time duration to research, write and test new scripts is several days or weeks. This is brought down to a far lesser duration with few resources by the use of low code.
Speedy iterations:
Nowadays, there is quick evolution of business needs. To fulfill these needs, low-code platforms have tools to enable developers to iterate and edit existing processes at a fast rate. Some examples of such processes are providing revision histories, needing documentation, and passing changes down to child jobs. If it is essential, developers can quickly negate the changes. Testing facilities ensure the successful running of processes when production is in progress.
Great productivity:
Low code involves the streamlining of the development process and enhanced usage of automation. This enables us to have more success in lesser time. The low-code apps have tools that simplify the process life cycle. When a process is facing a risk of failure, the app notifies the personnel of this due to the monitoring and alerting abilities. When a server is full to its capacity, the app reroutes processes to avoid delays and bottlenecks. There is the implementation of remediation workflows to maintain SLAs.
Experts foresee that low code is the future of the IT industry. The low-code development market was 2 Billion USD in 2016, and Forrester expects that this will increase to 21 Billion USD by the end of 2022. The industry is witnessing companies adopting these low-code technologies. The reasons are to stay ahead of the curve in rapidly altering markets and more expectations related to customer experience. Companies want to implement digital transformation strategies that can deliver real-time data to end users and clients. To meet these needs, IT companies must develop and iterate applications and processes. Here, low-code platforms are proving that they can accomplish these goals.