Advantages of Hybrid Cloud Services
27
Sep
2022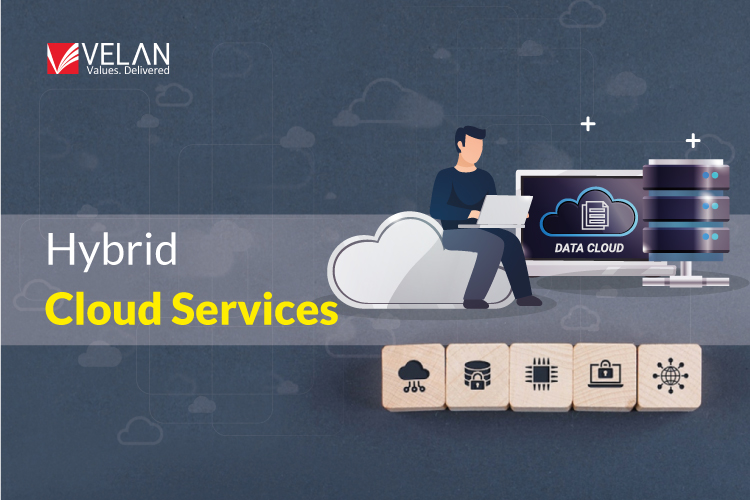 What is Hybrid Cloud?
A hybrid Cloud means several applications run in a mixture of environments. Presently, users do not rely completely on the public cloud. The latest trend is to have a Hybrid Cloud computing approach. A common example of a Hybrid Cloud is to combine a private and a public cloud. One such combination is Google Cloud. Hybrid Cloud solutions refer to apps or their components. These can be storage, networking, and computing. Users deploy these across private and public clouds.
Users can refer to on-premises servers as private clouds. The approach of the Hybrid Cloud is a very common contemporary infrastructure setup. The reason is users can leverage public cloud options such as Google Cloud. They can continue to use their own on-premises servers.
A hybrid cloud setup includes multiple cloud providers. So, it can be called not only hybrid but also multicloud. Users simplify and facilitate the management of your application by combining one or more public clouds and on-premises servers. This assists to extract more benefits from the cloud.
There are the following ways of cloud migration:
Rip and replace: Sometimes, the modernization of an app is not feasible or economic. You need to completely replace the app.
Improve and move: You must initially refactor and modernize an existing app. Then, you can move it to the public cloud.
Lift and shift: You must migrate an app from a private computing environment to the public cloud.
This is done without any major alterations.
Users leverage Hybrid Cloud systems to make way for application orchestration, data portability, and workload. This can be across many computing environments. These systems enable the coordination of workloads among connected environments. They focus on more control and governance over IT systems and resources. The systems orchestrate processes among multiple apps. The usual use cases for hybrid cloud processing are large data sets and the protection of data. These are coupled with optimization of workload resources and ease into cloud migration.
Advantages of Hybrid Cloud:
The first is effective application governance. A hybrid approach enables users to take decisions. The next is decreased latency and enhanced performance. at times, distributed apps located at remote locations are benefitted from a hybrid cloud solution.
These are about the app location and the location of hybrid computing. Users can leverage this decision to enhance privacy and confirm compliance with regulated apps. Those apps that need low latency have hybrid computing that takes place near the end users.
The third advantage of a hybrid cloud is flexibility for operation in an environment optimum for users. By buildup with containers, users can create portable apps and move easily among private and public clouds.
Users can add a public cloud provider to enhance their existing on-premises infrastructure. By this method, users can amplify their cloud computing ability. There is no spending more amount on the data center.
The other advantages of hybrid cloud are the following:
Running apps at remote edge locations.
Running apps on-premises.
Maintaining regulatory compliance.
Modernizing at your own pace.
Kiosks in retail or networks in telecom are examples of industries that mandatorily demand hybrid computing for low latency. In these, users can run chosen apps at the edge. Companies can have regulated apps that have a requirement to be on-premises or mainframe systems. It is difficult to transfer them to the cloud. Several industries have regulations about the locations where the app can operate. Hybrid Cloud assists in using public and private clouds with due adherence to these regulatory needs. It becomes feasible to confirm the migration of apps to the cloud. This is at a rate sensible for your business. This migration alters the technical infrastructure with the passage of time.
Advantages of hybrid cloud about driving innovation:
Hybrid Cloud solutions drive innovation. This facilitates companies to build novel services. It increases the ability to fulfill the needs of their clients in a smoother, better manner. Companies utilize public cloud services for the development and testing of newer apps. These apps are deployed into production as per needs.
Advantages of hybrid cloud pertinent to cutting-edge technologies and tools:
Companies having abilities with the hybrid cloud can savor maximum flexibility. Each application workload is supported by the discovery and implementation of the best-of-breed technologies. Companies can deploy apps to a specific computing environment. The advantages of this are reliable service, minimal expenses, and optimum performance. This ability can result in considerable competitive benefit. Establishments integrate more than one public cloud in the hybrid cloud solution. This prevents cloud vendor lock-in and amplifies their access to technology.
Other advantages of hybrid cloud:
In the United States, Canada, and other jurisdictions, the adoption of hybrid cloud solutions results in tax benefits to organizations. The purchase of a server for a data center gets classified as capital expenditure in the tax code. Consequently, users consider servers as a business asset. Per year, users depreciate servers till their life cycle terminates.
An illustration:
A company allocates 5,000 USD on a server. The expectation is that the server would last for 5 years. The company can claim the full tax benefit if it depreciates the asset by 1,000 USD per year.
In the past half-decade, hybrid cloud adoption has been driven by a couple of factors. These are decreasing the total expense of ownership and reducing IT spending. Let us consider that a company invests in 500 servers to manage the peak demand.
But, it needs only 200 servers during normal demand time slots. The purchase for peak demand needs has the effect of inefficient IT expense and underutilization of IT resources. If the company has a hybrid cloud ability, it can invest in only 200 servers. The company can then seek public cloud vendors for the supply of additional resources when the peak demand exists.
Such a company can boast of more efficient IT spending. There are lesser expenses and higher utilization rates for IT resources.
Companies are now dependent on the hybrid cloud. They have begun the trend of the development of portable apps. These run on either public cloud infrastructure or on-premise. The portable apps have a competitive advantage when the company witnesses a service outage.
In this case, the company has to mandatorily resort to the disaster recovery policy. This is for the prevention of unplanned downtime and maintenance of business continuity.
Conclusion:
The Hybrid Cloud market is extending at a fast pace. The reason is that companies are trying the following:
Set the stage for a smooth future growth plan
Prevent vendor lock-in
Safeguard the security of their data
Reap the cost and efficiency advantages of public cloud services