Why Accounting Firms Should Consider Digital Transformation in 2023
6
Jul
2023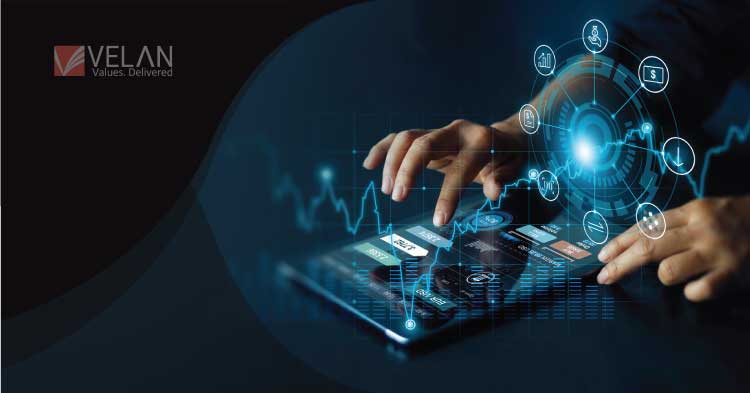 The key to success in a socially disconnected environment is digital transformation. Social distancing and hybrid workplaces are becoming more common. As a result, digital transformation is critical for any firm to thrive rather than simply survive.
Digital transformation is important for CPA because it can provide CPA firms with several advantages that traditional methods cannot. By leveraging digital tools and processes, accounting firms can reduce costs, increase efficiency, improve security, and gain valuable Data analytics for better decision-making. Accounting Automation creates robust dataspaces that allow CPAs to analyze and share data easily.
What exactly is Digital Transformation?
Most companies interact and collaborate to ensure that all results and deliveries are to customer expectations and schedules.
Digital transformation is a collection of methods used by firms to integrate technology into their operations and help them grow by maximizing the utilization of these goods or services.
Digital transformation is intended to provide long-term, sustainable change.
The Impact of Digital Transformation on Accounting Firms
Cloud technology is at the centre of this transformation. Accounting firms that use the cloud to operate their activities can:
Automate workflows and streamline repetitive operations.
Create a central data hub.
Reduce wasted time, cut expenses, and scale operations
Increase client openness and responsibility.
Ensure that useful insights are created even with large amounts of data.
Digital technology reduces the need for time-consuming and arduous tasks. By automating the monotonous aspects of the process, accountants gain time to focus on strategic activities that demand their experience and ingenuity.
Accountants, for example, might utilize cash flow analysis findings to improve financial planning for the next months. They may also collaborate closely with other corporate divisions via the cloud platform to harness financial data and develop cost-effective, scalable, and efficient plans.
Key benefits of digital transformation for accounting firms
A central repository for documents with access control and seamless collaboration.
Reduced data entry time. Data can be entered into one document and is automatically updated in all connected places.
Work is saved automatically to the cloud in real-time. This means documents can be recovered easily even if work is disrupted.
AI can enable accountants to spot patterns and trends in financial data to enable more informed decision-making.
By taking over all the manual work, technology ensures that even with limited staff, a firm does not feel overwhelmed with work.
The impact of digital transformation on the CPA firm
Accounting businesses (and their clients) may work quickly and spend less money thanks to digital transformation. Technology enables businesses to do so while still fulfilling regulatory requirements and offering the high-quality customer service required to compete.
In today's company environment, continually changing technologies and trends necessitate the need for employees who can understand digital operations. To stay up with ever-changing client needs, accountants must understand how to use accounting software and other automation.
What accounting automation is affecting CPA?
The accounting profession as we know it has been transformed by technology. Customer service chatbots, cloud computing, and digital banking are now commonplace in our lives, and new trends will emerge. We've compiled a list of accounting trends you should be aware of:
AI stands for Artificial Intelligence.
The use of artificial intelligence (AI) has increased dramatically over the world, and the accounting industry is no exception. Chatbots are one of the most widely used AI technologies in the accounting industry.
Chatbots are used by businesses to connect with site visitors via automated messages that ask them what they require.
Customers can also inquire about vendors, budgets, services, and other pertinent issues. This is faster and easier than emailing or contacting customer care, saving both parties considerable time. You may also utilize AI to create personalized reports for each client, giving you more time to focus on nurturing current customer relationships and onboarding new clients.
As cloud technologies advance, financial institutions are becoming more comfortable storing data in public cloud services and hybrid cloud models. Accounting software was formerly saved on desktops and run from the hard disk of your computer. Traditional accounting software has restricted data access and requires frequent updating to back up all financial data.
When you use cloud computing for your accounting processes, your data is accessible to authorized personnel from any internet-enabled device. Accounting organizations may swiftly adapt thanks to cloud computing, which allows them to securely access data from anywhere and deliver more efficient service.
Machine Learning (ML) refers to systems that can learn and adapt without being told explicitly. Instead, ML analyzes and concludes data patterns using algorithms and statistical models.
Accountants may apply machine learning to audit expenditure filings, make risk assessments, and analyze data, eliminating the need for ongoing manual paperwork. Accountants have more time to focus on their clients since they no longer have to perform tedious activities like categorizing or clearing bills.
The Internet of Things (IoT)
The Internet of Things (IoT) describes the network of physical devices embedded with sensors, software, and other technologies to connect and exchange data with other devices and systems over the Internet or other communications networks. IoT dramatically expands the number of sources and amounts of transactional data that flow into accounting systems for analysis. IoT provides accountants with dynamic information collected in real-time to improve decision-making.
Big data contains large, complex data sets. Big data and analytical tools help accounting firms offer clients more accurate, relevant, and impactful services. Big Data provides opportunities for the firm to deliver more value and help businesses improve their decision-making.
Blockchain technology is a digital ledger of transactions that duplicates and distributes across the entire network of computer systems on the blockchain. It deals with transferring ownership of assets and maintaining a ledger of accurate financial information.
The value of blockchain technology in accounting is that it can reduce the costs of maintaining and reconciling ledgers and provide absolute certainty over the ownership and history of assets.
Due to distributed ledger technology, blockchain eliminates the need for entering accounting information into multiple databases and potentially removes the need for auditors to reconcile disparate ledgers. This could save substantial time, reduce human error, and improve information reliability.
Real-time analytics uses logic and mathematics to data to help make better decisions quickly. Accountants use real-time data analytics to help clients mine their financials and transactional data for valuable insights and to identify process improvements that can increase efficiency and better manage risk.
Artificial intelligence (AI)
Artificial intelligence is the simulation of human intelligence processes by machines, especially computer systems. Specific applications of AI include expert systems, natural language processing, speech recognition, and machine vision.
AI advancements are rapidly automating accounting and finance, including time-consuming tasks such as audits, banking, tax preparation, bookkeeping, reporting, and payroll. Because AI can automate labour-intensive processes, it can lower labour costs while improving quality and reducing the risk of fraud.
Automation is the application of technologies to produce and deliver goods and services with minimal human intervention. Automated accounting involves using software to automate critical accounting operations like account reconciliation, updating financial data, and preparing financial statements.
Accounting automation makes it easier for accountants and bookkeepers to review their client's financial data in real time, helping them make informed decisions about tax planning, billing, and cash flow management.
Social media is a collective term for websites and applications focusing on communication, community-based input, interaction, content-sharing, and collaboration. Social media can be a powerful marketing tool for accountants. Not only can you connect with current and potential clients on social media, but you can also use social media to build your brand and establish yourself as an expert in the accounting field.'
A strong social media presence:
Boosts brand awareness
Builds community through engagement
Improves client experience and cultivates trust
Drives more website traffic
Reduces paid marketing
Establishes thought leadership
4 Ways Digital Transformation Promotes Accounting Firm Success
More than 1.27 million accountants and auditors are employed in the United States. To stay competitive, accounting firms must adapt to digital transformation.
Unfortunately, many small to medium-sized businesses (including accounting firms) are delaying digital initiatives. Manual workflows and legacy systems are familiar and comfortable. Learning new processes seem too demanding to manage.
There are also data privacy and security issues along with compliance requirements associated with migrating sensitive data to the cloud. However, accounting firms can no longer afford to wait to modernize their processes. Not if they wish to remain successful in a competitive industry like the accounting sector.
To stand out, firms must embrace digital transformation. Here is how digitizing processes enhances an accounting firm's success:
When accounting firms use cloud-native solutions that provide a dynamic foundation, these systems come with data security and protection built into them. Developers designed these programs specifically for the compliance needs of the accounting sector.
Continual monitoring, integrated anti-virus, and anti-ransomware tools, and automatic software updates are incorporated into the platform. Furthermore, cloud-based data centers protect firms from accidental data loss.
Digital processes enable accounting firms to easily track billable hours, project statuses, and performance metrics. It provides insights by converting raw data into usable segments and improves efficiencies by streamlining operations.
Automating tedious accounting tasks keeps talented professionals focused on meaningful work. Firms can also cut costs and discover new revenue streams.
Improved Staff Recruiting and Retention
More than half (55%) of companies (in every sector) employ a remote workforce. A digital transformation enables firms to recruit a diverse crew of talented accounting professionals regardless of where they live.
Digitizing processes offers flexibility that promotes a healthy work/life balance. It ensures that employee satisfaction and retention remain high and reduces churn among staff.
Clients expect their accountants to be available whenever necessary, especially during tax season. They want accounting firms to offer services across various digital channels that are available on demand around the clock.
Cloud-based accounting solutions enable firms to provide their clients with mobile apps and web-based client portals. Clients can pay invoices, securely share information and e-sign documents.
These convenient services can help keep an accounting firm's clients satisfied and loyal.
Tools Accounting Firms Need
Cloud technology is the fundamental tool firms will need to transition to digital processes. Cloud migration enables accounting professionals to work and interact virtually in real time while using the same data. It also allows staff to work remotely, enabling flexibility in a once-rigid industry.
Artificial intelligence (AI), the Internet of Things (IoT), and robotic process automation (RPA) tools are necessary for a successful digital transformation. These technologies decrease staff workloads so they can get more done in less time. It also:
Results in an increase in job satisfaction
Provides a better work/life balance
 Enables staff to deliver more value and impact to clients
Planning your digital transformation strategy
To create a digital transformation strategy that will serve your accounting firm best, we've listed the key points you need to consider below:
Evaluate your current situation
Understanding your specific needs and how you see your digital transformation playing out is key to finding the best solutions for your firm. Failing to understand where you need digital solutions could prevent you from achieving your desired outcomes.
The pandemic and your competitors transitioning to digital might spark a feeling of urgency. Still, it's best to take the time you need to conduct a thorough audit of your firm to determine where you need digital transformation. It'll increase your chances of reaching your goals.
 Enhance productivity and communication
Focus on building a digital transformation strategy that improves your firm's internal productivity and communications speed. If you spend a lot of time communicating via email, it could take a big chunk out of your time without you realizing it.
A digital solution like Slack or Microsoft Teams could improve communication within your firm (and with your clients) to boost productivity, saving time and money.
Use the same accounting software as your clients
To streamline your services and the communication between yourself and your clients, consider using the same accounting software as them. Your clients receive a great value business current account, and you save on accounting software costs while increasing efficiency.
Another essential step to developing digital transformation steps for your firm is to have a plan from the get-go. Creating a digital infrastructure means your firm will find new ways of obtaining and handling information within the company. Therefore, you need a plan for managing any process changes that result from increasing your online presence.
The more you digitize your processes, the more data you must deal with, increasing the need for robust digital solutions to process that data. It becomes a snowball effect, so make sure you prepare.
 Create a technology-positive culture
Digital transformation becomes very challenging if your firm doesn't have a culture that supports the technology. You'll introduce new ways of thinking about traditional issues, encouraging people to embrace change.
Part of your digital transformation strategy should focus on creating a company culture where employees adopt new solutions with enthusiasm. Your team must embrace digital transformation for your plan to be successful.
Digital transformation will gradually take your accounting firm through different innovation phases, allowing you to become more efficient and competitive in the current market. So, start planning your digital transformation strategy now to reap the benefits later.
Accountants' Digital Transformation Challenges
Cultural and practical hurdles make it difficult for accounting businesses to embark on a digital transition. Approximately 60% of accounting workers are over the age of 40, making it harder for the older population to adjust to technological improvements.
Transitioning from manual to automated processes necessitates an upfront expenditure that some businesses are unable to undertake. Those organizations that continue to use manual methods also struggle to recruit younger talent, and these are just a few of the challenges that accounting firms face. Among the other issues they confront throughout the digital revolution are:
Recognizing what processes to update
Weighing the ROI potential
Choosing a service provider
Implementation and downtime
On-boarding staff and clients
It is tough to justify utilizing important, billable hours for digital transformation, especially if the process does not directly create income. The difficulty with putting these improvements last on the priority list is that outdated systems have a negative influence on the success of today's accounting businesses.
When executed effectively, the initial investment can pay off handsomely. It might be the difference between getting it through another tax season or closing down operations owing to a lack of technology developments in some circumstances.
Getting Started with the Digital Transformation
A successful transition to digital processes requires that firms be mindful of the scope of the transformation. They must identify where the starting point is by considering the following questions:
Where will the firm experience the most impact (positive or negative)?
What substantial pain points will there be?
What can be done to reduce downtime or unforeseen delays?
When would be the best time to transform?
Digital transformation is a journey. It is not a destination. Accounting firms will continually adapt to new technology and adopt additional digital processes as innovations advance.
CPAs and accounting professionals must keep their companies viable and competitive. That means prioritizing a digital transformation.
At Velan, we have the experience accounting firms need to solve technology challenges associated with digital transformation.
We provide our clients with the resources to make the change.
We are their tech consultants, installation specialists, and service desk professionals all in one.
Is it time for your accounting firm to make the outsourced digital transformation? Schedule a call with one of our technology strategists today.